Lassonde School of Engineering is home to the K2I Academy, an innovative ecosystem of science, technology, engineering and math (STEM) educators, thought leaders and partners focused on bringing STEM experiences to youth, educators and communities. K2I is working differently with partners from kindergarten to industry with a shared purpose – to dismantle systemic barriers and to build sustainable programs that diversify representation in STEM professions. We are committed to building sustainable programs that focus on equitable and inclusive program design that strives to diversify the STEM profession – kindergarten to industry.
The K2I Academy a key component of our EDI Action Plan.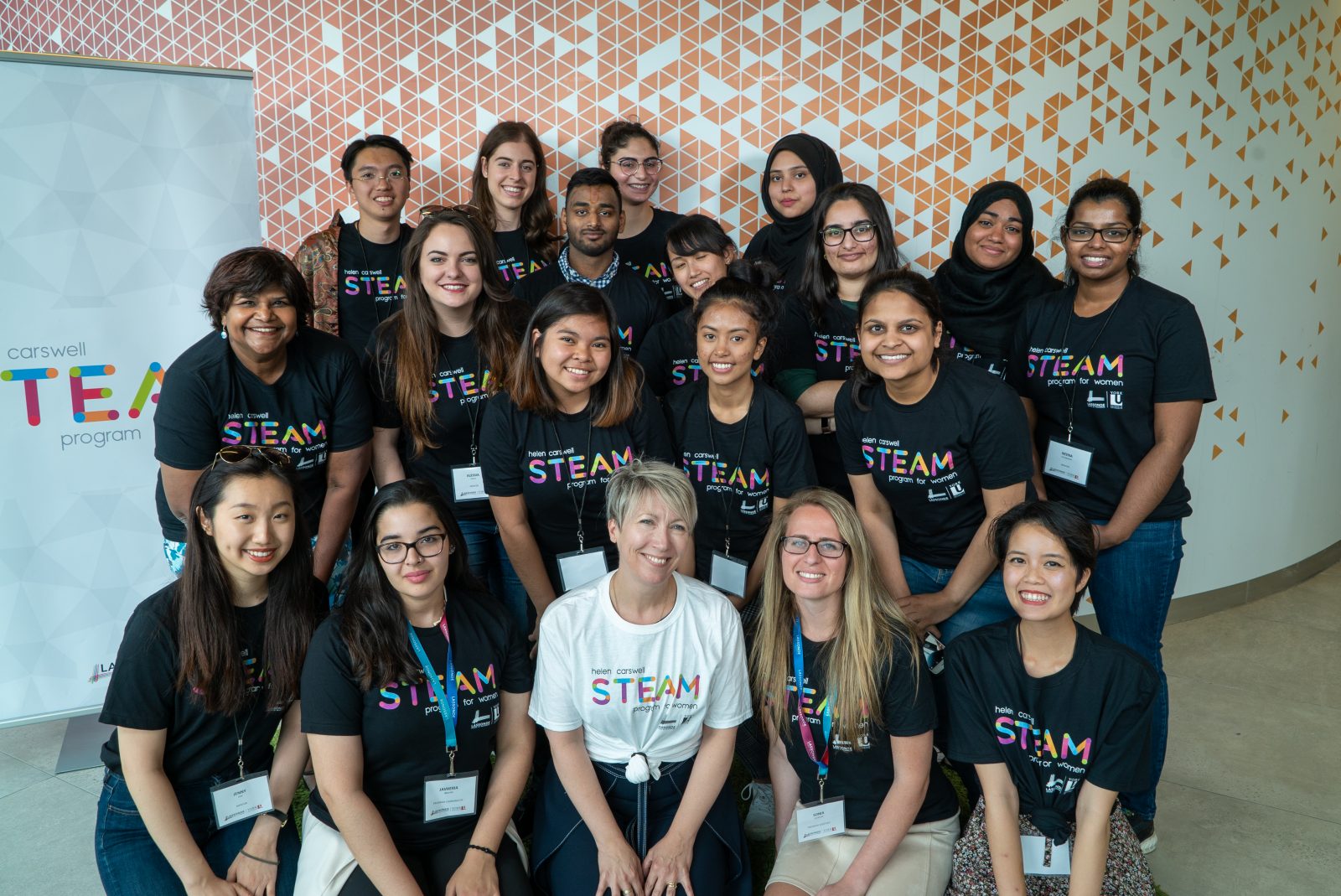 How do we plan to do this?
Prototype & Test new and emerging ideas in STEM, including Engineering, Computer Science, and Earth and Atmospheric Science, through large-scale and multi-sector collaboration, i.e. industry, professional organizations, public K-12 education, Elders, non-profit STEM education outreach organizations, and government.
Build Networks with partners across these systems to leverage capital investments, human capital, and expertise to develop research and data-driven programs. Education today must be dynamic and agile to meet the changing needs of society.
The K2I Academy recognizes that we are all connected and have a role in creating a student learning journey that allows people to discover their potential, access opportunities to foster their potential, and pursue STEM career pathways. K2I Academy is an ecosystem of innovative thinkers, researchers and doers, committed to working together to create positive change.
Interested in Learning More?
Please reach out to: k2i@lassonde.yorku.ca
Programming
Helen Carswell STEAM Program for Black and Indigenous Youth
In February 2021, the K2I Academy in the Lassonde School of Engineering welcomed 25 Black and Indigenous students from the York Region District School Board (YRDSB) to participate in a 14-week paid research program. The high school students will work on research projects related to engineering, computer science, earth science and/or atmospheric science under the guidance of undergraduate research assistant mentors, supervised by Lassonde faculty. Each student that participates in this program will receive a secondary co-op credit. All research projects are aligned with the UN Sustainable Development Goals and are focused on making a positive social impact.
Read more about this initiative on YFile.
Helen Carswell STEAM Program for Women
Each summer, the Lassonde School of Engineering welcomes female high-school students from the Jane/Finch community to participate in the six-week Helen Carswell STEAM Program for Women. We provide a paid learning experience for young women to work as Lab Assistants on projects supervised by Lassonde research faculty. This program creates jobs for the local community, introduces young women who wouldn't otherwise have access to high-quality STEM/STEAM learning opportunities and provides valuable work and learning experience, exposing participants to the idea of pursuing STEM education.
Read the full re-cap here.
Participant Testimonials
"Prior to entering this program, I had no idea what I was interested in becoming in the future. With the help of my amazing mentors, I now feel confident in my decision to consider entering the wonderful field of STEAM." – Pinar Koc, Lab Assistant
"I hope that we give the students the space to plant the seed of curiosity that I think we all started in." – Justine Frampton, Lassonde Student Mentor – Atmospheric Science Student
"Our Lab Assistants showed how engineering, science and technology can bring UN Sustainable Development Goals to reality. This is just the beginning of your journey. I'm very optimistic and certain the future is in good hands." – Dr. Mojgan Jadidi, Earth & Space Science & Engineering – Geomatics Engineering
K2I Academy continues to support and connect with organizations such as ONWiE to provide learning experiences for youth. The Girl Guide Badge Day provided a learning experience for Grade 5-11 students to connect with Lassonde students. This summer, Girl Guide members were able to obtain their STEM badge by participating in a virtual, interactive experience to learn about Geomatics Engineering and Coding.
"Learning to code in Python was a challenging and rewarding experience. I hope to find more opportunities where I can further build on the skills I learned today." – Grade 11 student participant
Lassonde Academy
Free online Pre-University programs were launched in Math, Physics, Chemistry, and Introduction to Computational Thinking and Coding for incoming Lassonde students! Focused on student success, these programs provided mentoring from instructors, learning connected to the UN Sustainable Development Goals, and provided students with practice of key concepts. Lassonde is committed to student success by building community and fostering confidence.
Check out the promo video from our Director of Common Engineering, Professor Jeff Harris, to learn more
Our Partners and Supporters
Carswell Family Foundation