A Dynamic Research Environment
Our graduate programs are research based, thriving on the broad range of active research conducted by faculty members in the Department. Key strengths include computer vision, robotics and artificial intelligence, computer networks, theoretical computer science, database systems, human computer interaction, and software engineering. With over 50 research faculty and over 100 graduate students and research staff the Department fosters a dynamic research environment.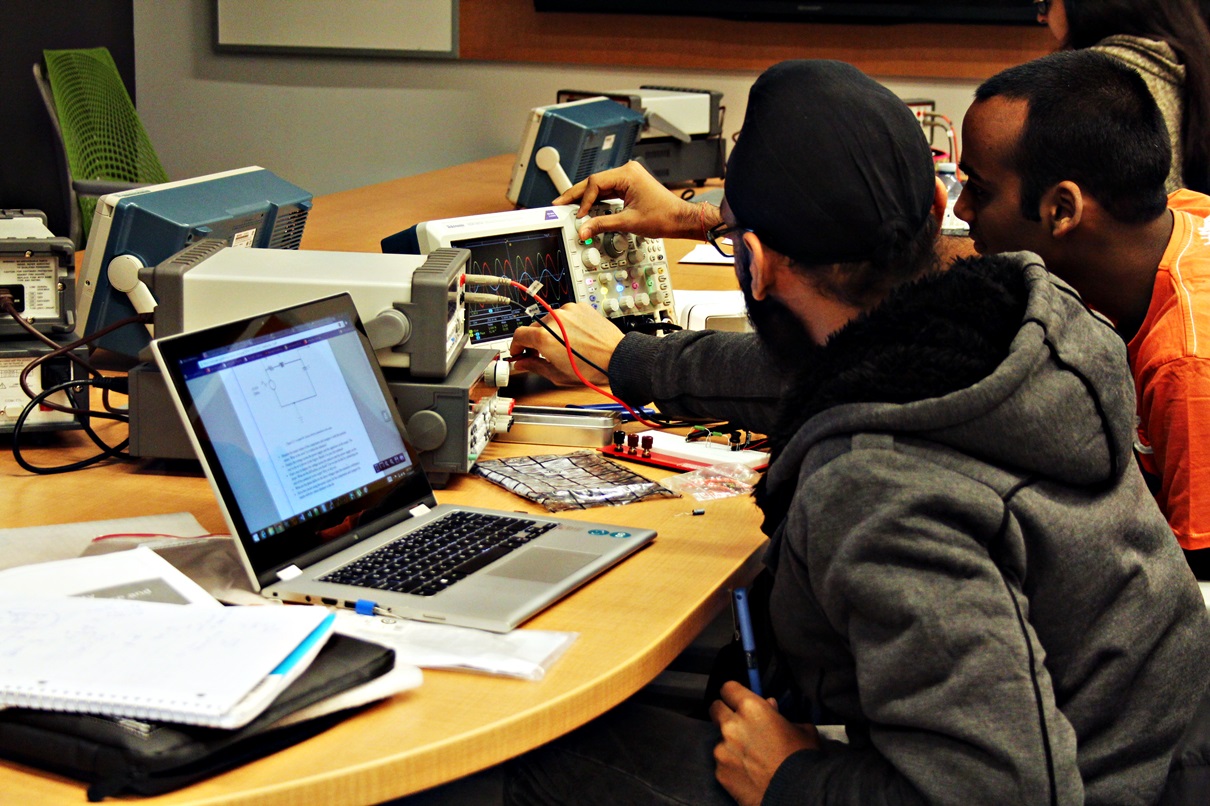 The Graduate Program in EECS offers a research intensive, well supported, congenial environment for a select group of graduate students. We offer studies leading to the degrees of Master of Science (M.Sc.) in Computer Science, Doctor of Philosophy (Ph.D.) in Electrical Engineering and Computer Science as well as Master of Applied Science (M.A.Sc.) in Electrical and Computer Engineering. These degree programs consist of courses and research conducted under faculty member supervision. Our internship program offers a combination of industrial and academic experience for students.
Our complement of 50 graduate faculty members provides Computer Engineering, Computer Science, Electrical Engineering and Software Engineering research and graduate training expertise.
Our graduate trainees regularly present at major conferences, publish in top journals and are successful in winning substantial scholarships (such as NSERC and OGS). Our faculty and students maintain strong ties beyond our Department, including collaborations with major academic research institutions from around the world as well as local and international industry. Faculty members and students are active in many of our research labs.
We offer competitive funding packages, attractive scholarships top ups, and competitive entrance Admission Awards. We invite applications for graduate studies from outstanding students with undergraduate or Master's degrees in Computer Engineering, Computer Science, Electrical Engineering, Software Engineering or related disciplines.
For academic requirements regarding the Electrical Engineering and Computer Science graduate program, please visit: 
Graduate Program Requirements
.
By email:
eecs-gpd@yorku.ca
Graduate Program Director:
Professor Marcus Brubaker
(MSc and MScAI) |
Professor John Lam
(MASc | PhD)
Graduate Program Coordinator:
Huy Doan
Graduate Program Assistant:
Ciara Campbell
By Mail:
Graduate Programme in EECS, LAS 1012T
York University
4700 Keele Street
Toronto, Ontario M3J 1P3
Canada
Our main office is located in the Lassonde Building, room 1012T.
Telephone:
 (416) 736-2100 extension 66183
Fax:
 (416) 736-5872
Shivani Sheth
MsC in Computer Science with a specialization in AI
I have always been fascinated by technology, whether it was computer games, apps, websites, chat boxes or speech systems. All this really sparked my passion for computer science. In addition, my love for mathematics supported my interests and made learning fun.
For me, becoming a computer scientist means I will have skills that I can use to create a better world.
My focus of study is Artificial Intelligence. AI not only has the ability to automate tools but it can help us perform tasks that are beyond human capabilities. This power can be utilized in creating a positive change in the world, such as smart irrigation systems, combating human trafficking and much more.