---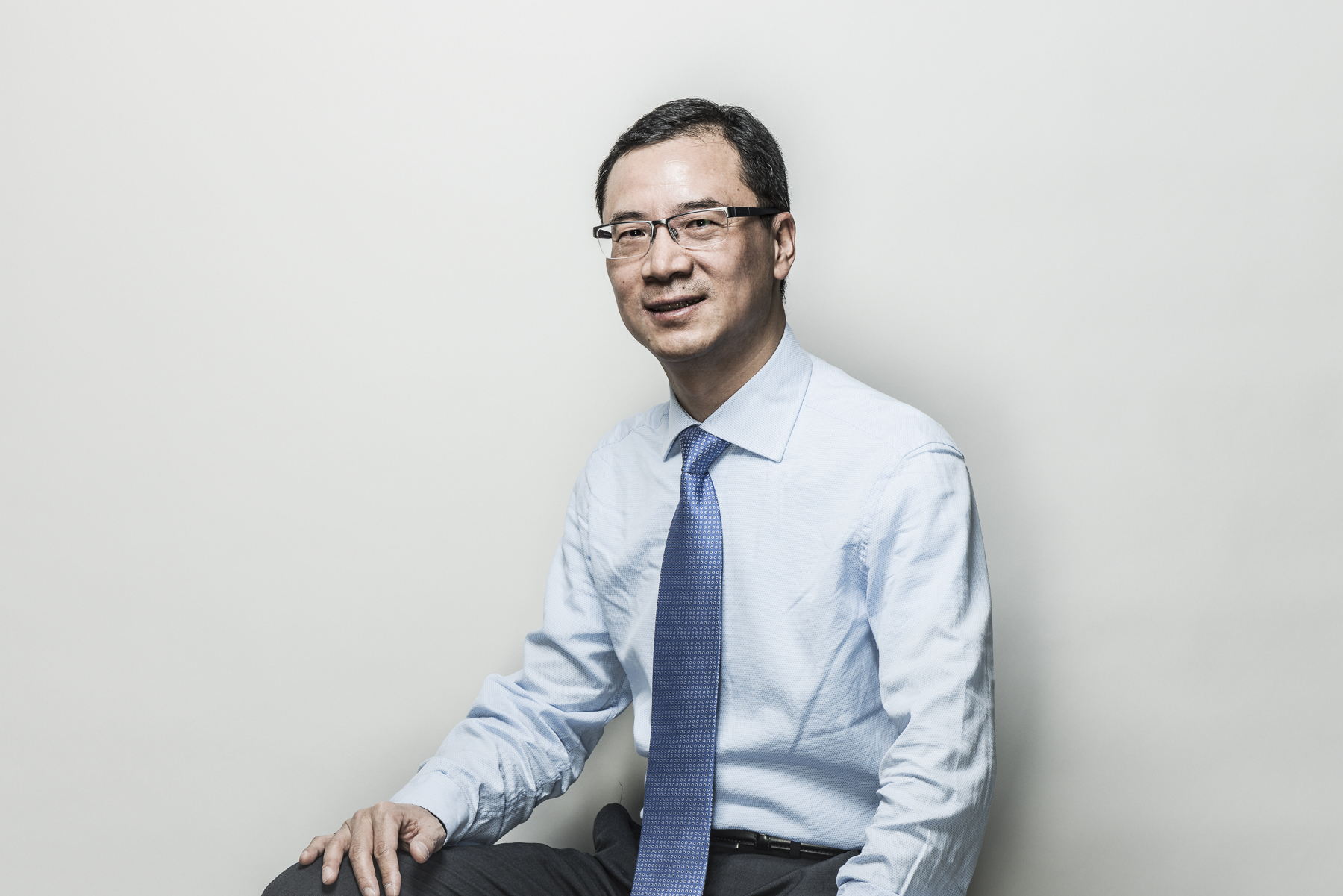 Dan Zhang
Professor, P.Eng
Department:
Mechanical Engineering
Bio
Dr. Dan Zhang is a Kaneff Professor and Tier 1 York Research Chair in Advanced Robotics and Mechatronics in the Department of Mechanical Engineering of the Lassonde School of Engineering at York University. From July 1, 2004, to December 31, 2015, Dr. Zhang was a Professor and Canada Research Chair in Advanced Robotics and Automation, was a founding Chair of the Department of Automotive, Mechanical and Manufacturing Engineering with the Faculty of Engineering & Applied Science at University of Ontario Institute of Technology.
He received his PhD in Mechanical Engineering from Laval University in June, 2000. Dr. Zhang's contributions to and leadership within the field of robotic and automation have been recognized with several prestigious awards, within his own university (Lassonde Innovation Awards --- Established Researcher in 2018, Research Excellence Award both from university level in 2009 and faculty level in 2008), the Province of Ontario (Early Researcher Award in 2010), the professional societies (election to Fellow of the CAE in 2017, the ASME in 2016, the EIC in 2012 and the CSME in 2010) and federal funding agencies (Canada Research Chair in January 2009 and renewed in January 2014). As well, he was awarded the Inaugural Teaching Excellence by the Faculty of Engineering and Applied Science of UOIT in 2006 and the Best Professor Award by UOIT Engineering Students' Society in 2012. Dr. Zhang was listed as the World's Top Two Percent Researchers by Stanford's Standardized Citation Indicators in 2020.
Dr. Zhang is the editor-in-chief for International Journal of Mechanisms and Robotic Systems, the editor-in-chief for International Journal of Robotics Applications and Technologies, Associate editor for the International Journal of Advanced Robotic Systems, the International Journal of Robotics and Automation (ACTA publisher) and guest editors for other four international journals.
Dr. Zhang served as a member of Natural Sciences and Engineering Research Council of Canada (NSERC) Grant Selection Committee and committee member for the Early Researcher Awards (ERA) program by Ministry of Colleges and Universities Ontario. Dr. Zhang was director of Board of Directors at Durham Region Manufacturing Association and director of Board of Directors of Professional Engineers Ontario, Lake Ontario Chapter. Dr. Zhang is a registered Professional Engineer of Canada, a Fellow of the Canadian Academy of Engineering (CAE), a Fellow of the Engineering Institute of Canada (EIC), a Fellow of the American Society of Mechanical Engineers (ASME) and a Fellow of Canadian Society for Mechanical Engineering (CSME), a Senior Member of Institute of Electrical and Electronics Engineers (IEEE) and a Senior Member of SME.
Research Interests
Robotics and mechatronics
Synthesis and Optimization of Parallel and Hybrid Mechanisms
Generalized Parallel Mechanisms Research
Reconfigurable Robots
Micro/Nano Manipulation and MEMS Devices (e.g., Sensors)
Smart Biomedical Instruments (e.g., Exoskeleton Robots and Rehabilitation Robotics)
AI/robotics/autonomous systems
Aerial and Underwater Robotics
Rescue Robots
Artificial Intelligence for Robotics
New Developments for Humanoid Robots
Intelligent/Green Mechatronics Device
Machine learning/Deep learning/Machine Vision for Robotics
Selected Publications
Zhibo Sun, Dan Zhang, Zhilong Li, Yan Shi, Na Wang (2022), Optimum Design and Kinematic analysis for an Articulated Wheel-legged Forestry Chassis, Transactions of the ASME, Journal of Mechanical Design, 144, 013301-1-013301-10
Qi Zou, Dan Zhang, Xueling Luo, Guanyu Huang, Lijian Li and Haiqiang Zhang (2020), Enumeration and optimum design of a class of translational parallel mechanisms with prismatic and parallelogram joints, Mechanism and Machine Theory, Vol. 150
Xiaodong Jin, Yuefa Fang, Dan Zhang and Junshan Gong (2020), Design of dexterous hands based on parallel finger structures, Mechanism and Machine Theory 152(2020)103952
Xiaodong Jin, Yuefa Fang, Dan Zhang and Haiqiang Zhang (2020), Synthesis of 3-[P][S] Parallel Mechanism-Inspired Multimode Dexterous Hands With Parallel Finger Structure, Transactions of the ASME, Journal of Mechanical Design, August 2020, vol: 142: 083301 (14 pages) (Winner of the 2020 ASME Journal of Mechanical Design Editors' Choice Award)
Bin Wei and Dan Zhang (2020), A Review of Dynamic Balancing for Robotic Mechanisms, Robotica
Zhongxing Yang, Dan Zhang (2019), Energy Optimal Reconfiguration Of A 3-RRS Manipulator, International Journal of Robotics and Automation
Qiaokang Liang, Dan Zhang, Gianmarc Coppola, Wanneng Wu, Kunlin Zou, YaoNan Wang, Wei Sun, Yunjian Ge, and Yu Ge (2016), Modular design and development methodology for robotic multi-axis F/M sensors, Scientific Reports, 6:24689|DOI: 10.1038/srep24689
Zhen Gao, Dan Zhang (2015), Performance Analysis, Mapping and Multi-Objective Optimization of a Hybrid Robotic Machine Tool, IEEE Transactions on Industrial Electronics, Vol. 62, No. 1, pp. 423 - 433
Dan Zhang, Zhen Gao (2015), Performance Analysis and Optimization of a Five-Degrees-of-Freedom Compliant Hybrid Parallel Micromanipulator, Robotics and Computer-Integrated Manufacturing, Vol. 34, pp. 20 – 29 (August 2015)
Gianmarc Coppola, Dan Zhang and Kefu Liu (2014), A New Class of Adaptive Parallel Robots, Transactions of ASME, Journal of Mechanisms and Robotics, Vol. 6, No. 4, pp. 041013-1 – 041013-11
Gianmarc Coppola, Dan Zhang, Kefu Liu and Zhen Gao (2013), Design of Parallel Mechanisms for Flexible Manufacturing with Reconfigurable Dynamics, Transactions of ASME, Journal of Mechanical Design, Vol. 135, pp. 071011-1 to 071011-10
Dan Zhang, Zhen Gao (2012), Optimal Kinematic Calibration of Parallel Manipulators with Pseudo-error Theory and Cooperative Coevolutionary Network, IEEE Transactions on Industrial Electronics Vol. 59, No. 8, pp. 3221 - 3231
Recent Presentations Title
Keynote Speech: 2020 4th International Conference on Control Engineering and Artificial Intelligence (CCEAI 2020) Singapore, January 17-19, 2020
Keynote Speech: The 5th International Conference on Mechatronics and Robotics Engineering (ICMRE 2019), Rome, Italy, February 16-18, 2019
Keynote Speech: IEEE Asia-Pacific Conference on Intelligent Robot Systems, July 20-22, 2016, Tokyo, Japan
Keynote Speech: 15th IFAC/IEEE/IFIP/IFORS Symposium on Information Control Problems in Manufacturing, INCOM 2015, Ottawa Convention Center, Ottawa, May 11-13, 2015