---
UNHACK 2020: Design Solutions, Impact Lives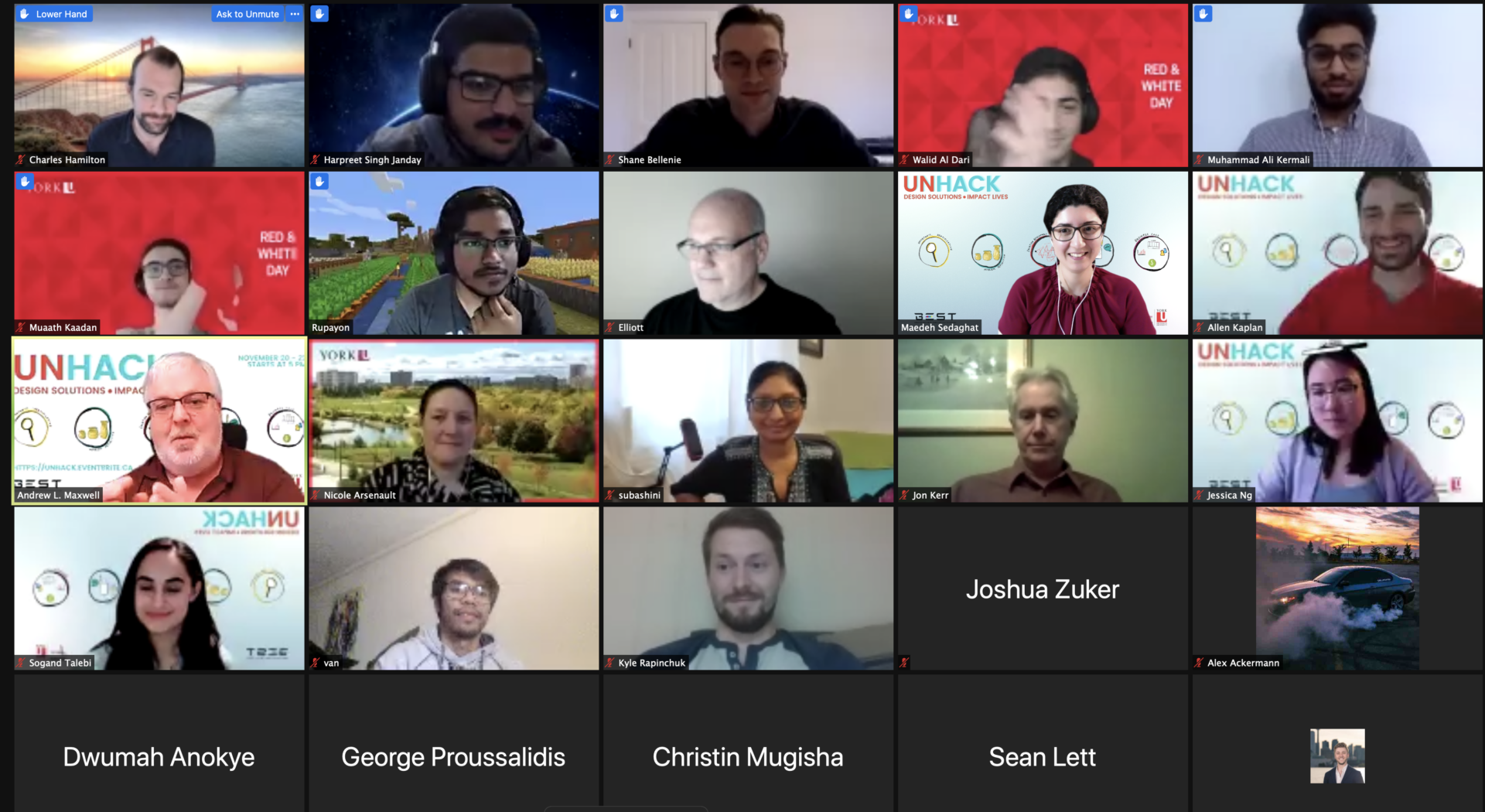 From November 20 – 22, Lassonde's BEST Program hosted UNHack 2020; a 3 Day experiential learning Design Sprint. Over 230 participants engaged in an intensive interactive online experience, learning about the Design Sprint process, working on a UN sustainable challenges and developing their problem solving and personal reflection skills.
Students from Lassonde, and across York, joined with engaged high school students, in a virtual hands-on experiential learning opportunity, where they worked together to develop specific solutions to 8 of the United Nations (UN) Sustainable Development Goals. 28 teams out of 47 teams got selected by participants, and made it to the semifinal where mentors selected the top 8 teams to make a final pitch to the expert judges; Elliot Atkins, Susan Niczowski, Nicole Arsenault, Jon Kerr, Subashini Kangesan.
Huge Congratulations to the winners of the event who shared $2400 in prize money.
These teams have shown great work and have developed viable solutions for their selected challenges. These young students portrayed extensive knowledge and research on their projects.
The event was a huge success and it wouldn't have been possible without the support of our Sponsors (Scotiabank, York University, and SummerFresh), Community Partners, Mentors, Judges and participants. We are proud to have such passionate and innovative youths working towards a more sustainable world!
1st Place:
Team #49: Solar Stove: A Low-Cost Portable and Renewable Electricity Addressing UN SDG of Sustainable Cities and Communities
(Sean Lett, Harpreet Janday, Charles Hamilton, Jack Koebel)
This team addressed the critical problem of indoor smokey stoves in third world countries, using an innovative Fresnel lens technology. They were creative and showed tremendous presentation skills and were the most able to translate their ideas to others. They clearly worked hard to develop their idea and creating a very unique solution for the niche issue is what deemed Solar Stove to be the winner for this event.
2nd Place:
Team #61: Virtual Poster Board (A YorkU Sponsored Challenge) Addressing UN SDG of Sustainable Cities and Communities
(Kyle Rapinchuk, Rupayan Haldar, Muhammad Kermali, Muath Kaadan, Walid AlDari, Shane Bellenie)
This team got inspired by the York University challenge of wasted paper and unsightly poster boards on campus, and showcased a unique solution. Their solution embedded a novel use of technology with a sustainability element recycling second hand computer monitors (that often go to landfill). These students developed a virtual poster board that provides a permanent solution to the problems of waste and a great communication tools for students and student clubs.
3rd Place:
Team #11: Food Fighters reducing restaurant food waste aligned with UN SDG of Zero Hunger
(Megan Gran, Milgo Nour, Yassin, Lin Han)
Developed an innovative packaging system to allow restaurants to reduce food waste, couple with an innovative business model, to ensure financial sustainability. This team was selected to represent York at the Toronto Hult prize.
3rd Place:
Team #43: Solar Panel for Transformation addressing UN SDG of Clean & Renewable Energy
(Charanpreet Gharyal, Alex, Erdreyan Galera, Dwumah Anokye, Christin Mugisha)
The solution was to place thin film solar panels in the roof of the car or transport vehicle and they can be connected to solar batteries that could then help run the car a longer distance or just store the energy for later use.
3rd Place:
Team #21: Mental health for students During COVID-19 lockdown addressing UN SDG of Health and Well-being
(Joshua Zuker, Karman Purba, Kamal Aulakh, Davyd Zinkiv, Mohammed Shaikh)
The solution was to create a safe environment that promotes discussion of mental health struggles among post-secondary students and provides resources specific to each user through machine learning using their data.
Feedback from Participants:
Charles Hamilton: 1st year Engineering
"Working through the process of problem identification was really valuable. We learned about the process in class, but actually doing it made me realize how difficult but effective it can be."
Raguel Thayaparan: 2nd year Electrical Engineering
"Working with group of people, sharing innovative ideas for specific engineering problem and applying project management techniques and tools we learned in ENG 2001 course were among the most valuable part of my experience."