---
Academia Meets Athletics: Four Lassonde Women Champion Science, Engineering & Sports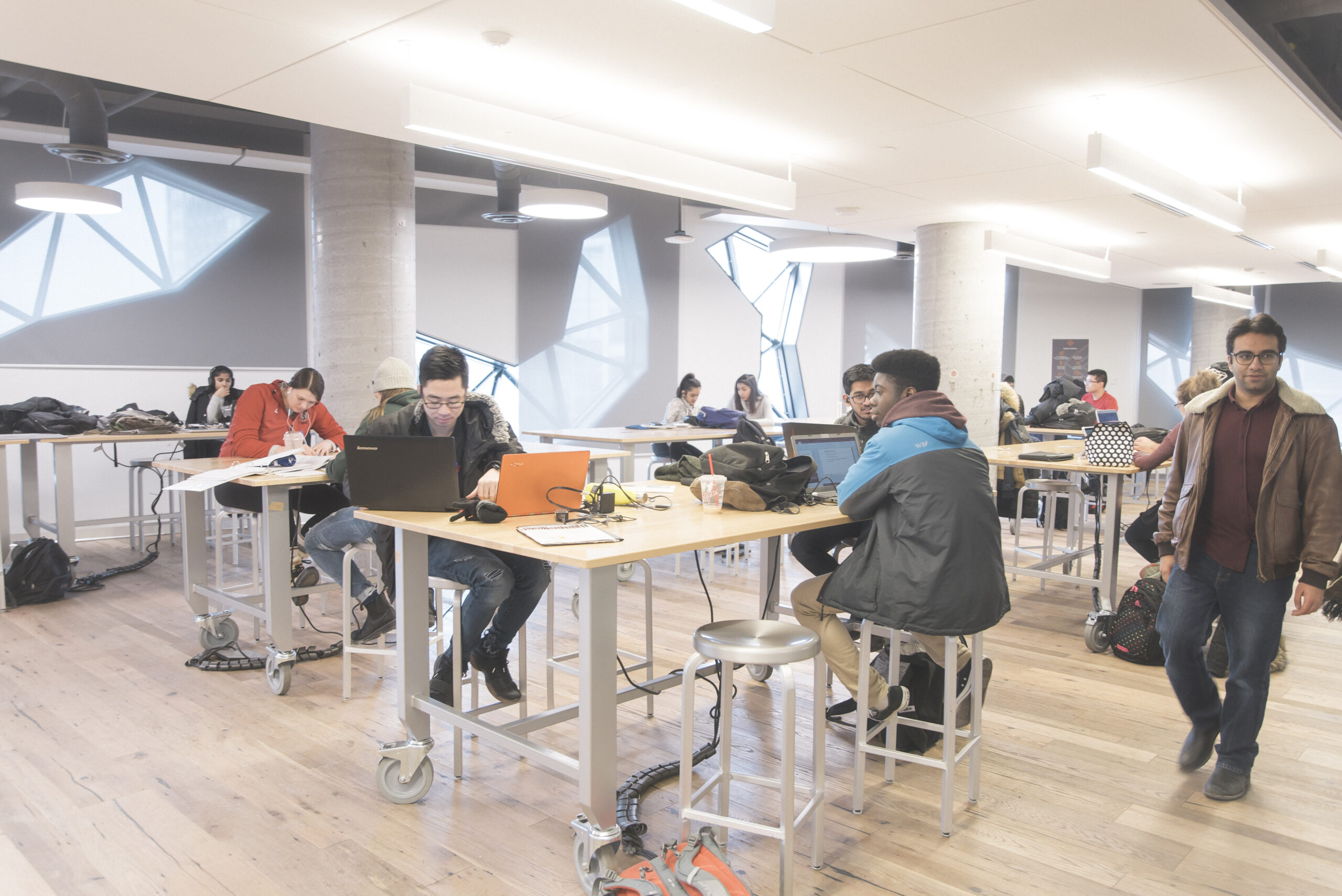 Science, technology, engineering and mathematics (STEM) fields have remained predominantly male, with statistically low female enrollment and retention. It is a systemic issue that has improved only slightly over time with many scholars and institutions, including Lassonde School of Engineering, making it a priority to address these issues at the academic level.
Despite the myriad of factors that contribute to a lower female percentage in STEM programs at the university level, we are fortunate to have strong female role models here at Lassonde. We profiled four students who are crushing stereotypes by excelling in their academic programs and respective sports, too, as varsity athletes on York University's basketball, hockey and track & field teams.
Madison Bardoel, Emma Jonas, Faith Obadun and Taylor Price are students at the Lassonde School of Engineering and four of only five female varsity athletes in the faculty. We caught up with them to learn what keeps them motivated, why they chose Engineering & Science at Lassonde and how athletics pushes them to be stronger academics.
Name: Madison Bardoel
Hometown: Windsor, ON
Sport & Position: Basketball, Guard
Program: Mechanical Engineering, Second Year
Madison Bardoel has been playing basketball since grade three, inspired by her parents and older sister who also played the sport. A typical day involves a 6:30am wake-up call to quickly eat before making morning practice, followed by six hours of classes and an afternoon practice at 4pm. Other days she mixes in weightlifting workouts either on her own or with fellow teammates, class permitting.
A longtime player, Bardoel has honed her leadership and communications skills over the years on the court, and this translates into her academic life seamlessly.
"It feels really natural to be working with other people. Efficiency is also very important because I don't have the time to just hang out and not get things done."
"The quality of my work is so important because I know it will affect my other group members. Just like with my sport, I am obligated to make 500 shots per week on top of regular practices. This extra work I put in affects my teammates – how good I will perform on the court; and this exact mentality I take to class."
Balancing school and sport have come with challenges, however. A strong player in preseason coming out of high school, Bardoel sprained her ankle in her first year as a York U Lion, causing her to overcompensate on her other leg, injuring her healthy knee.
"I wasn't playing my best and I felt like I was letting my team down because I couldn't perform as good as I normally would," she recalls of the one time she teetered on the edge of quitting.
Despite feeling conflicted, she played through the injury and with the encouragement of her family she stuck with basketball, making a full recovery. Currently in her second year of playing, she is getting a lot more time on the court, her knee is healthy and she is having a lot of fun.
"Coming to school, sticking with basketball, it all feels worth it now."
Her coach agrees.
"Madison is a really hard worker and a high IQ player. A joy to coach, she leads by example with her work ethic in the classroom, on the court, and in the weight room. She stayed to train at York last off-season and made huge gains in her game which allowed her to increase her role with the team from last year."
Name: Emma Jonas
Hometown: Surrey, British Columbia
Sport & Position: Basketball, Point Guard
Program: Computer Science, Transfer Student
British Columbia native and recent transfer student from the University of British Columbia, Okanagan, Emma Jonas is in her first year as a York U Lion and Computer Science student. Both her parents are professional golfers and so naturally athletic, Emma tried many sports before seriously committing to basketball in grade eight.
"I like it because it's the most all-around sport, in my opinion. It involves jumping, agility, conditioning and strength," says Jonas.
Despite starting basketball later than some of her teammates, her work ethic sets her apart on the court, spending hours outside of practices working on her skills. Her dedication is clear, with coach Erin McAleenan taking note of her efforts.
"Emma is an intrinsically motivated athlete who is a gym rat. She is always in the gym working to improve herself, and her success is a direct result of her hard work."
Like teammate Madison Bardoel, Jonas' Tuesdays are extremely hectic, starting with a 6:30am practice, followed by 7.5 hours of class and individual workout sessions.
Meticulous time management keeps her on track, whether she is travelling to an away game or planning homework in and around her practice schedule.
"On the way to Ottawa for a game I had to hotspot to submit a math assignment on the bus because that was my only free time," says Jonas.
Basketball has also taught Jonas how to take advantage of people's strengths, especially in group projects. Bringing that team mentality from the court into the classroom, she is able to focus on what people are good at and leverage their skills efficiently to ensure each person has a role that will most benefit the entire group. Her role?
"I'm naturally a very organized person so I will take on those leadership and organizational roles because it's a strength of mine," she says.
In addition to her passion for athletics, she is excited to be completing her Computer Science degree after a serendipitous journey led her to Lassonde. Starting university out West, she was studying painting and drawing but quickly learned it was more of a hobby and switched into Digital Media, where she took an introductory computer science class. This helped her realize her dreams of becoming a software engineer.
"There's something about coding, it just clicks with my brain. I see so many avenues with it and so many uses for the skill of coding and computer science, I was like 'wow, I love this.'" She moved provinces and began her Computer Science degree at Lassonde School of Engineering in September 2018.
Jonas is a champion for women in STEM, encouraging those who may be intimidated and unsure about what major to pursue in university to strongly consider taking engineering or computer science.
"In sports and school, I'm no longer intimidated if I'm the only girl in the room. I used to go to my local rec centre to practice and it would be full of older guys which really discouraged me from being there and practicing alone. But I got used to it and pushed my way through. That's how I will carry myself in the field of computer science – pushing my way through and standing my ground!"
When asked what other advice she would give a prospective varsity athlete considering computer science, Jonas laughs. "I would say…take calculus in high school. Because I didn't and now I'm paying for it."
Name: Faith Obadun
Hometown: Lagos, Nigeria
Sport & Position: Sprinter, 60M, 100M, 200M
Program: Computer Science, First Year
Faith Obadun was born in Nigeria and lived there until grade ten, when she moved to Toronto to finish high school. She has been running and competing for over thirteen years, smitten by the environment and energy of the sport.
She opted for a degree in Computer Science because she excelled in mathematics in high school, and while she hopes to secure a career in the field after graduation, her sights are set on competing at the Olympic level in her sport, too.
"Sometimes people go into things because they're good at it and not because they love it, but that's not the case for me and track. If you love something so much you can stick to it and train to get better. That quote has really helped me to push myself to get to where I want to be," says Obadun.
Fast tracking her way onto the podium may sound like a tall order from a first-year student juggling the requirements of Computer Science degree and rigorous training schedule, but Obadun has developed a system to manage her time effectively.
"I train in and around my classes, which are mostly in the evening. I plan on weekends what I'm going to do for the week in terms of homework. Most of my workouts are Mondays to Wednesdays and school stuff is done Thursdays to Sundays."
Her time management and organizational skills honed, Obadun has also learned some valuable personal lessons that have helped shape her as she works through her first year as a university student and athlete.
"I've realized that even if you do badly in one race, you can always get back on track and learn and grow into a better person and runner – it's made me more open minded and positive," she says, a characteristic her coach Raymond Rudder feels sets her apart.
"Faith is the kind of team member that will put aside her feelings and step up when the team needs her. Faith is coachable and a team player."
Only seventeen years old, Faith has a few years before she graduates York U and heads to the Olympics, but she has researched the requirements and is dedicated to achieving both her athletic and professional goals, training hard and focusing on school.
Name: Taylor Price
Hometown: Fredericton, New Brunswick
Sport & Position: Hockey, Forward
Program: Civil Engineering, Second Year
Taylor Price has been in love with hockey ever since her parents signed her up at four years old. No stranger to living away from home, Price was scouted at a summer development camp in Prince Edward Island and as a result completed high school at the Ontario Hockey Academy in Cornwall, Ontario.
Unsure what to pursue after high school, Price considered working for Hydro New Brunswick, just like her lineman dad, but both her parents encouraged her to pursue post-secondary education.
"My dad told me that I could be his boss one day, so I should go and get a degree and my mom always said that a degree is one thing no one can ever take away from you," says Price.
While the chance to play hockey for the York U Lions was a huge motivator, the novelty of the faculty and the innovative and unique Bergeron Centre for Engineering Excellence building also piqued her interest when it came time to decide on a university. She chose Civil Engineering on a whim after assessing her interests.
"I liked physics and math but hated biology and writing and that's how I narrowed down my program choices."
Described by her coach Daniel Church as, "a tenacious and aggressive player that plays way bigger than her size" Taylor is hyper-focused on excelling in school and starting a career, with hockey the catalyst for achieving these goals.
As with her initial school/program selection process, Price is taking a go-with-the-flow approach to her post-graduation goals, interested in structural engineering and the environment and open to the various opportunities a degree in civil engineering, coupled with these passions, may provide.
"It doesn't matter where I am, I will always be involved with the sport, but my main focus is getting a degree and a job and hockey is something I love that's helping me get there."
Among her Lassonde community, Price says she feel supported and motivated by her Lassonde community of peers and professors.
"I usually hear 'wow you're in engineering and you're a girl in engineering and you're an athlete on top of that?!' I get a lot of credit from classmates and professors."