---
BEST Startup Experience 2021 gives students hands-on opportunity to solve sustainability challenges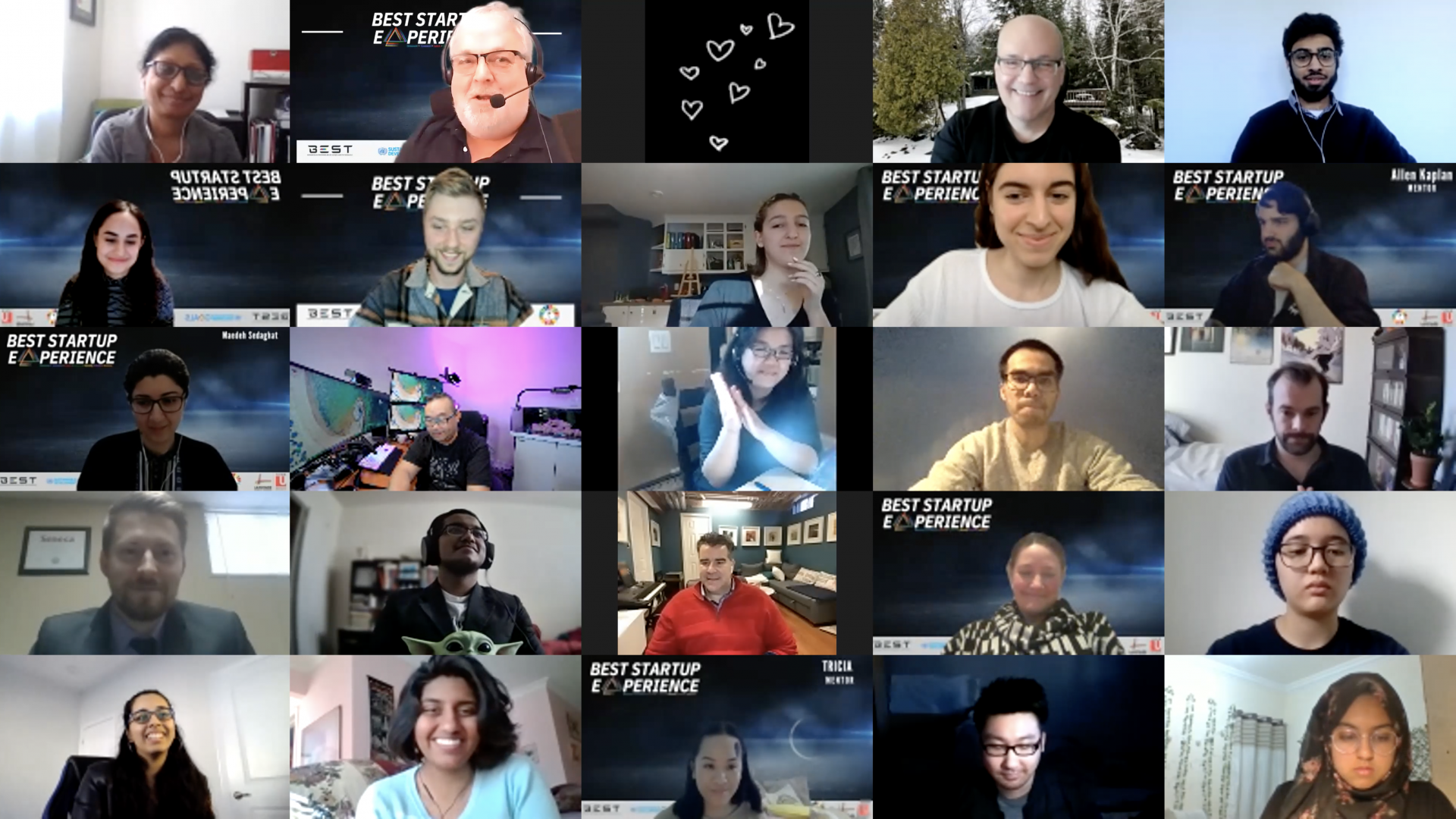 BEST Program, at the Lassonde School of Engineering, hosted the BEST Startup Experience from March 5th – March 7th.
"The BEST Startup Experience offers students a unique opportunity to be immersed and solve a real-world problem that leverages many of the tools we teach in engineering design. It helps them harness their creative potential and develop entrepreneurial mindsets, fostering a belief that they can be changemakers" commented Dr. Andrew Maxwell, Bergeron Chair in Technology Entrepreneurship.
Throughout this weekend of experiential learning, students got to work in multi-disciplinary teams and collaborate on the development and design of business ideas that address eight UN Sustainable Development Goals, using the design sprint methodology process. This experience helps equip students with critical skills such as teamwork, communication, creative problem solving, decision making, project management and leadership, all while applying their technical knowledge.
"Our goal is to enrich the student learning experience while fostering an entrepreneurial mindset and equipping them with critical skills so they feel prepared and confident to make a big impact in their communities. We want to show students that they can make a big difference in society whether it's by playing a key role in big organizations or pursuing their own startup ideas" added Maedeh Sedaghat, Program Officer at BEST.
Throughout the weekend, 27 teams pitched their ideas at a preliminary round and the top 8 teams were selected to make a final pitch to the judges.
Team Genesis (Kyle Rapinchuk, Rupayon Haldar, Muaath Kaadan and Muhammad Al Kermali) won first place in the competition. Team Genesis worked to develop a service that will take ABS waste plastic and transform it into 3D printing filament which can then be resold or provided back to companies as high-quality 3D printing materials.
"BEST Startup Experience was an intensive, interesting and fun event. It showed me that having good teamwork and team dynamics are some of the most important things when working in a group. I saw that trial and error is extremely beneficial." said, Muhammad Ali Kermali, first-year engineering student.
Team FeedMe (Saanvi Malhotra, Syed Mohammed Bilal, George Sameh Adel, Nwobi Kaosisochukwu, Waleed Khan, Oyedele Luqman) took second place. The team's mission was to facilitate the rerouting of food waste from restaurants to people who need food using an app or website. Their start-up will be a non-profit that partners with restaurants to supply excess food to individuals as well as food banks. The app will allow restaurants to notify volunteers who will pick up the excess food and deliver it to individuals or food banks.
The third-place winners were team Goal Diggers (Neomi Goldshtein, Suman Thar Mohamed, Luana Ribeiro Madeira, Juan-Antonio Reece, Monique Doucet). Their plan was to work with York campus restaurants and reduce the number of takeout containers used on campus by allowing students to bring their own reusable containers. The students would receive a personalized QR code sticker which they could place on a container they own. With this code, they would be able to track the number of times they use their container through an app; each use would get them points which could be used to receive discounts and prizes.
"The world is facing many complex and interconnected environmental, social and economic challenges which requires interdisciplinary collaboration and innovation. The BEST Startup Experience is a great experiential opportunity for innovative students driving positive change for sustainability by tackling complex global challenges through the lens of the Sustainable Development Goals" commented Nicole Arsenault Program Director, Sustainability, York University.
Congratulations to the winning teams and thank you to everyone who participated! We appreciate everyone who made this event possible including our sponsors, community partners, judges, mentors, moderators and everyone else who brought this event to life.
A special thank you to our incredible team of judges: Karen Lai, President and Founder of KPM Power Inc.; Elliott Atkins, Co-Founder of Opilio Labs; Dr. Martin Croteau: Investor, Advisor, Academic, CEO of Aventis Consulting Group; Subashini Kangesan, Sr. Process Improvement & Innovation Consultant at Telus; and Keith Loo: Co-founder and chief executive officer at Skinopathy.
BEST Startup Experience would not have been possible without our sponsors: York University's Sustainability Office, KPM Power and Summer Fresh.