---
BEST Startup Experience 2023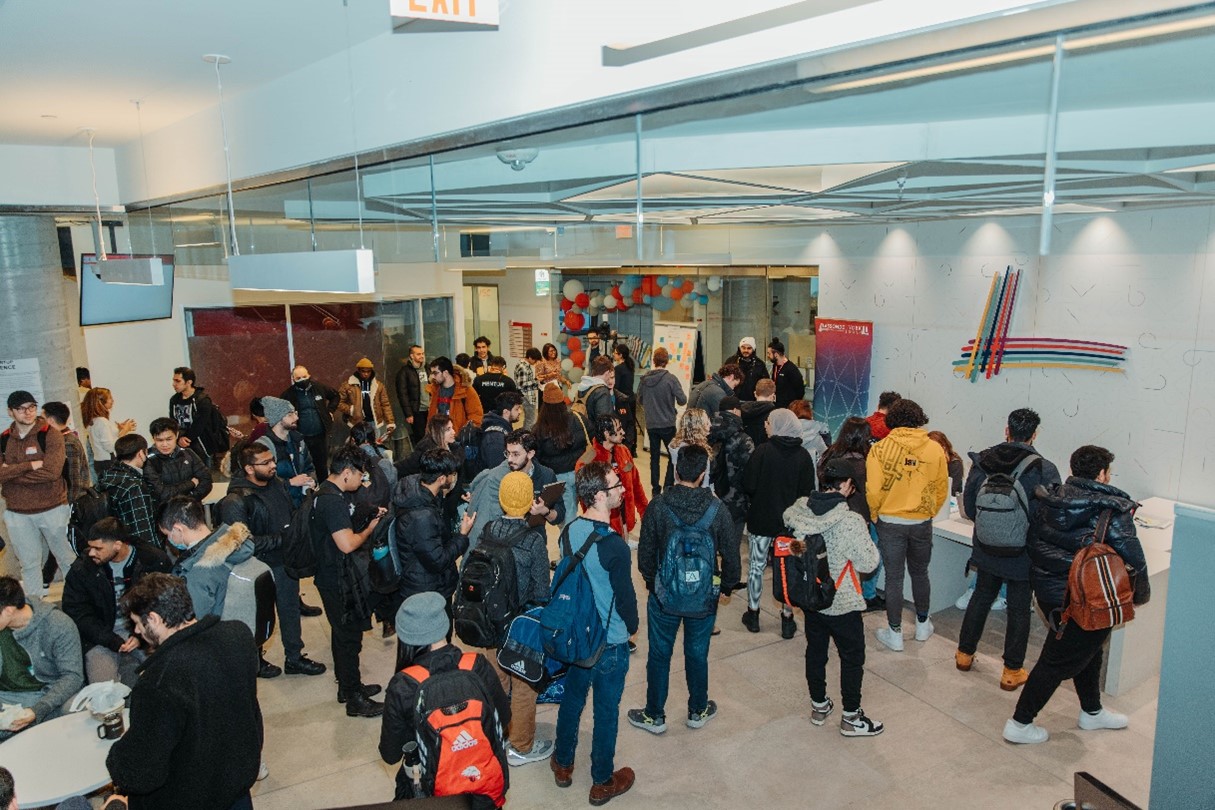 From March 10-12, Lassonde's BEST Program hosted the annual BEST Startup Experience, an experiential learning opportunity for students to solve real-world problems in a team environment.
The event brought together over 300 undergraduate and graduate students to work in teams on more than 60 projects related to the United Nations' Sustainable Development Goals.
With support from their dedicated mentors, the students went through a structured learning journey using Design Sprint methodology and learned how to use various tools and techniques to create innovative solutions for real problems. Teams learned techniques for pitching their ideas during a live workshop with Adonai Garcia, a graduate student in the Civil Engineering department, and practiced their pitch presentation with Professor Andrew Maxwell and other mentors.
"This experience gave me valuable insights on how to provide a good pitch," says Camie Wong, a second-year Design student. "What I learned here will be helpful in the future when I present my ideas to stakeholders as a UX Designer. I also loved meeting people outside of my own program. Having the opportunity to get inspired by people from across York was eye-opening. I will never forget this experience."
"The diversity of the people in our group really helped shape the direction of the product and where to take it," says Dennis Johnson, a fourth-year Computer Science student. "I absolutely loved having team members from digital design, civil engineering, computer engineering and kinesiology. My biggest takeaway was the diversity of ideas and coordination in a group – it is both challenging and fun."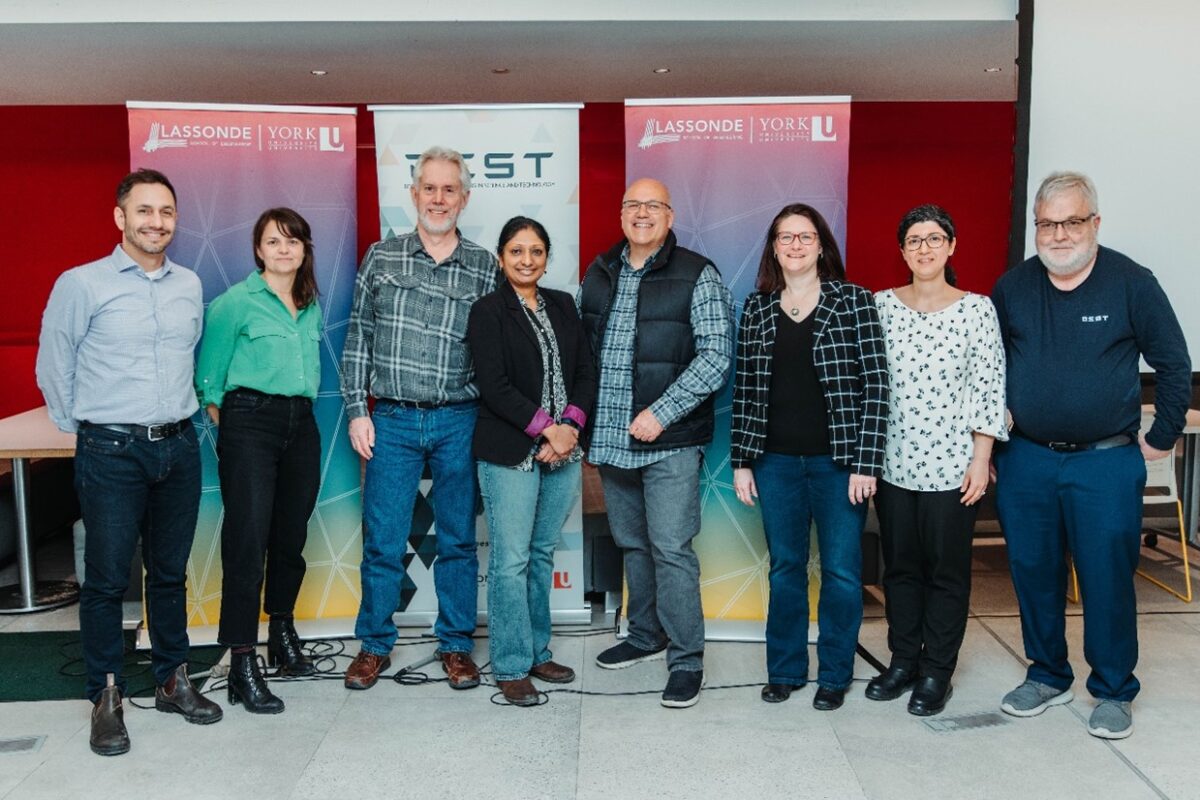 The judges were impressed by the quality of the projects and had a difficult time selecting the winners. In the end, three teams were awarded for their outstanding work. Two new special awards were also presented at the event for the first time.
1st place: Carbon Report (Alvin Chan, Arjit Johar, Nitya Bhatt, Mike Shen, Tiffany Kwan)
Carbon Report is an emission reporting and accounting software that focuses on collecting, analyzing, auditing and reporting data to regulators for oil and gas, metals and mining, manufacturing, and power and utilities. They provide an all-in-one platform service that is accurate and affordable.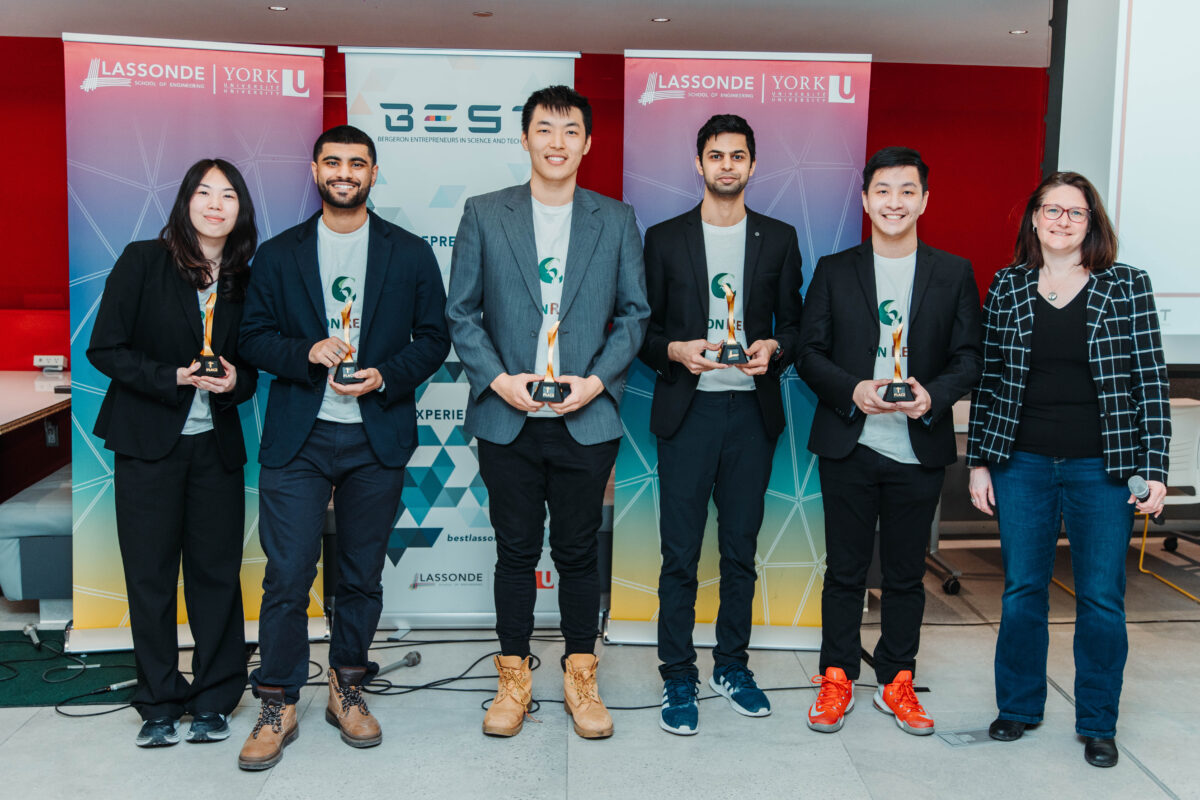 2nd place: Train Reality (Azwad Abid, Wachirawit Umpaipant , Madison Bardoel, Elijah Paulsen, John Brown, Francis Joseph Fajardo). 
Train Reality uses modular VR training programs to improve the retention of knowledge and baseline skill level for new employees when training them. They focus on bridging the gap between informational learning and on-the-go job training.

3rd place and People's Choice Award: Handi Fuel (Muhammad Qasim, Daoud Ali, Jia Xu, Tarek Jarab, Mohamed Nizar Sayed Suliman, Tariq Qureshey, Manala Perera).
Handi Fuel aims to offer a full-service experience to those with disabilities or limited mobility when using a gas station. Handi Fuel uses a robotic arm for fuelling assistance. They intend to work alongside the government, businesses and not-for-profit organizations to support drivers.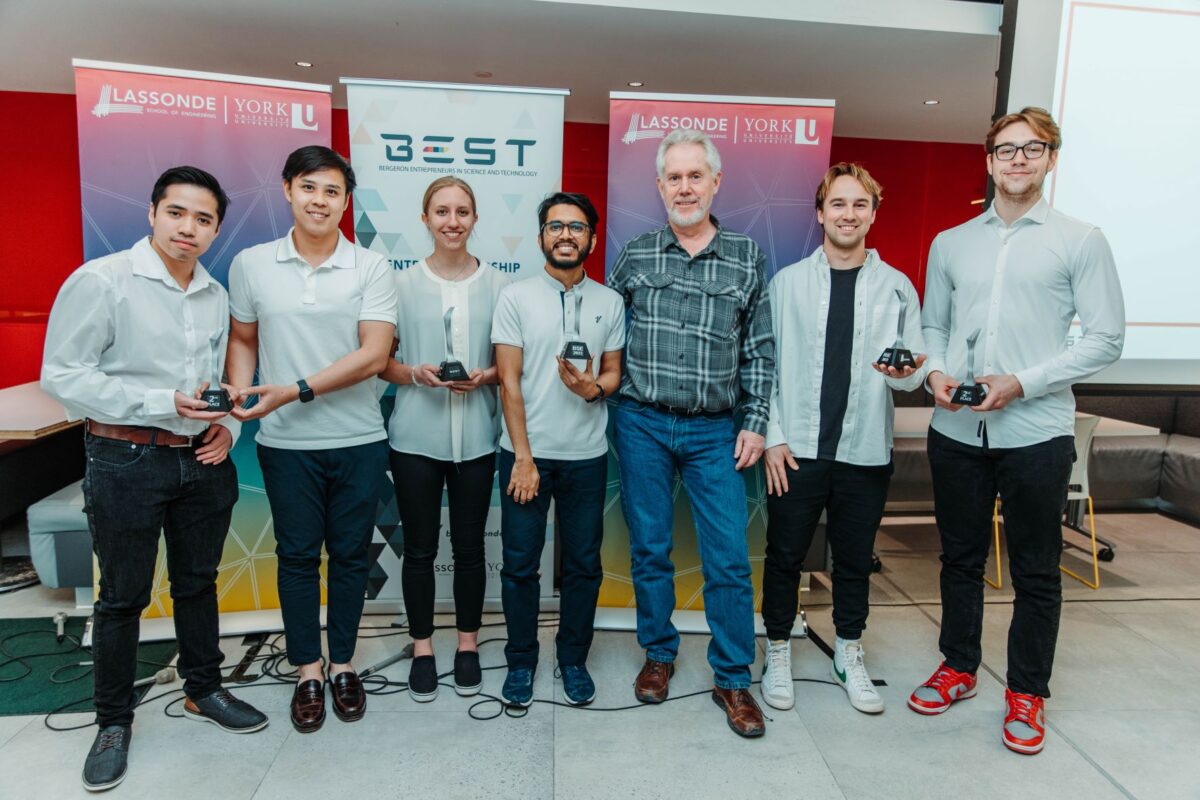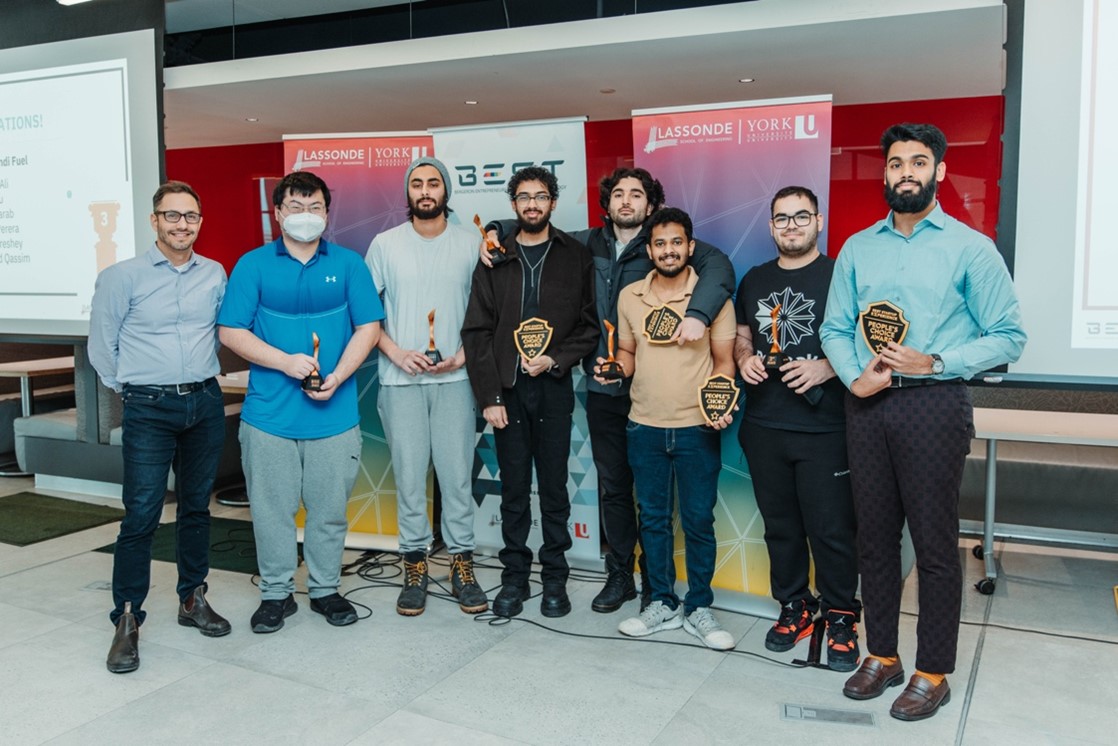 Special Award -Yorkers (Shaheer Saif, Soo Min Yi, Jenny Zhao, Camie Wong).
The Yorkers worked on a project called LinkAssist, a digital platform for shelter staff that streamlines resource allocation and client data, allowing for a more efficient and cost-effective response to homelessness in the city of Toronto.
Just Do It Award -Tiffin Time (Imam Khalid, Jason Yang, Shafin Mahmud, Tariq Syed, Masrur Rahman).
Tiffin Time is a platform that connects producers and consumers to provide healthy and unique food options. This platform aims to make getting food from various cultures more convenient across Canada.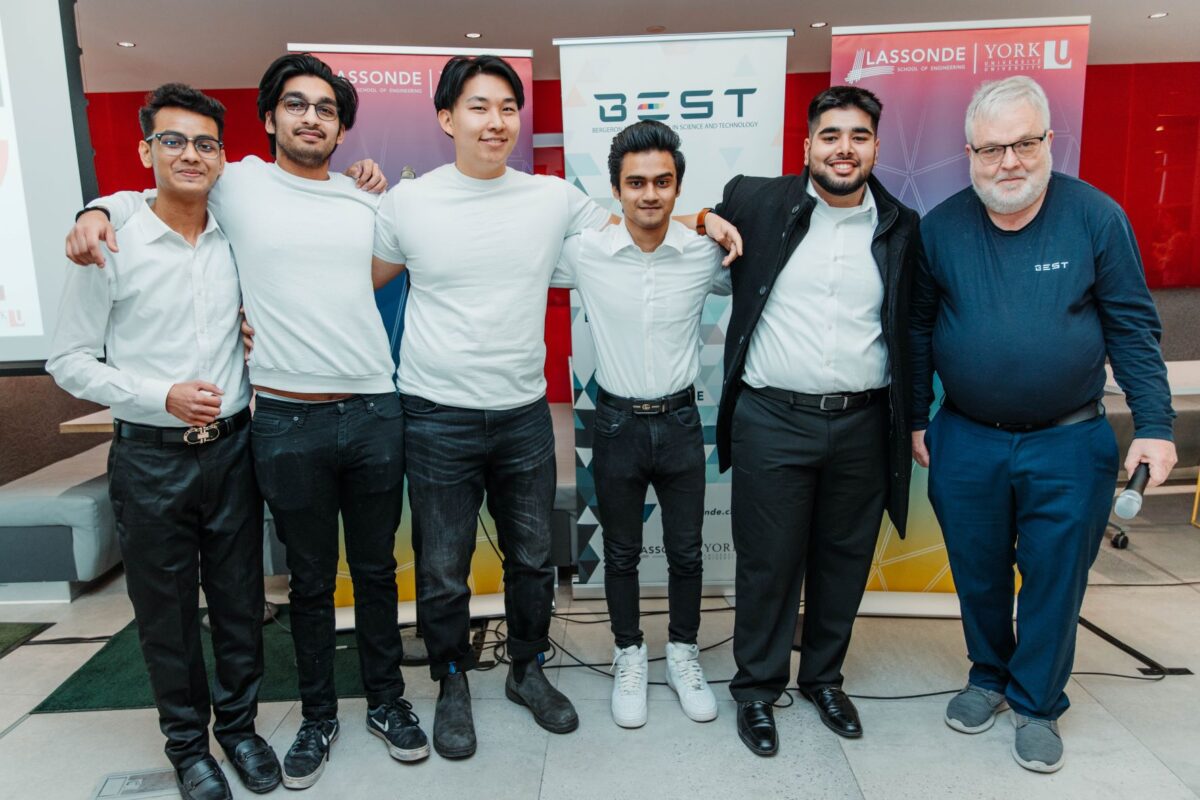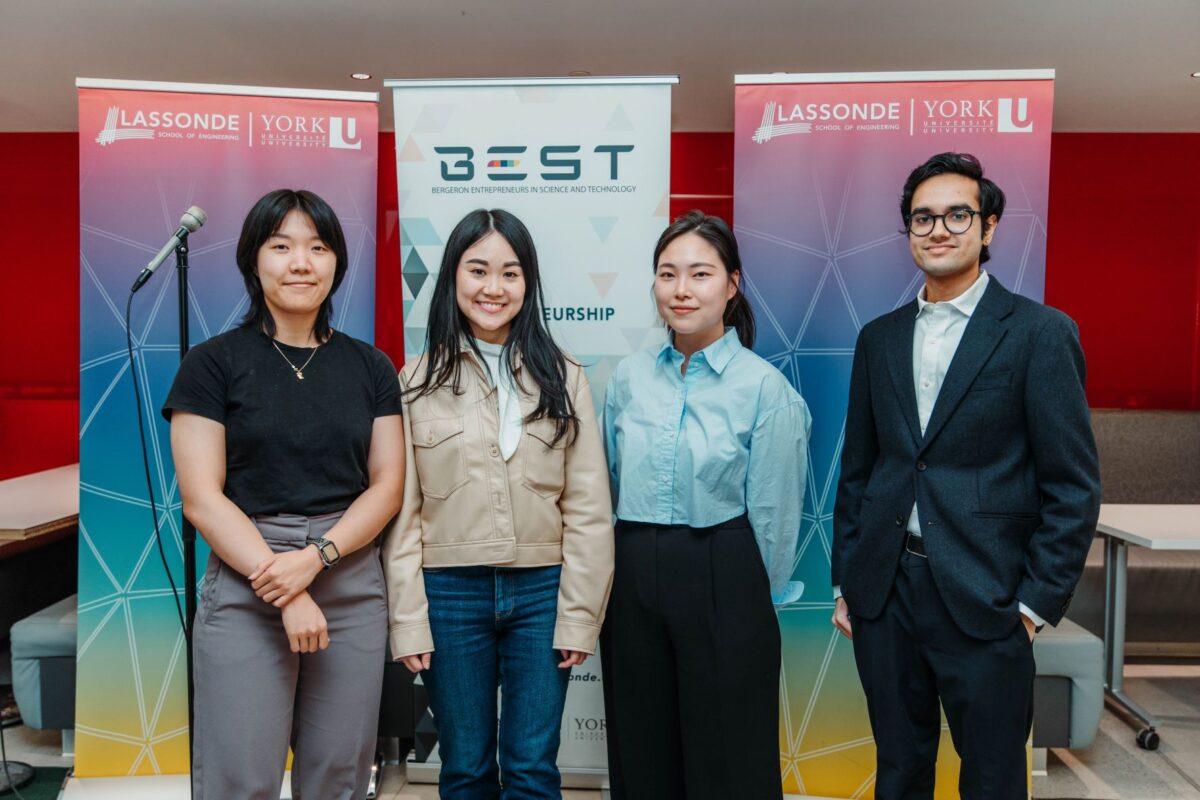 "One of the biggest takeaways from this experience has been the realization that with the right mindset, tools and techniques, we can overcome obstacles and achieve our goals," says Rushanshah Saiyed, fourth-year Computer Engineering student. "We were surprised with our own abilities and resilience in challenging situations."
The event was a success and highlighted the importance of hands-on learning experiences for students. It also allowed students to develop their entrepreneurial skills and connect with industry experts and potential employers.
"These types of experiential learning activities provide students with unparalleled opportunity to acquire hands-on, practical knowledge and skills that they can apply in real-world scenarios," says Maedeh Sedaghat, Program Manager, BEST. "Through active engagement in problem-solving and collaboration, students are able to develop a deeper understanding of complex concepts and cultivate critical thinking, creativity, and adaptability. We hope that through this experience students gained new perspectives and a sense of purpose and passion for making positive change in their communities."
Congratulations to all the winners and students who participated in this experience.
Thank you to all the sponsors who made this event possible: York University (Office of the Vice-President Finance & Administration), Summer Fresh, KPM Power.
Thank you also to the mentors, volunteers and the panel of expert judges who took part in this event: Elliot Atkins, Nicole Arsenault, Dr. Magdalena Krol, Dr. Martin de Lasa, Subashini Kangesan, Dr. Jon Kerr.