---
BEST Technology Impact Prize on Capstone Day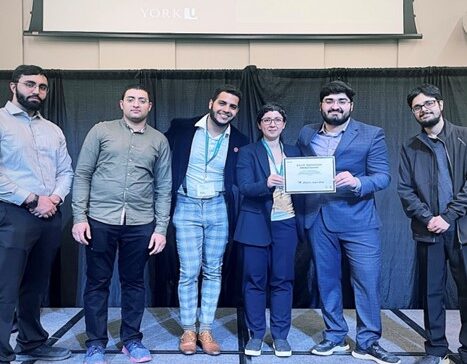 On April 27th, Lassonde School of Engineering hosted their annual Capstone Day, a celebration of innovation and impact where students from the ENG4K Technology Project Course and the Cross Campus Capstone Classroom (C4) showcased their projects. The coveted BEST Technology Impact Prize was awarded to two exceptional projects: "Modular Smart Home" from ENG4K and "Nordic Walking Poles" from C4. These projects demonstrated strong design, innovation, and the potential to create positive change in their respective fields.
The winning team in the ENG 4K category was Modular Smart Home. Reza Mirhadi, Hassan Habib, Talal Najam, Ruchit Nayak, Hiba Jaleel, and Eraj Siddiqui joined forces to develop the "Modular Smart Home" project. Their goal was to address the housing challenges faced by Canadian millennials aged 25-40, who sought housing solutions that met both their functional and emotional needs while remaining affordable. The team employed an innovative approach by utilizing modular construction methods, which offered a more efficient alternative to traditional housing construction. By optimizing the design and construction methods, they aimed to reduce labour-intensive and time-consuming processes. The ultimate objective was to make housing more affordable for Canadians.
The winning team in the C4 category was Nordic Walking Poles. Sathini De Silva, Kevin Nguyen, Haya Mohamed, Hashem Abdalqader, Sebastian Alfaro, Angel Jiang, Vedant Khandeparkar, and Patalie Dharmasena formed the Team "Nordic Walking Poles" project. Their primary objective was to reduce injury recovery time and conduct longitudinal studies on the health benefits of Nordic walking. The team worked closely with researchers and community stakeholders to study the impact of Nordic walking on health. They discovered a gap in research due to limited biomechanical capturing devices used only in labs. To bridge this gap, they created portable Nordic walking poles equipped with sensors to measure vital health parameters. This innovation enabled longitudinal studies in various environments. They also developed a user-friendly Python app, making it accessible to researchers with limited coding skills.
Winning projects "Modular Smart Home" and "Nordic Walking Poles" stood out for their remarkable innovation and potential for positive impact, exemplifying the transformative power of technology in addressing real-world challenges and improving lives.