Welcome!
We've created this space to help you make most out of the Virtual Open House.
Explore and enjoy.
On The Agenda
A Few Tips to help you make the most of the day
We will be using two online platforms for this Open House.
Easy Virtual Fair
Please register to attend the Fair: https://yorku.easyvirtualfair.com/
On the day of the Virtual Open House representatives from all the Faculties, Programs, and Services across York University will be available to help you from 9:00am to 1:00pm ET.
The images below guides you on what the Easy Virtual Fair platform looks like.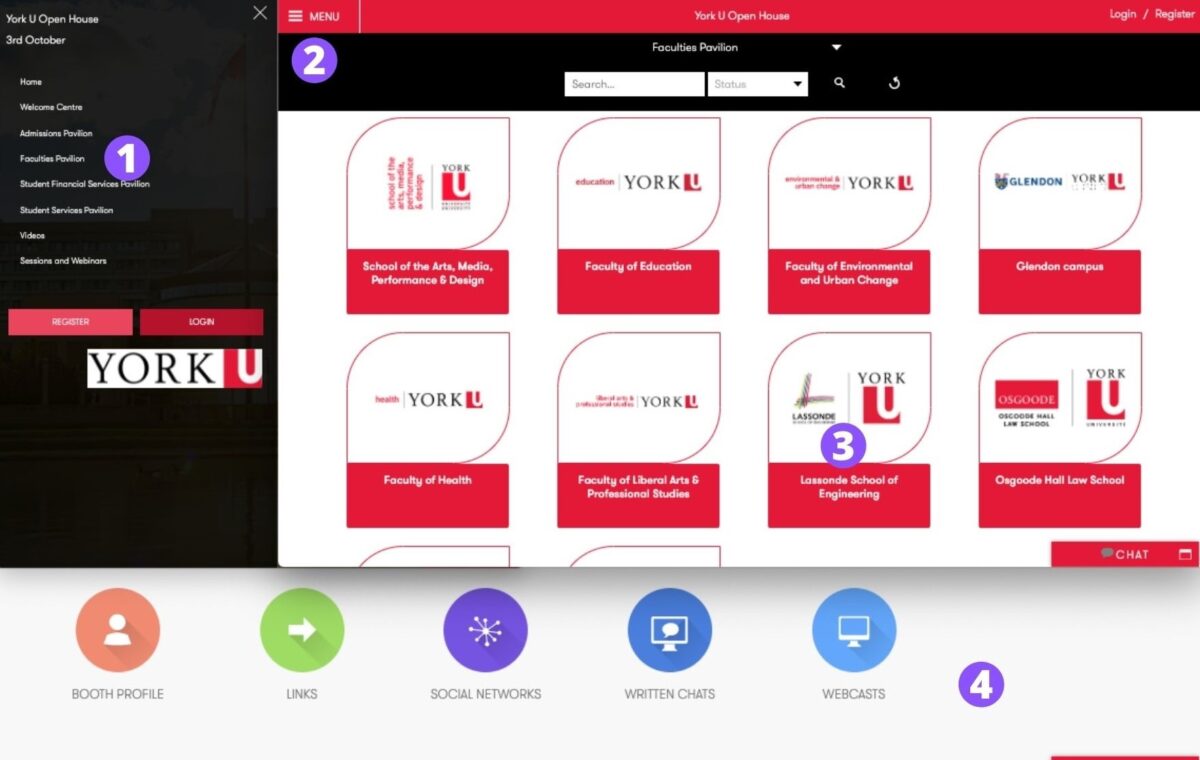 Locate the Faculties Pavilion
Open the Menu
Access the Lassonde School of Engineering Virtual Booth
Discover Lassonde – Programs, Live Chat, Social Media, Videos, and Live Chat!

Zoom Webinars
The Lassonde School of Engineering will use the Zoom platform for our live video sessions.
If this is your first time using the Zoom, you'll need to download Zoom to join the Webinar as an Attendee.
We will begin each session at the time listed on this page
The image below guides you on what the webinar window looks like.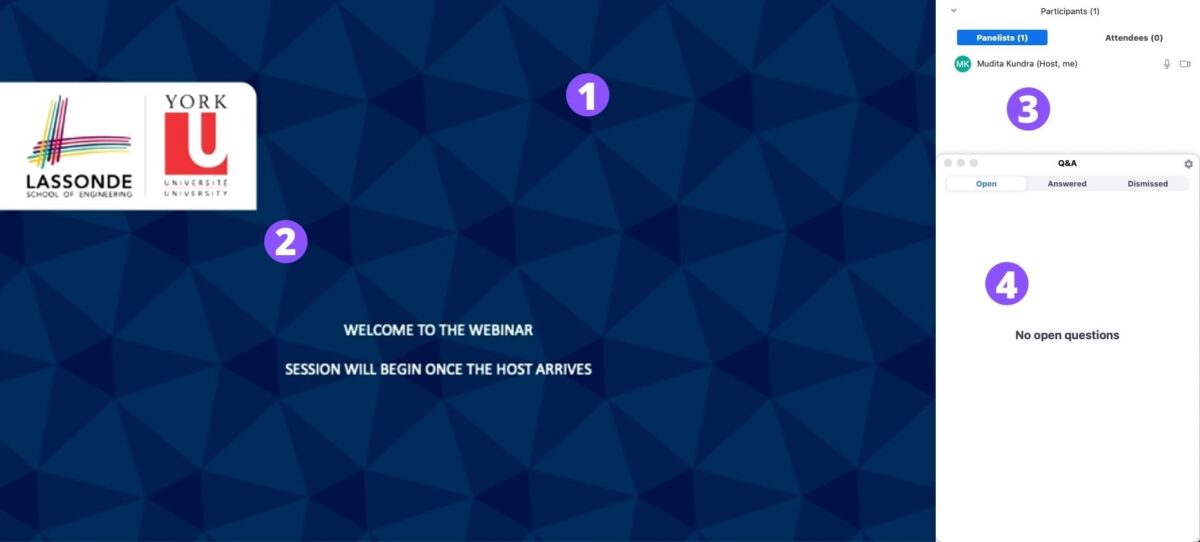 We'll be using Zoom Webinar for each of the sessions
During each session, you'll be able to see the presenters/panelists here. Before each session, this window will ask you to wait for the host to arrive.
Names of the presenters/panelists for each session will appear here.
You can post questions here during the session. You can also upvote a question another student has asked.
Who's Who
Lassonde Recruitment & Admissions team
Staff Team:
Mudita Kundra, Student Recruitment Officer
Harj Singh, Student Recruitment Officer – International
Katrina Angel, Admissions Analyst
Student Moderators:
Tiffany, '21 Computer Engineering
Utkarsh, '21 Computer Science
Michelle, '23 Space Engineering
Dennis, '23 Computer Science
Lassonde Program Fair
Profs:
Marzieh Ahmadzadeh, Computer Science
Sunil Bisnath, Geomatics Engineering
Garrett Malenka, Mechanical Engineering
Franz Newland, Space Engineering
Shooka Karimpour, Civil Engineering
Students:
Ginelle, Civil Engineering
Raafat, Civil Engineering
Bartu, Digital Media
Chris, Electrical Engineering
Josh, Computer Security
Rhythm, Atmospheric Science
Lex, Geomatics Engineering
Maaz, Mechanical Engineering
Satvik, Mechanical Engineering
Lassonde Student Panel
Salma, Civil Engineering
Chris, Electrical Engineering
Josh, Computer Security
Nicole, Computer Science
Rhythm, Atmospheric Science
Lex, Geomatics Engineering
Julia, Mechanical Engineering
Lucine, Mechanical Engineering