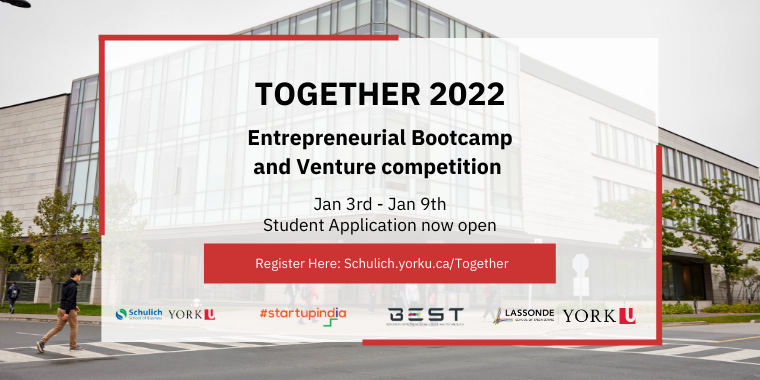 Together 2022
The Schulich Office of Innovation and Entrepreneurship in partnership with the Lassonde School of Engineering's BEST Program is thrilled to invite you to participate in Together 2022, our Global Entrepreneurship Bootcamp and Venture Competition for graduate students, co-created with Startup India. 
Each participant will have the opportunity to learn from world-class trainers, connect with top innovation/VC mentors and compete to win amazing prizes! The 7-day Bootcamp & Competition taking place during the week of January 3rd, 2022 through January 9th.
Please fill out and submit the Student Application Here prior to the deadline on December 7, 2021. It should take no longer than 5-10 minutes to complete. 
Rewards and Opportunities Include:
Cash Prizes for Schulich Students on  Winning Teams ($1,000-2,500 + per student)

Professional Personal Photo Shoot for Winning (Canadian) Team Members

Suits from Indochino for Championship (Canadian) Team Members

Personal Access to Industry Leading Mentors (Canadian and Indian)

Exclusive/Private Networking Events

Letter/Certificate of Recognition for your LinkedIn Profile/CV
How does it work? Two hundred Indian student entrepreneurs will be supported by teams of two hundred Schulich/Lassonde Students + a small number of select invitees from other Canadian Universities. 
Each participating student team will be mentored by two business innovation leaders throughout the competition – one from Canada and one from India. These mentors will advise teams and support the development of impactful venture ideas and pitches. 
If you have any questions or concerns, please do not hesitate to reach out to the Schulich Startups team via email, info@schulichstartups.com. Or visit our Website for more details: https://schulich.yorku.ca/together/.