---
Introducing Lassonde's 2020 Scholarship Recipients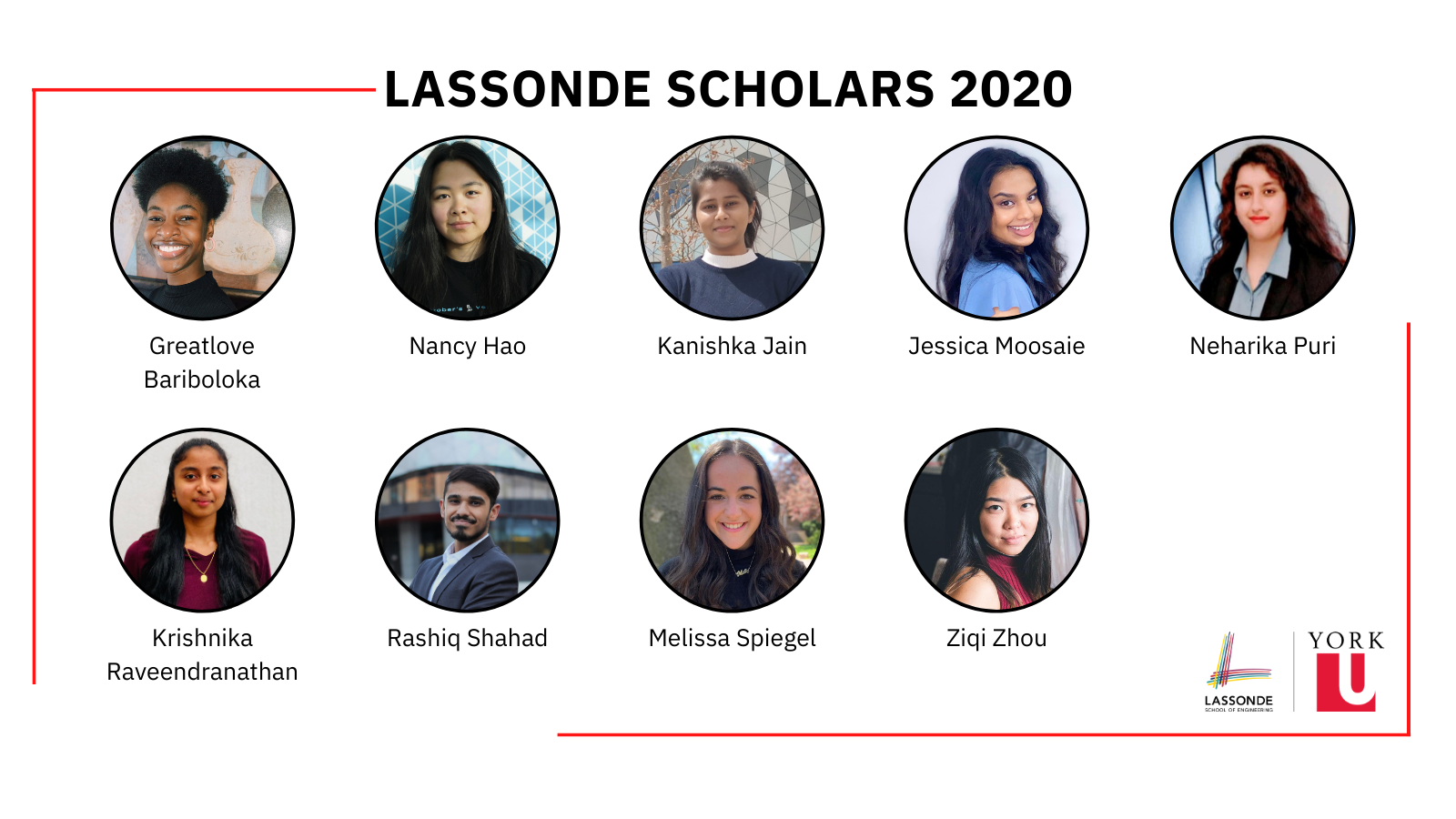 Lassonde Scholars embody the traits of a Renaissance Engineer or Scientist and approach their education with social impact in mind. These students demonstrate academic excellence and have a passion for extracurricular activities and personal projects.
Lassonde is proud to welcome the fourteen newest Lassonde Scholarship recipients of 2020. You can learn more about them below:
Adam Hallag is in his first year studying engineering at Lassonde. He has an active interest in disassembling electronics that would normally be found in the recycling and using the components to build new devices. In high school, he was involved with a physics club and a 3D printing club, working on projects ranging from bridge testing to prototype design.
Adewusi Fashokun is a first-year student in Computer Science and has already worked as an intern for a startup in the United States and started a company named Overt that builds open-source software. He is passionate about creating a community that solves real-world problems with technologies built in the open.
Krishnika Raveendranathan is a first-year engineering student who demonstrated early potential in science and technology, placing second in her school's annual science fair. She designed a model of a satellite that utilizes the energy from black holes and space radiation to provide power and electricity.
Jessica Moosaie is an engineering student in her first year. Her passion for designing, sketching, and building resulted in her joining an Engineering Club in high school. As an Engineering Club executive, Jessica used her entrepreneurial skills to organize a pencil fundraiser as part of a Yellow Bench charity event.
Greatlove Bariboloka is a first-year engineering student. Her experience ranges from peer tutoring in math and physics and extracurricular involvement in choir to promoting her high school dance club.
Kanishka Jain, a second-year student in Computer Science, discovered a passion for hackathons during her time at Lassonde. This passion led to club involvement with CSHUB and a role as the VP of External Fairs for the Lassonde Student Government.
Nancy Hao is a second-year Computer Science student and is an active member of the Lassonde community. Her extracurricular activities include roles on the Media Team, the executive team for Ellehacks, as well as acting as a mentor for Go Code Girl.
Hashir Jamil is a third-year Software Engineering student. Prior to joining Lassonde, Hashir volunteered as a Clinical Support Assistant at Toronto General Hospital. Hashir has continued his community involvement through his work on the Engineering Student Societies' Council of Ontario COVID-19 Task Force researching academic concerns faced by students during the pandemic.
Elim Lemango is a third-year student in Computer Science. As one of the technical leaders for the Develop Student Club, Elim organizes events focused on technical development skills for students including the Solution Challenge where members develop technology-based solutions to real-life problems.
Rashiq Shahad is a third-year student in Mechanical Engineering. Rashiq was formerly a Brampton Civic Hospital Public Health Researcher. He has continued pursuing research during his time at Lassonde as an NSERC USRA Recipient working under Dr. Cuiying Jian on molecular dynamics and computational studies.
Antonia Pennella is a fourth-year Mechanical Engineering student and she is sharing her experience both within and beyond the Lassonde community. Antonia acted as a mentor for a FIRST robotics team at King City Secondary School, helping the team to produce a functional robot. She also mentored two high school students taking part in the Helen Carswell STEAM Program for Women.
Neharika Puri is a fourth-year Software Engineering student. She enjoys being a community leader as the First Year Representative for Lassonde Engineering Society, a peer helper in the Student Welcome & Support Centre and a tutor for Excel Lassonde.
Melissa Spiegel is a fourth-year Civil Engineering student with an interest in human behaviour and engineering. Melissa received an NSERC undergraduate research scholarship, allowing her to research human behaviour in emergency situations as well as mitigation strategies for informal settlements in developed countries.
Dorris Zhou is a fourth-year student in Software Engineering who has been a leader in promoting inclusivity through her role in Women in Science and Engineering (WISE) and in helping to organize the largest all-female hackathon in Canada. As a Teaching Assistant, she also helps first-year students both in and outside of the classroom.
Congratulations to our newest Lassonde Scholars!