---
Lassonde Civil Engineering Students get Hands-on Experience at Water Treatment Facility
---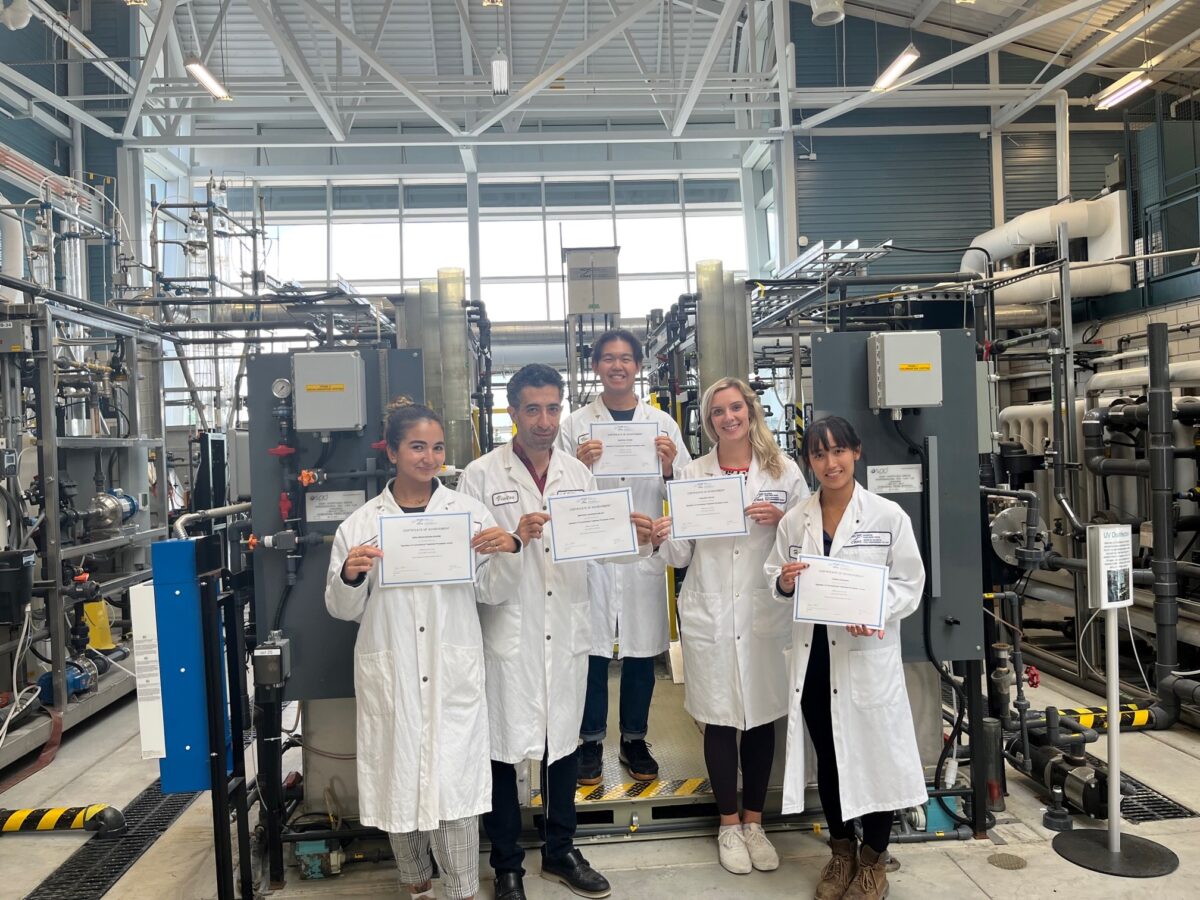 From left to right: Sara Moghaddam (MASc, Civil); Shapour Jafargholinejad (MASc, Mechanical); Brandon Truong (MASc, Mechanical); Caroline Duncan (PhD, Civil); Karen Abogadil (MASc, Civil)
In August, a group of graduate students from the Lassonde School of Engineering, led by Stephanie Gora, assistant professor in the department of Civil Engineering, attended a three-day experiential workshop at the Walkerton Clean Water Centre (WCWC).
Located in Walkerton, Ontario, the WCWC is dedicated to training water operators and supporting communities as they work to improve and sustain their drinking water infrastructure. As part of this effort, they offer a free, three-day workshop to any graduate students doing research about drinking water. The students receive hands-on training on "pilot scale" miniature water treatment processes such as filtration, coagulation and disinfection, and learn about water chemistry and common water quality analysis methods.
Professor Gora, whose research focuses on drinking water quality and treatment, was inspired to send her graduate students to the workshop after reflecting on her own positive experience at the WCWC.
"I participated in the WCWC workshop as a graduate student and was impressed by the facilities and curriculum they provided. I wanted my students to have the same opportunity," said Dr. Gora. "Many of these students took my water engineering courses in 2020 and 2021 when pandemic restrictions were in place and they weren't able to get any hands-on experience in the lab or through field visits, so this workshop was an opportunity for them to gain this valuable experience."
Many of the graduate students who attended the course are doing research in the areas of novel water technologies such as microfluidic sensors and treatment processes, or non-traditional water systems like decentralized water systems in remote communities. This opportunity was directly related to two major focus points for Lassonde: UN SDG 6 – Clean water and sanitation and UN SDG 9 – Industry, innovation and infrastructure. For students, this was a chance to learn how real water treatment systems are designed and operated, and where their own work fits in with, disrupts or transforms existing water treatment and water quality paradigms.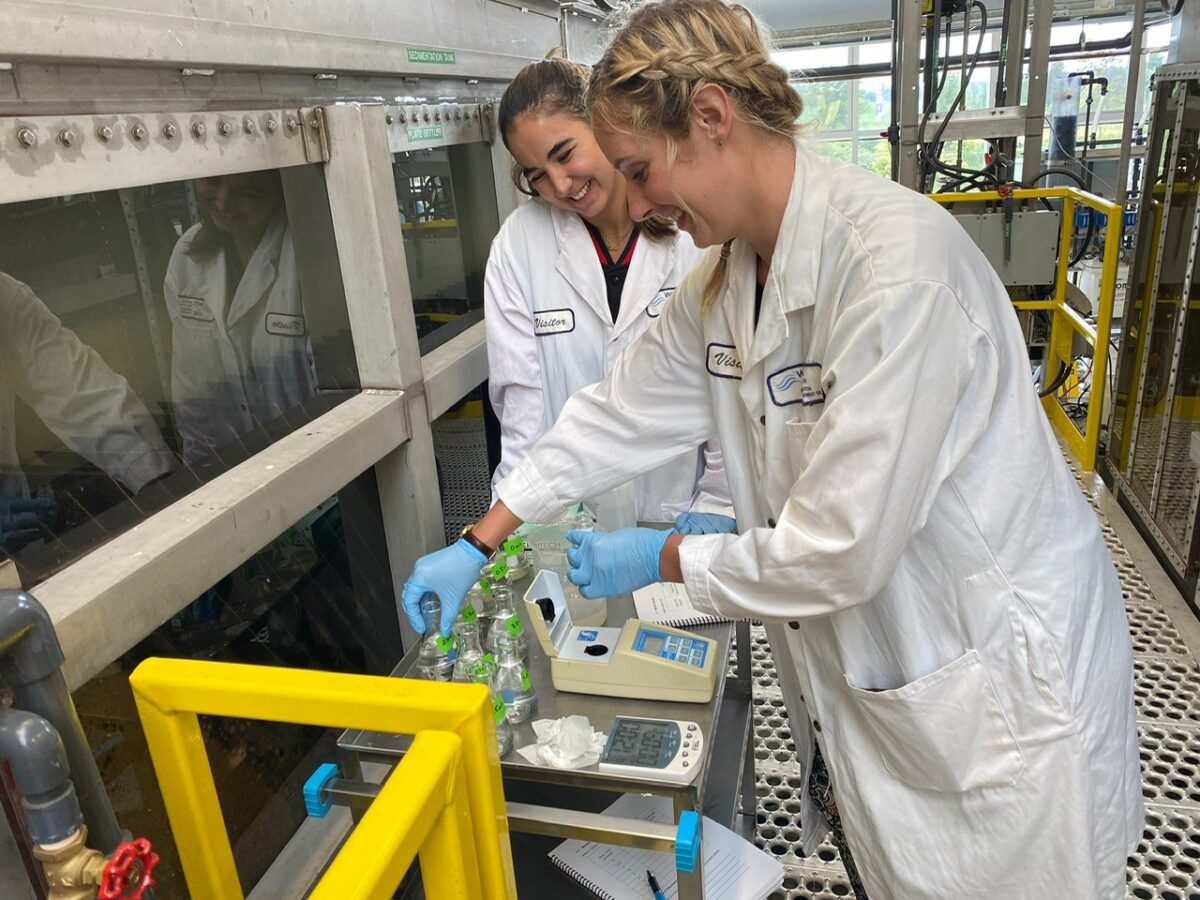 Sara Moghaddam and Caroline Duncan
"It was beneficial to put the theory learnt in the Water Resources Engineering course into a working pilot water treatment plant," says Caroline Duncan, a PhD Candidate in Civil Engineering. "The chance to put the theoretical elements of water treatment into a pilot system and practice lab methods for optimizing the system greatly benefits my research. Having the opportunity to deepen my understanding of how the different building blocks of the multi-barrier approach work and how to run tests for optimizing the treatment process is key to developing the quantitative chunk of the optimization tool I plan to develop."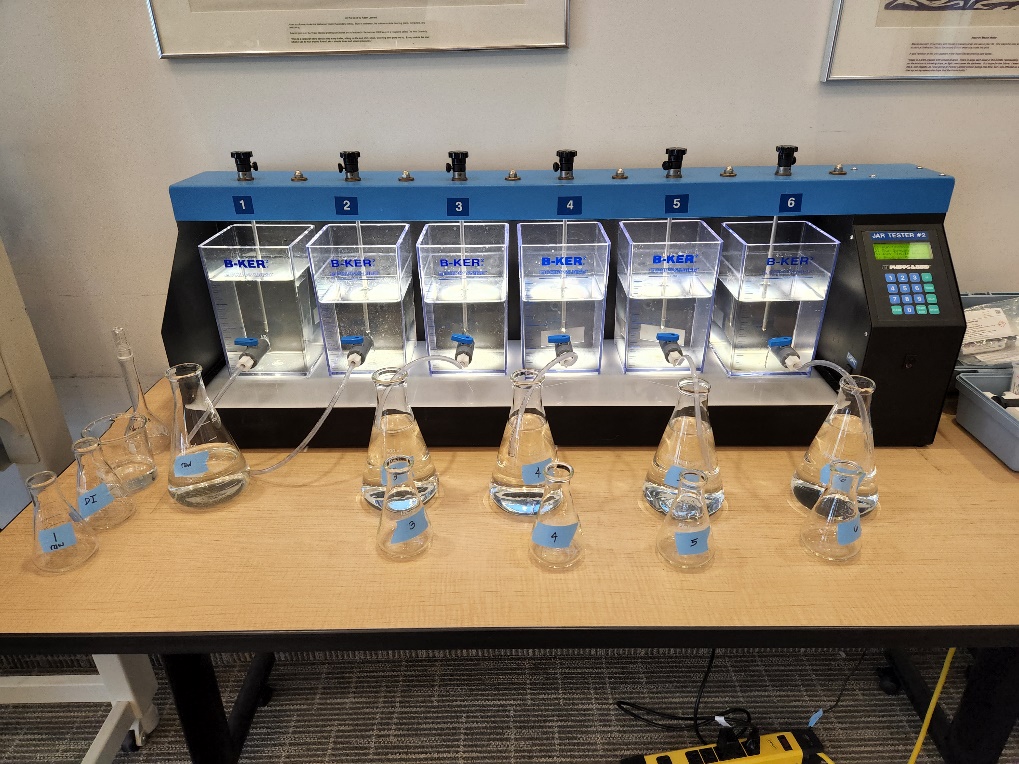 The WCWC provides students with hands on experience operating lab and pilot scale water treatment equipment. These miniature treatment processes are designed to mimic the full-scale water treatment processes used to purify drinking water in Toronto and around the world. These include coagulation and filtration.
In addition to gaining technical skills and seeing the theory that they learned in class put into practice, the workshop also gave students the opportunity to reflect on the social implications that access to clean water has on society and how they can use their knowledge to create positive change in the world.
"This workshop brought everything I've learned about water treatment to life," says Sara Moghaddam, an MASc Candidate in Civil Engineering. "Through my studies and research, I can get a closer look at how much work really goes into providing people with clean water and how important it is. I hope to use this knowledge to help provide drinking water to communities and people whose water safety is currently at risk."