---
Lassonde Community Members Run for Health, Friendship and Fun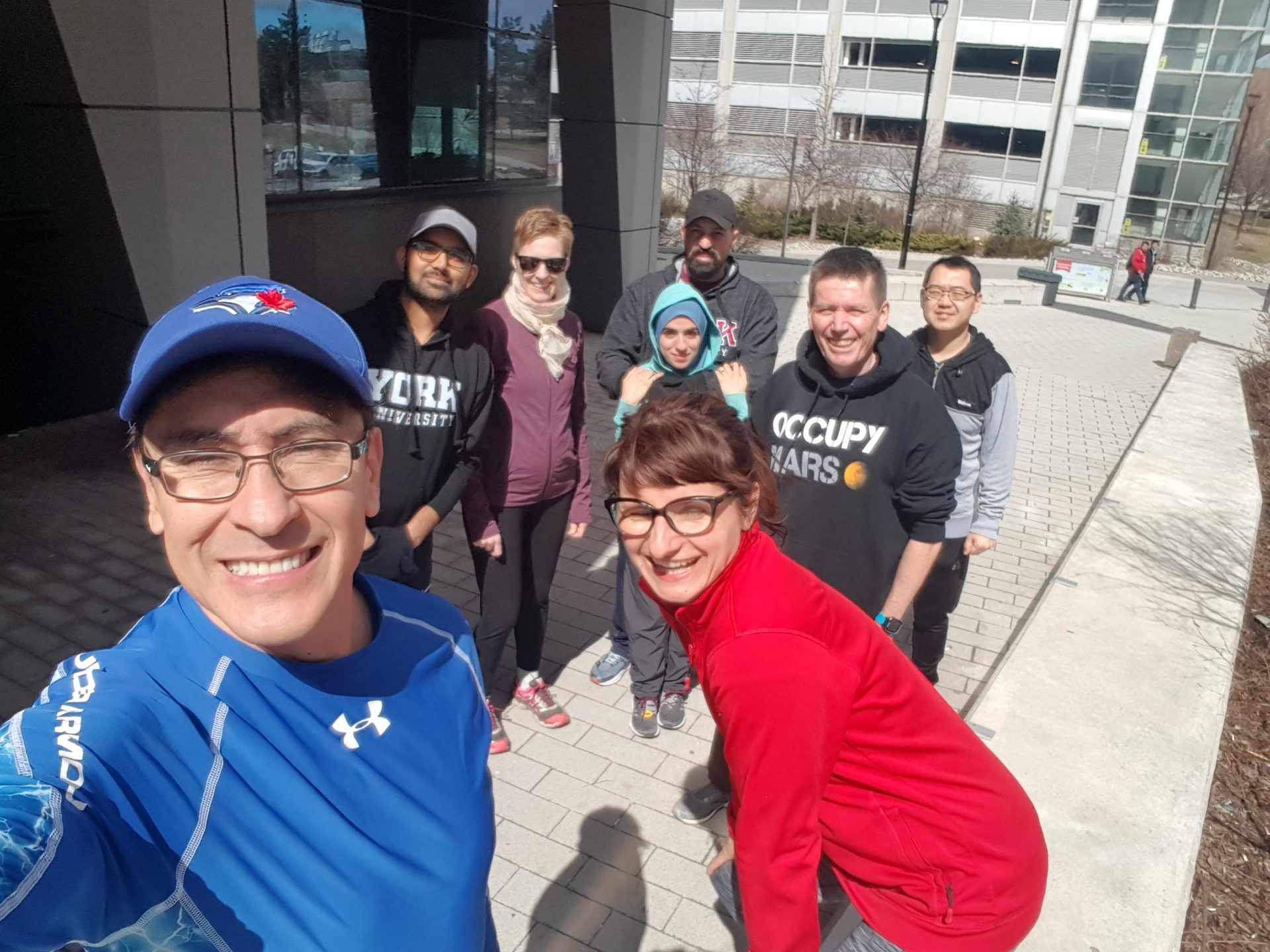 This past weekend four members from the Lassonde Community: Paulina Karwowska-Desaulniers, Irene Antonenko, Jim Freemantle and Kunjan Rupakheti, took part in the Scotiabank Waterfront Marathon.
The four runners are part of the Lassonde Running Club – a club open to all members of the Lassonde community. They meet every Tuesday to run across campus, honing their skills and connecting with one another over a shared love for the sport.
Running has been part of the Science and Engineering Community at York University for a long time, beginning in the 80's with a lunch hour running tradition. Some of these members are still part of today's running club.
Back in the early 90's, Science researchers and other York Community members ran regularly together and competed in races, sometimes representing York in the YMCA corporate challenge down at Toronto's lake front. The runners included late Professor Jack McConnell, Professor/Dean Bob Prince and Jim Freemantle who is still part of Lassonde's running club today.
Thirty years and many kilometres later, the Running Club is still going strong, particularly since the re-launch in 2017, championed by Director of Research & Partnerships, Paulina Karwowska-Desaulniers. The Club has created a relaxed, supportive and social environment for people to connect with another and work on their health and fitness goals.
"The idea to start a Lassonde Running Club came out of not just the need to share my love of running but also my eagerness to spread the benefits of running to the community. Running is a skill like anything else, it takes time to learn, requires patience and can be painful at times to master. Doing it together as part of a team has so many benefits, and I love encouraging others to give running a chance," says Paulina.
The benefits of the running club have been seen among many members, including Kunjan who was suffering from diabetes and severe back pains before he joined. At first, he struggled to run for even five minutes consecutively and now, two years later, he is not only getting faster but has also greatly improved his physical and mental health.
"I made running a lifestyle choice and literally ran through the worries that came with the complicated health issues I was facing," says Kunjan, of his experience learning to run with the Lassonde Running Club. This weekend's Scotiabank Marathon was his first half marathon.
Another member of The Club, Martin Romero has reaped many benefits from the weekly running. Although active all of his life, he had high cholesterol and began jogging around campus alone while he was working as a Research Assistant in a biochemistry laboratory to improve his overall health. When Martin began working at Lassonde he heard about the running club and was a committed member by lunch hour his first day.
Even if you are not a runner, you can join and the team will guide you through their "Walk and Run" plan, guaranteed to have you running the 5km in no time.
The club meets every Tuesday at 12pm in the Bergeron lobby. Please contact Paulina, Martin or Jim if you are interested. Newcomers are always welcome!
Beautiful running to all!