---
Lassonde hosted 16 high school students for the 2020 Helen Carswell STEAM Program for Women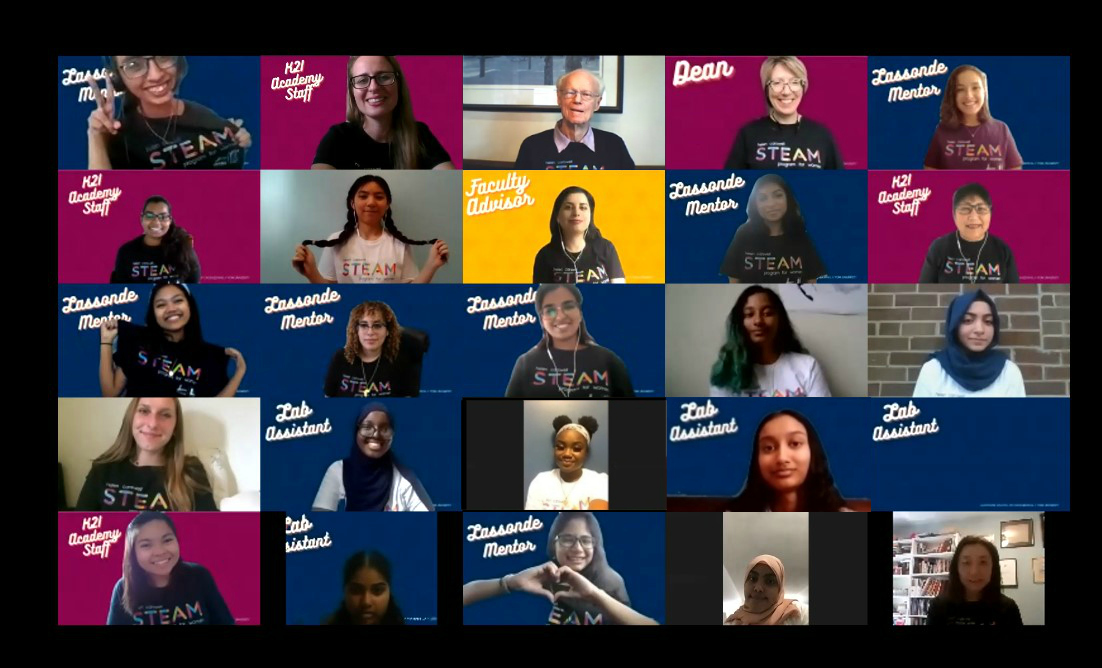 The Lassonde School of Engineering welcomed 16 female high school students to participate in the Helen Carswell STEAM Program for Women. This year the program ran over a two-week period in a completely virtual format. The program offered participants a paid research opportunity as lab assistants doing meaningful work in Science, Technology, Engineering, Arts, and Math (STEAM).
Eight Lassonde Undergraduate Women in STEM joined the k2i Academy Team as Mentors to develop leadership, mentorship, and project management skills during this unique experience. Mentors were assigned to projects and consulted with Lassonde Faculty to develop the experience for our high school student participants.
Over the course of the program, the lab assistants explored the various facets of STEAM through workshops, artistic activities, and working with Lassonde faculty members on their cutting-edge research.
The lab assistants worked with their mentors and professors to explore questions connected to real societal challenges identified by the United Nations Sustainable Development Goals. Questions such as how geospatial data and crowdsourcing could promote peaceful, just and inclusive societies, and whether York could install solar panels to meet power demand and storage issues. They presented their research findings at the program's closing ceremony on August 28.
Research projects included:
Geospatial Crowdsourcing: Revitalizing Global Partnerships, Dr. Mojgan Jadidi
Geospatial Crowdsourcing: Peaceful, Just and Inclusive Societies, Dr. Melanie Baljko
Electronic Music For Social Impact, Dr. Franz Newland
Green Energy in Ontario, Dr. Peter Taylor
Mentor support will continue after the program's completion, providing the high school students with additional guidance as they explore their future education and career pathways.
See all the highlights from the 2020 Helen Carswell STEAM Program for Women in this video.
The Helen Carswell STEAM Program for Women is organized by Lassonde's k2i Academy. K2i helps to design and implement accessible,  curriculum connected and fun STEM programming at the elementary and high school levels that encourage students who may not otherwise consider STEM as a viable option for them. The k2i Academy is committed to building innovative collaborative partnerships to enhance STEM teaching and learning. We are committed to building sustainable programs that focus on equitable and inclusive program design that strives to diversify the STEM profession – Kindergarten to Industry. For more information on the k2i Academy, email k2i@lassonde.yorku.ca.
HELEN CARSWELL STEAM PROGRAM FOR WOMEN
The Helen Carswell STEAM Program for Women was made possible thanks to a generous gift from the Carswell Family Foundation.
Helen Carswell was a registered nurse by trade who demonstrated an entrepreneurial spirit. Most notably in 1974, Helen co-founded Optech Inc. with her husband Allan I. Carswell. Today, Teledyne Optech is a world leader in the high-tech lasers with systems on all seven continents, in space, and on the surface of Mars.
Throughout her life, Helen has been active in the arts, playing piano and the violin and singing for many years. She dedicated much of her community service and philanthropic affairs to supporting arts-based programs. The Helen Carswell STEAM Program for Women marks an exciting development in Lassonde's commitment to advancing equity, diversity, and inclusion in STEAM.