---
Ernest C. Mercier Lecture 2020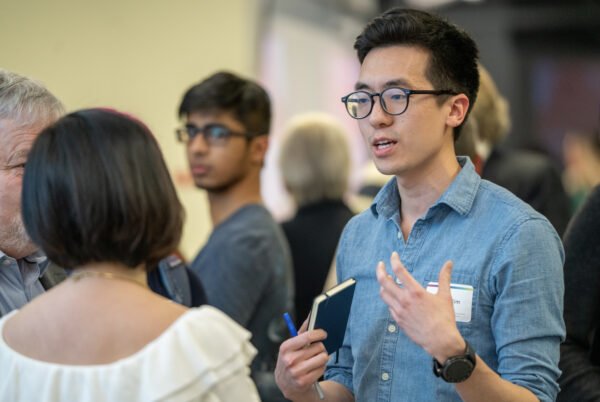 On March 2, 2020 the Lassonde School of Engineering and Schulich School of Business hosted the annual Ernest C. Mercier Lecture in Entrepreneurial Science. The lecture featured keynote speaker Eva Lau, Co-Founder of Two Small Fish Ventures. Prior to her investment work, Lau was the Head of Community and Content at Wattpad.
Prior to the Mercier Lecture, Eva Lau hosted a workshop "Network Effects = ASSET". Eva has created the ASSET framework that many entrepreneurs and accelerators have adopted in their developing business strategies. The ASSET framework is a 5-step approach to unpack the complexities in building and scaling network effects based products. This model is best applied in internet products, such as marketplaces, AI and Machine Learning, and Blockchain.
Lau's talk, Learn to Seize Opportunity, Reach out to the Global Market & Innovate from Within to Grow, explored her journey as an entrepreneur and engineer and the importance of community to foster innovation. She reflected on the impact of mentors and colleagues throughout her career and while she pursued her Master of Business Administration at the Schulich School of Business, and while finding her place in the entrepreneurship community.
Lau also spoke of her experience at Wattpad and the positive societal change that can be brought about by innovation. Most notably, she demonstrated how Wattpad's global reach brought the written word to users in Kenya who had no access to bookstores or books.Lau's presentation encouraged students to explore the opportunities available to them and learn from colleagues and mentors to grow individually and as a team.
The Mercier Lecture 2020 was SOLD OUT, with over 250+ attendees including students, professors, Lassonde's and Schulich's Faculty staff members, and Startup founders.
For more information on the Ernest C. Mercier Lecture in Entrepreneurial Science, click here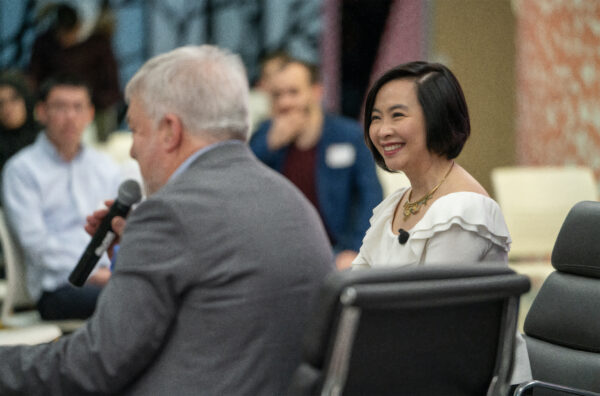 ABOUT THE SPEAKER
Eva Lau is a well-respected entrepreneur-turned-investor and one of the few women leading a venture fund in Canada. She is the Founding Partner of Two Small Fish Ventures, a venture fund that invests globally in early-stage, transformative tech companies with strong network effects. The fund is backed by many high net worth individuals, family offices, institutional investors and the Creator Circle, which is composed of many top product and company creators who can leverage their experience to help TSFV portfolio companies become successful. Before starting Two Small Fish Ventures, Lau was Wattpad's Head of Community and Content. She helped nurture and scale the Wattpad community from its infancy to become one of the largest online communities with tens of millions of monthly users around the world.

With a sharp focus on investing in companies with a strong network effect as their defensibility, Eva has created the ASSET framework that many entrepreneurs and accelerators have adopted in their developing business strategies. She is regarded as an expert in this area. Eva is also involved in many incubators and accelerators, such as Creative Destruction Lab at Rotman School of Management, University of Toronto's Entrepreneurship Hatchery, Ryerson's DMZ, University of Waterloo's Velocity and Techstars. She also serves on the board of Branksome Hall and a number of startup companies.

Ms. Lau has a bachelor's degree in Industrial Engineering from the University of Toronto and an MBA from the Schulich School of Business at York University.
ABOUT THE ERNEST C. MERCIER LECTURE IN ENTREPRENEURIAL SCIENCE
To inspire and empower future generations of students at York with a sense of the possible, Ernest Mercier's wife, Dr. Eileen Mercier, a York graduate (MBA '77, Hon LLD '10), established the lecture series in her late husband's name. Bridging the worlds of business and commerce with the intensive research world of science, the series will present an entrepreneur and renowned scientist who has used his/her own science education as a springboard to other enterprises.
"Ernest believed that the benefits of discipline and analytical thinking, which his engineering education provided, were basic to understanding the cause-and-effect laws of business," says Dr. Mercier. "This lectureship will hopefully inspire others to use their education in similarly unique ways."