---
Students take on sustainability challenges at UNHack weekend
---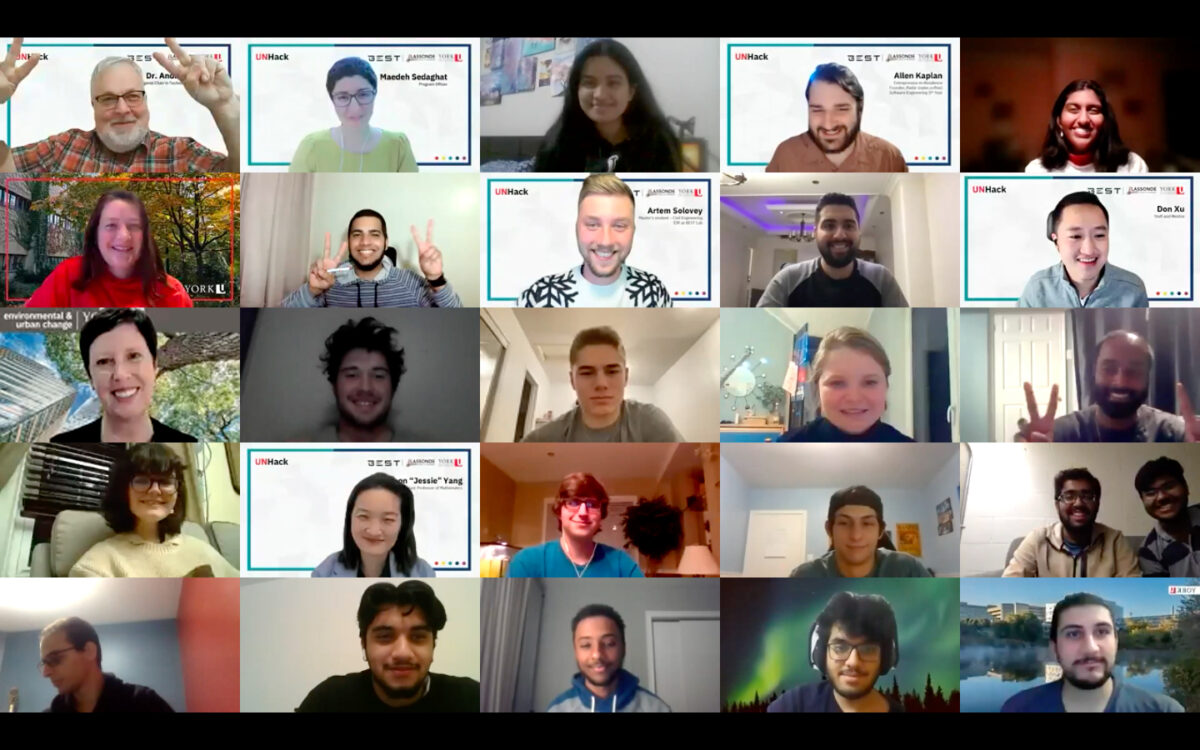 Lassonde's Bergeron Entrepreneurs in Science & Technology (BEST) program hosted UNHack 2021 from November 19 to 21. This weekend of experiential learning allowed undergraduate students from various post-secondary institutions to work in teams with grade 11 and 12 high school students and come up with solutions to issues centred around the United Nations Sustainable Development Goals (UN SDGs). 
"It was truly inspiring to see over 400 students develop creative solutions to local problems that are related to the UN Sustainable Development Goals," said Andrew Maxwell, Bergeron Chair in Technology Entrepreneurship.  "I cannot wait to see some of these projects come to life." 
The students were united by a common passion to make a difference and create a better world. By using the design sprint methodology, students identified local and global problems, brainstormed an impactful solution and built a feasible implementation plan. Teams met for the first time on Friday, began ideating and building their solution on Saturday and presented their solutions to a panel of expert judges on Sunday.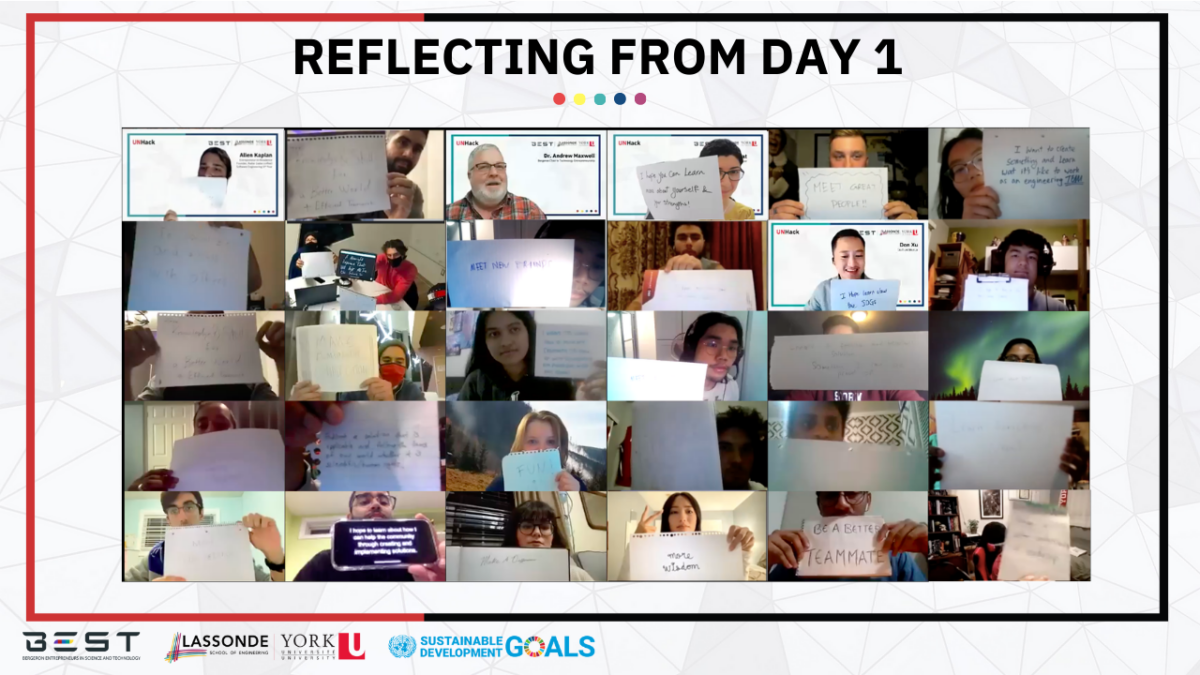 Participants chose a challenge that aligned with a UN SDG, encompassing a variety of themes including good health and wellbeing (SDG #3), quality education (SDG #4) and sustainable cities and communities (SDG #11). Many challenges focused on solutions to enhance sustainability at York University, such as improving access to healthy food options on campus or keeping students engaged with mental health and well-being supports. These challenges allowed students to see how their ideas can impact the world and make a positive change, even when starting from a local level.  
UNHack is more than just a traditional hackathon, it helps students recognize their own potential. The solutions developed included visuals, drawings and other creative expressions that were not limited to technology. In addition, the experience allowed participants to make friendships, build a professional network and gain crucial soft skills such as teamwork, leadership and problem-solving.  
"I often tend to shy away from collaborative work, however, this experience allowed me to experience the benefits of brainstorming as a group and learning how to listen to group members," said Maria Flores, a second-year Mechanical Engineering student. "A big part of engineering is collaborating with others, and I think this experience will benefit me in my future career." 
Seventy-two projects made it to the preliminary judging round on Sunday morning with the top nine teams making their way to the final judging round. 
2021 Winning Teams
First Place – Team #99: EcoYork (Atmiya Jadvani, Saimanoj Yarasi, Jiafeng Wang) 
Team #99's addressed SDG #13: Climate Action by developing a solution to reduce the carbon footprint at student residences. They created an application called EcoYork, which would incentivize students to reduce their eco-footprint through weekly tasks, sustainable challenges and incentives on campus.  
Second Place – Team #11: Food (Justin Chan, Vanessa Ammirante, Crystal Chang, Ananya Manikandan, Mihn Yu) 
Team #11 addressed SDG #2: Zero Hunger by creating a solution to help York University students facing food insecurity. The team developed a Farm to Table initiative, which involved partnering with local farms to provide healthy and affordable meals to students on campus.  
Third Place – Team #58: Spiteful Donkeys (Connor Humphries, Isaiah Chun, Deep Panchal, Rebecca John, Ava Yunus) 
Team #58's addressed SDG #7: Affordable and Clean Energy by pitching a way to make homes more sustainable and energy-efficient. The team presented the idea of moulded pulp for envelope insulation (an environmentally friendly way to insulate homes). This solution promotes low waste and less energy generation.  
People's Choice Award – Team #71: C1M4 (Eugene Park, Brigette Eleuteri, Maria Flores, Maranath Hormiz, Mehrab Rizwan) 
Team #71 addressed SDG#11: Sustainable Cities and Communities by creating a YorkU Nav-E, a user-friendly and accessible application that will help students, especially those who are incoming, to navigate the campus and help ease their transition to in-person studies.  
"It was amazing to see how our students came together to design and create solutions for sustainability challenges within our community and beyond," said Maedeh Sedaghat, Program Officer at BEST. "The UNHack experience has provided our students with an opportunity to develop critical skills that will help them create a more sustainable future." 
We would like to thank our sponsors, KPM Power, Scotiabank and Summer Fresh, along with our community partners, YorkU Sustainability Office, K2I Academy, NSTAMP, SDG Hub, Centre for Human Rights, Equity and Inclusion, Student Counselling, Health and Well-being (SCHW) as well as Professor Magdalena Krol, our mentors and the organizing team for making this year's UNHack a grand success.
We would also like to thank Dean Hovorka from the Faculty of Environmental and Urban Change and Nicole Arsenault, Program Director, Sustainability, for giving opening remarks at the event.
Finally, we would like to thank our panel of expert judges: Elliot Atkins, Karen Lai, Subashini Kangesan, Nicole Arsenault, Dr. Usman Khan, and Keith Loo.