This is Lassonde Season 1
Want to get the inside scoop about life at Lassonde? Check out our Podcast, where each episode brings you fresh conversations hosted by students talking to engineers, scientists and creators across the Lassonde community, including students, faculty, alumni and our industry partners.
Hosted and produced by our students, Tiffany and Utkarsh, you can look forward to insightful conversations that you won't want to miss. Tune in and hear all about how Lassonde is making an impact and finding solutions to complex problems.
Get inspired to make a positive change in the world and become a part of the Lassonde community.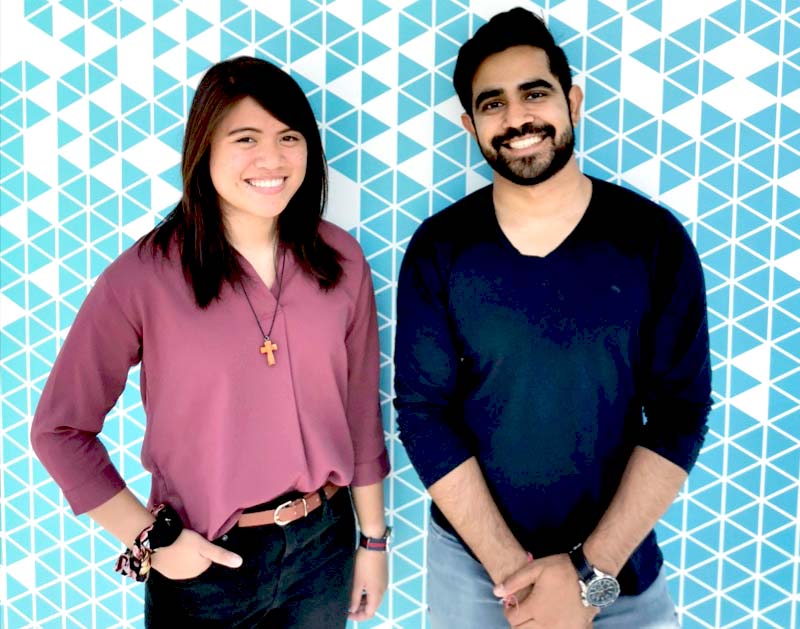 Episode 18:
The importance of being a well-rounded student with Austin Martins
In this episode, we are joined by Austin Martins, a graduate student studying Civil Engineering at Lassonde. He tells us about his journey, and how the passion and camaraderie he saw from the students and professors at York inspired him to attend Lassonde as an undergraduate student. He then shares some of his most memorable moments and describes the hands-on experiences that his Civil Engineering classes offered him. We also explore his experience doing undergraduate summer research. Finally, he gives advice to students about how to make the most out of their university experience.
Episode 17:
Bridging the gap between the physical and the digital with Chris Korfmann
Chris Korfmann is an Electrical Engineering student at Lassonde who comes from a kinesiology background. In this episode, he tells us why he chose electrical engineering and how he hopes to apply his engineering education to the medical field. We also learn about the research he is doing with the Hili Group and some of the current discoveries in the field, such as the advancement in DNA reading, editing and storage technology. Finally, tells us a bit about his life at Lassonde and gives advice to future students.
Episode 16:
Creating your own opportunities with Jowana Burgan
In this episode, we talk to Mechanical Engineering alumna, Jowana Burgan, who tells us how her love of hands-on work led her to pursue engineering and study at Lassonde. We also hear about what inspired her to create the 'Girls Mechanic Team', a group dedicated to teaching girls car maintenance, and all of the doors that decision opened for her. Finally, she shares advice for other women in STEM based on her own experience.
Episode 15:
Facing your childhood fears in your career with Nicholas D'etremont
Nicolas D'etremont is a Lassonde alumnus, now working as a Meteorologist in Ottawa. In this episode, he shares how a childhood fear of thunder led him to develop an unexpected passion for weather and ultimately brought him to the Atmospheric Science program at Lassonde. He also tells us about his work predicting the weather using mathematical models and gives us some examples of extreme weather patterns he's seen. Finally, he talks about his many experiential learning opportunities, and how important it is to get involved as a student.
Episode 14:
Dr. Neil Tandon and his unexpected path to becoming a Lassonde professor
Dr. Neil Tandon is an Atmospheric Science professor at Lassonde and a researcher in climate dynamics. In this episode, he tells us about his unconventional journey to becoming a professor and how his love of mathematics led to his discovery of atmospheric science. We also chat with him about his experience as a professor and researcher, and he describes the impact that the COVID quarantine had on his work. Finally, he gives us an overview of what climate dynamics is and the real-world implications of his research.
Episode 13:
From sustainable fashion to sustainable energy with Maira Zafar
Maira Zafar is a Lassonde Mechanical Engineering Alumna now working in Business Development and Marketing at Morgan Solar Inc, a Toronto-based solar technology innovator. In this episode, Maira discusses her interest in renewable energy, her concerns about the climate crisis, her passion for sustainable fashion and how she found her inspiration for engineering design at the intersection of all these things. She also tells us about her experience as an international student from the UAE, and encourages students to get involved on campus to discover new interests.
Episode 12:
From video games to cyber security with Josh Sahota
Josh Sahota is an alumnus of Lassonde's Computer Security program, now working as a security consultant for IBM. In this episode, he discusses how his fascination with technology and hands-on learning at a young age transformed into an interest in computer networking, and how that led him to the Computer Security program at Lassonde. He also talks about how his final year capstone project, dealing with malware, introduced him to the Internet of Things (IoT), which refers to the billions of physical devices around the world that are now connected to the internet collecting and sharing data, and his passion for keeping these devices safe and secure.
Finally, he advocates for the power of networking, and how you can utilize platforms like LinkedIn to help discover the right career path for you.
Episode 11:
Building technical solutions with a diversity-first approach
Simran Kanda is a Lassonde Computer Science Alumna, currently working as a Project Manager at Montreal New Tech, a nonprofit dedicated to the success of startups and entrepreneurs. In this episode, she tells us about how her love for math and programming led her to Lassonde and describes her learning journey as a first-generation post-secondary learner. We also hear about the many ways she got involved with the Lassonde community and supported her fellow students, through running activities such as a hackathon for women and non-binary students, and a workshop series for skill and confidence building.
Episode 10:
Creating impact through engineering education with Dr. Jeff Harris
Jeff Harris is an Assistant Professor and Director of Common Engineering at Lassonde. In this episode, he tells us how he strives to create impact through engineering education and how he has worked to implement active learning and flipped classrooms. He then gives us a look at how the role of engineering has evolved over time. Finally, he describes what a T-shaped engineer is, and how he and his colleagues work to impart these skills to their engineering students.
Episode 9:
Dr. Stephanie Gora's journey from academia to industry and back again
Dr. Stephanie Gora is an assistant professor of Civil Engineering at Lassonde. In this episode, she discusses her career path and how she went from a high school student with an interest in biology, to a renowned researcher with a focus on drinking water management in small and Arctic communities and the development and evaluation of light-based technologies for water purification.
She also discusses her experience as a woman working in STEM, and gives advice to students who are struggling to find their place after graduation. Finally, she tells us what she loves about teaching at Lassonde.
Episode 8:
Following your passion to create your own educational experience
In this episode, we meet Connor Dear, a Software Engineering Alumnus. He tells us how Canadian Astronaut, Chris Hadfield, inspired him to pursue engineering, which led him to the Space Engineering program at Lassonde. He then describes his undergraduate student journey, how he caught the software engineering bug, and assures other students that it's okay to switch programs if they discover a new passion. He also emphasizes the value of the university community and the importance of collaboration.
We also hear about how he landed his current role, developing software for gaming cafes in Edmonton's startup space, and how he uses his Lassonde education in his daily work.
Episode 7:
From Lassonde to Silicon Valley – Mahrus Kazi's Journey
Mahrus Kazi is a Lassonde Alumnus from the Electrical Engineering program currently working as an Automation Engineer at Apple. In this episode, he describes how joining a FIRST Robotics team in high school sparked his passion for engineering and talks about the impact that a mentor can have on your future.
He then discusses his undergraduate experience, highlighting how taking part in the annual Lassonde Silicon Valley Tech Tour led him to a co-op at Tesla and living and working in California. Finally, he tells us how he landed his current role at Apple and reveals his future aspirations.
Episode 6:
Making the most of the undergraduate experience
Saiba Trisha is a final year Computer Engineering student at Lassonde. In this episode, she talks about her experience on campus as an international student from Dubai, and how the Lassonde community supported her. She also gives advice to students and talks about what they can expect during their final-year capstone project and how to make the most of the experience. Finally, she tells us about her 16-month co-op experience with Hydro One and how it has helped prepare her for the next stage of her engineering career.
Episode 5:
Kanishk Singh and how Lassonde led him to his dream job at the UN
In this episode, we meet Kanishk Singh, who takes us on a journey as he discusses how his interest in the United Nations Sustainable Development Goals (UN SGDs) led him to the Civil Engineering and International Development program at Lassonde.
He then tells us how his education played a role in landing his dream job at the United Nations in Denmark and gives us a look into what a day at the UN looks like. Finally, he describes how he caught the 'travel bug' from participating in experiential learning opportunities at Lassonde and gives advice to current students on how to make the most out of their university experience.
Episode 4:
Looking Beyond Technical Solutions to Foster Change
Theresa Nguyen is a Lassonde Alumna with a dual degree in Mechanical Engineering and International Development, currently working as a Junior Mechanical Engineer at a sustainable startup company in Portland, Maine.
In this episode, she explains how a desire to create societal change and combine her love of politics with technical skills led her to complete the dual degree program. She also discusses how government policy and technical solutions can work together to solve complex issues and gives advice to high school students about how they can combine their passions with engineering.
Episode 3:
Advocating for inclusivity in STEM with Gbemisola
Gbemisola Akerele is a Lassonde student currently finishing her 4th year in the Computer Science program. In this episode, she discusses how her mother's mobility issues inspired her to develop a fitness app for people with disabilities as her final year capstone project.
We also learn about her involvement with Lassonde's k2i academy, and how she is working to bring STEM education to underrepresented communities, such as girls and Black youth. She also discusses her plans for the future, and how she hopes to bring awareness to the technical innovations of Africa.
Episode 2:
Anson Thomas and Finding Your "A-ha" Moment
Anson Thomas is an alumnus from Lassonde's Civil Engineering program. He is currently working as a project coordinator for light-rail transit (LRT). We sit down to talk with him about how he is applying his Lassonde education in the "real world."
Anson shares his "a-ha" moment with us – a time in his childhood that helped him realize that he wanted to connect people and cities – which led him to pursue civil engineering.
Episode 1:
From York to the Software Industry with Alison Evans Adnani
This week, Alison sits down with us to discuss Dev Degree, a four-year integrated learning program offered by the Lassonde School of Engineering and Shopify, as well as her own journey from computer science at York to the software industry.
Alison Evans Adnani is the senior program lead for the Dev Degree team at Shopify. She has more than 25 years of experience as a developer and lead of education and training for global technology companies.