---
The World's Smallest Mask: Beyond the Classroom Featuring Alicia Di Stefano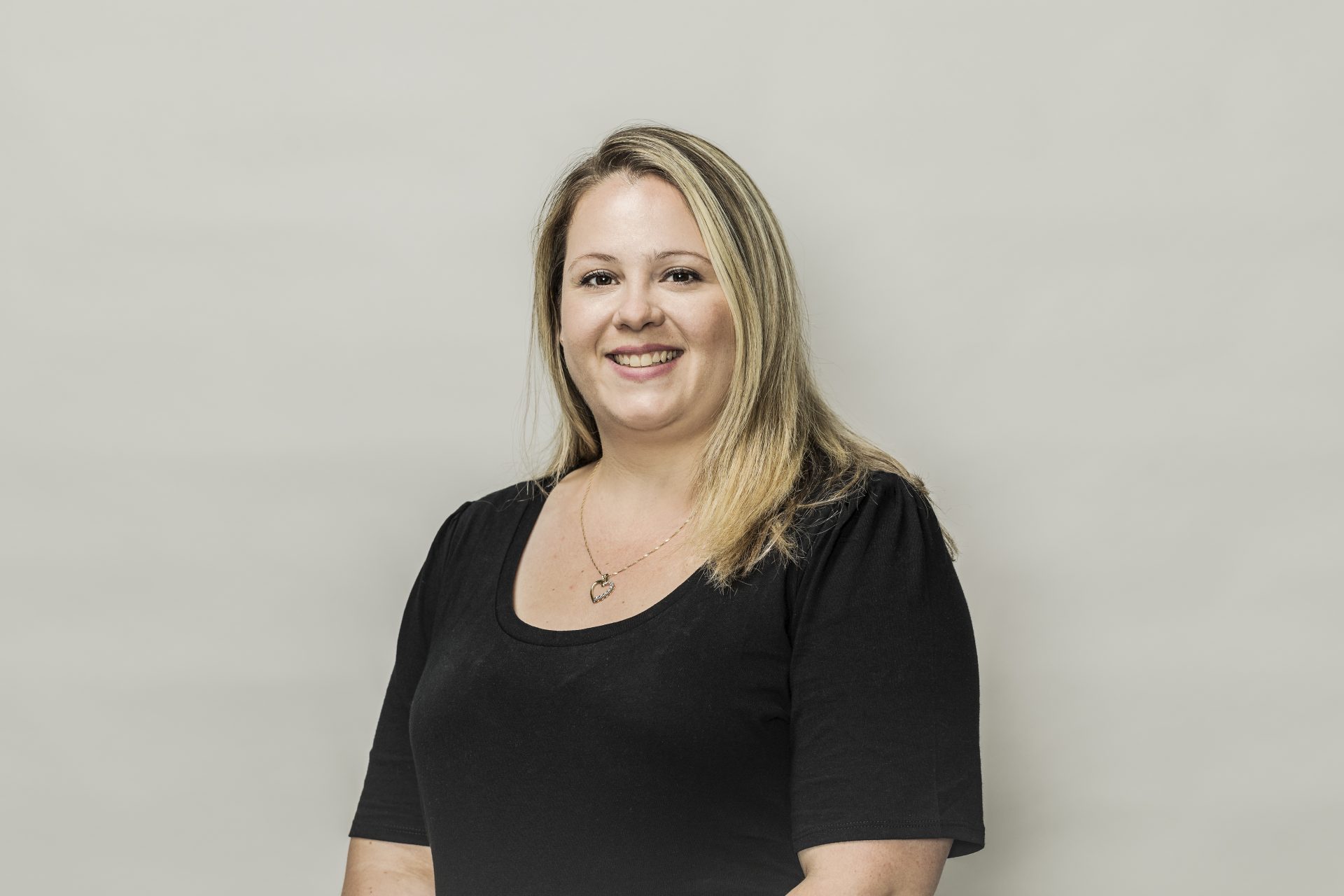 Alicia Di Stefano is a relatively new face around the Bergeron Centre, starting her role as Student Life Coordinator in the Student Welcome and Support Centre about two-and-a-half months ago.
She's the boots-on-the-ground person interacting with students and supporting various initiatives, clubs and activities across the Lassonde School of Engineering, including Lassonde Student Government, summer boot camps and Week Zero, the School's orientation week.
No stranger to York, Alicia has a BA and master's degree in Theatre & Performance Studies from the University's School of Arts, Media, Performance and Design where she later worked for several years in event administration before coming to Lassonde.
While her career trajectory has veered slightly, Alicia hasn't strayed far from the world of theatre and performance. When she's not busy organizing an event or liaising with a group of energetic student volunteers, Alicia spends her time steadfastly conceptualizing, organizing and executing a clown cabaret, the Red Nose Cabaret, which takes place at Artscape Youngplace in the Sweet Action Theatre roughly four times per year.
An experienced theatrical clown, improviser and stand-up comedian, we caught up with Alicia to learn more about her passion project and the world of theatrical clowning, a marginalized and often misunderstood art form.
Raquel Farrington: Have you always loved clowns/clowning?
Alicia Di Stefano: I guess a funny anecdote I'll tell you is that when I was 3 my grandfather asked me what I wanted to be when I grew up and I replied with a completely straight face, "a clown" which made him burst out laughing.
R: I'm guessing you don't come from a long legacy of clowns or anything?
A: No, absolutely not. I think I made people laugh a lot as a kid and I always enjoyed that feeling of lightening the mood or bringing joy to people. Then when I finished theatre school, I discovered theatrical clown and since then have trained with a variety of clown teachers throughout Canada.
R: So how did you get involved with the world of clown performance and production?
A: After I finished my undergrad, I ended up stage managing a show at the Toronto Fringe Festival that happened to be a clown show. That's when I got bit by the bug, I guess. In Toronto, there's no central hub for clowns to train and perform but a series of one-off workshops and classes. It was just through connections and building a network, that I became aware of certain workshops that were happening. I spent roughly five years just taking every clown course I could, and I absolutely loved it. During that time there were some clown shows that were happening on a regular basis in Toronto, as well as the annual Toronto Festival of Clowns, but over time these events came to an end.
R: Was this slowdown what inspired you to create the Red Nose Cabaret Show?
A: Exactly, there wasn't much activity happening in our community and I knew that I wasn't the only artist who felt the effects of that. I had the idea of starting a new clown cabaret on my own to provide a platform for artists to further develop their craft and to work towards building a bigger audience for a theatrical clown in Toronto. I happened to find our original venue after going to see a friend's band perform at a bar on Dundas West and a few months later, The Red Nose Cabaret was born. I remember being so surprised by the amount of people who came to the first show and knew I had to keep it going.
R: What excites you about this kind of performance?
A: When most people think about a clown, I feel they often think about circus gags or children's entertainers. A theatrical Clown is a form of physical theatre where the focus is character-based instead of being about gags or balloon animals. Not all clowns subscribe to wearing face-paint, colourful wigs or oversized shoes. For example, you could think of Charlie Chaplin or Mr. Bean.
The red nose is the most common identifier of a clown and it is known as the world's smallest mask. There are many interpretations of what it represents, but the one that I enjoy is that it's your heart, and you wear it on your face, and you express through that mask. It connects in a very human way, celebrating the human condition in all its glory and all its ridiculousness.
R: Is clowning always supposed to be funny or is this a common misconception?
A: I think clowning certainly lives in the world of comedy but there's something about the tragic or sad clown that is perhaps the exception. I've seen clown performances that are equally sad and humorous. A clown's job is not to do what they think is funny, but to bring the audience into their world and share how they would respond to the situation or circumstance where they find themselves with honesty and openness. The clown lives between panic and possibility and humour comes from sharing with an audience their failure or success and the journey in between.
R: Can you explain what a typical Red Nose Cabaret Show entails?
A: A typical Red Nose Cabaret will have a host and a headlining act, as well as a variety of acts that are red-nose Clown, Bouffon or character pieces. Bouffon is an artform closely associated with clown where the focus is on the art of mockery and satire. The work of Sasha Baron Cohen is a perfect example. I have also had some mask and drag performances included in the line-up and we've had themed shows for Valentines Day, the 2018 Winter Olympics and recently a house-warming when the show moved to our new venue, Sweet Action Theatre.
R: What does your role as producer involve?
A: In short, I could say that I make it all happen. I look after booking the venue as well as recruiting the cast for each show. I coordinate all their logistical and technical needs and prepare all our marketing materials and show promotions on social media. On top of that, I am usually running the sound cues at the show or working the door. Since the show is growing in popularity, I have started to recruit some help.
R: How do people react when they find out you're a clown?
A: People either find it very interesting or it horrifies them. There's so much stigma and fear about clowns that they are creepy or unpredictable that I often hesitate to mention what I do because of the explanation that's required. How the image of a clown has been manipulated through popular culture is a large reason why the art form is so largely misunderstood and makes things difficult. It may put some people at ease that one of the biggest rules in theatrical clown is to always keep your audience safe.
R: Do you have your own character?
A: My clown persona's name is Baby, and she is dressed as a 1950's sock-hop teen complete with a poodle skirt and cardigan. She loves mischief and is most excited by cats and rock and roll.
R: Are there any parallels between the work you do in clowning and your job at Lassonde?
A: As a producer, I have this sense of responsibility that if someone is willing to offer their time and talent that I need to make sure their experience is well organized and enjoyable. I feel the same way about working with Lassonde's student community. I really want to be a positive force for this community where everyone's working together, having a good time and learning.
R: Any advice you'd give someone interested in performance – clown or otherwise?
A: I would say to just go for it! When I studied theatre, I was always on the academic side of things so performing was never something I was super comfortable with. When I started doing stand-up and even when I started doing clown, I was pretty terrified. I think for students too, you know, as you're finishing your degree and entering the workforce, maybe you're thinking of starting your own company, it's really easy to get discouraged or feel like an imposter. You can't wait for someone to give you permission or the validation to pursue your dreams. You really have to be willing to leave your comfort zone and go for it and not be afraid to fail because that's how we learn.
Alicia started the Red Nose Cabaret in March 2018 and over two years has produced 11 shows, 10 of which have sold out. The show was even featured at the Toronto Festival of Clowns in 2018, which has since ended. The Red Nose Cabaret will return in the fall of 2019.
Currently, Alicia is collaborating with a group of creatives to find new ways to foster the clown community in Toronto and to help share this unique and underrepresented art form with a broader audience.
For more information or to attend one of her shows, visit the Red Nose Cabaret Facebook Page.