---
Alumni Profile: Bilal Raza
---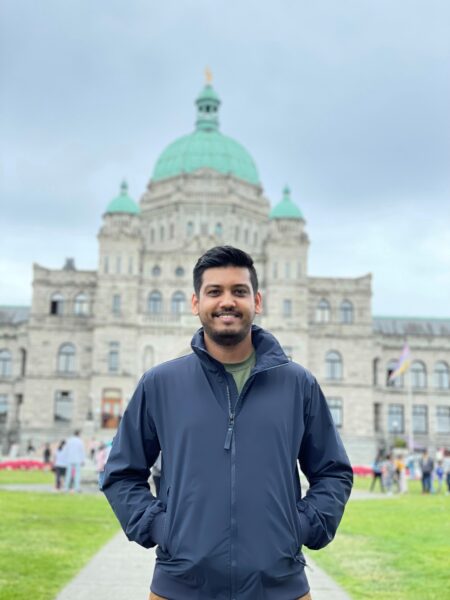 When Bilal Raza, BEng'17, stepped off the 14-hour flight from Islamabad, Pakistan to Toronto in September 2010, all he wanted to do was sleep. But his uncle had other ideas.
"We had lunch at his house and after about 20 minutes, he said, 'Let's go. I'm going to take you to your university,'" Raza remembers.
His uncle dropped him at York University's Aviva Centre (then named the Rexall Centre) and left, promising to return in two hours.
"That's how I was introduced to York," Raza laughs.
It was a rather fitting start to a university experience that was equal parts exhilarating and daunting. A computer engineering major at the Lassonde School of Engineering, Raza chose to study in Canada because he felt the career opportunities were limited in Pakistan. He threw himself into his studies, delighted to be a part of a campus and a School that attracted so many international students from around the world.
By his second year though, the reality of his situation—a rigorous program of study, far from home—hit hard. Raza's grades plummeted and he struggled to make ends meet. "I began to question whether I had made the right call in coming to York or if I was wasting my parent's money," he says.
In a last-ditch effort to save his degree, Raza decided to scale back his enrolment to part-time. As his grades slowly improved, as did his confidence, and a year later he landed a co-op with the network engineering team at Bell Canada.
"That's when I realized that I do belong here," he says of Lassonde. He returned for his final year with new skills, money in his pocket, a goal to launch a career in Canada's telecommunications sector and a newfound belief that he could make it happen.
By November, his future was decided, Raza was invited to join Bell's new graduate program—a two-year training opportunity that exposes new hires to a rotating series of positions throughout the company. He's now a senior advisor (RF Engineering) in Bell's wireless home internet division, helping to manage residential connectivity in rural communities.
While the engineering skills he gained at Lassonde remain an important part of his job, he says it's the people skills that really matter.
"You may not remember how to solve differential equations, but you will remember the connections you made with other students, professors and community members by joining different student clubs and taking part in extra-curricular activities," he says.
Reflecting on the challenges he faced over the course of his degree, he also has this advice for today's Lassonde graduates: "I'm here because Lassonde taught me perseverance. I learned how to make my own way and to trust in my abilities. If you're struggling or feel that things are getting tough, don't stop believing in yourself. It will get better."