---
Dr. Molly Shoichet asks "What If" at the 2022 Ernest C. Mercier Lecture in Entrepreneurial Science
---
On December 5, 2022, the Lassonde School of Engineering, Schulich School of Business and BEST Program hosted the Ernest C. Mercier Lecture in Entrepreneurial Science. The lecture featured keynote speaker Molly Shoichet, entrepreneur and University Professor at the University of Toronto.
In her lecture, "Research to Reality: from Asking the 'What If' to Clinical Testing", Dr. Shoichet shared stories of how asking "what if" questions led to the design of a completely new way for target discovery and drug screening in cancer.
Shoichet compared "what if" questions in research that lead to new insights and discoveries with the search for gaps in business that result in solutions that fill a market need.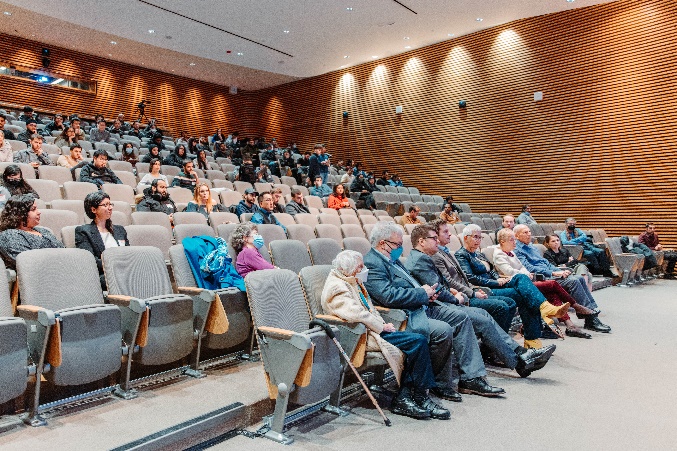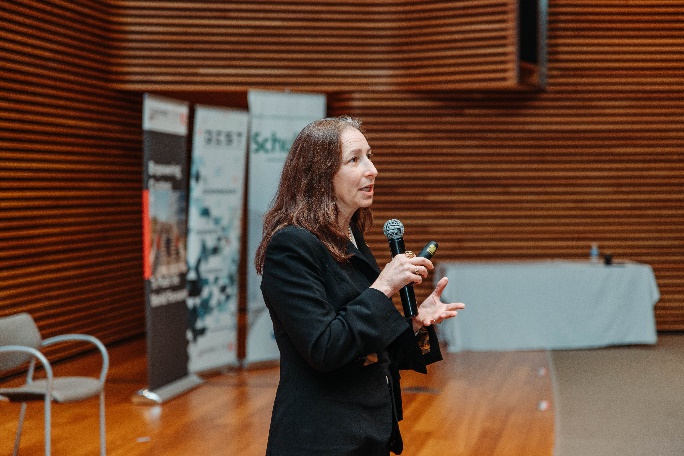 At the Robert R. McEwen Auditorium, Schulich School of Business, York University.
"We were delighted to have the trailblazing Professor, Molly Shoichet, join us at York University to share her entrepreneurial journey during the 2022 Ernest C. Mercier Lecture in Entrepreneurial Science," said Dr. Terry Sachlos, Associate Director, BEST Program. "Thank you for inspiring us and the next generation of female scientists and engineers."
"I was mesmerized by Dr. Shoichet's achievements to date and the potential for societal benefits with her current research," said Moren Levesque, Co-Director of Entrepreneurial Studies at the Schulich School of Business. "She truly is a role model for Entrepreneurial Scientists."
The lecture was followed by a Q&A session moderated by Dr. Sachlos. In this discussion, Dr. Shoichet discussed the timelines for the commercialization of research innovations. Students were inspired by the talk and Q&A, taking away many lessons on combining the worlds of STEM and entrepreneurship.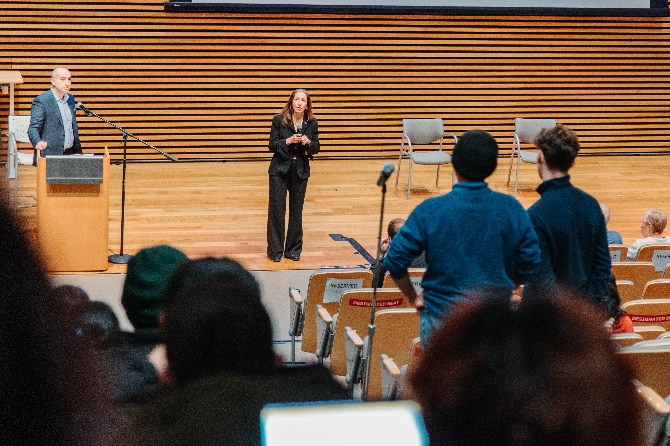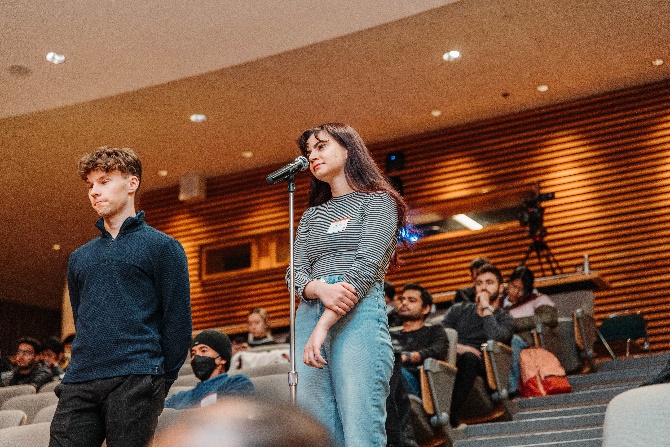 Q & A session
"The lecture was so inspiring for me and taught me that I can think about commercializing the ideas I come up with in my research," said graduate student Amirhossein Hamidi.
It was great to learn about how an extremely active academic researcher balances entrepreneurship and research," said Suprakash Datta, Chair of the Department of Electrical Engineering and Computer Science at Lassonde.
The Q&A period with Dr. Shoichet was the biggest takeaway for Nikhil Yates, an undergraduate student at Lassonde. "Listening to her experiences was intriguing and gave me a lot of insight about what goes into developing a new product, how to gauge your market and how to look for investors," said Yates.
Students can learn more about entrepreneurship opportunities at the Lassonde School of Engineering, offered through the Bergeron Entrepreneurs in Science and Technology (BEST) Program, and at the Schulich School of Business' Office of Innovation and Entrepreneurship – home to Schulich Startups' 3,000-strong community of innovators.
Those who were unable to attend can view the event recording.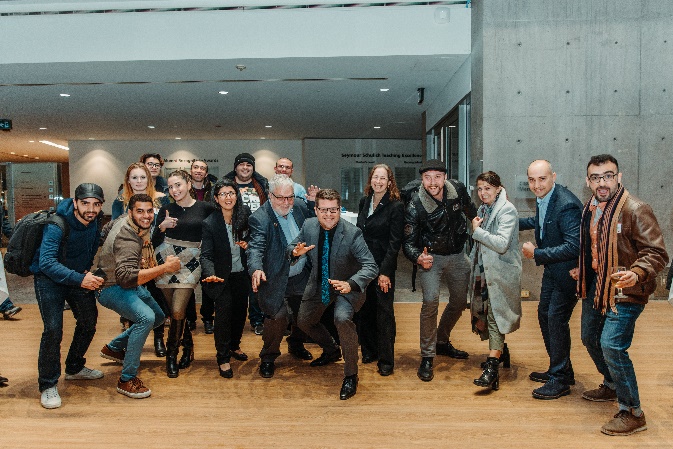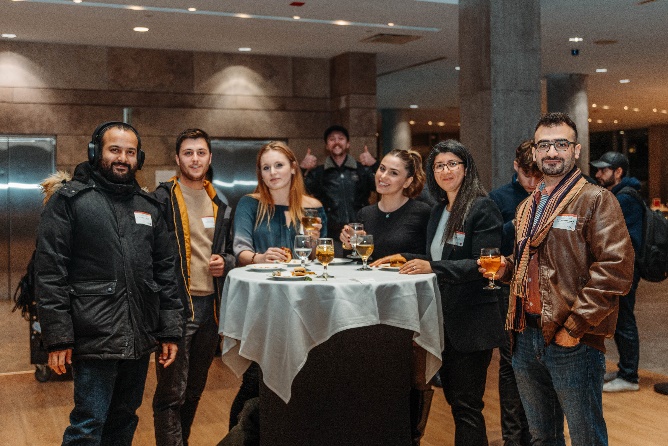 Reception after the 2022 Mercier Lecture
---
About the Speaker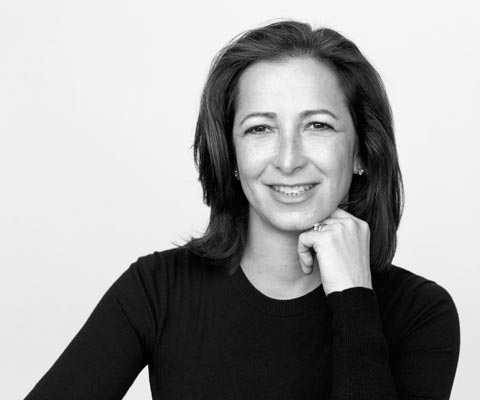 Professor Molly Shoichet is a University Professor, a distinction held by less than 2% of the faculty at the University of Toronto. She served as Ontario's first Chief Scientist in 2018 where she worked to enhance the culture of science. Dr. Shoichet has published over 650 papers, patents and abstracts and has given over 420 lectures worldwide. She currently leads a laboratory of 30 and has graduated 220 researchers. Her research is focused on drug and cell delivery strategies in the central nervous system (brain, spinal cord, retina) and 3D hydrogel culture systems to model cancer. Dr. Shoichet co-founded four spin-off companies, and is actively engaged in translational research and science outreach.
Dr. Shoichet is the recipient of many prestigious distinctions and the only person to be inducted into all three of Canada's National Academies of Science of the Royal Society of Canada, Engineering and Health Sciences. In 2018, Professor Shoichet was inducted as an Officer of the Order of Canada and in 2011, she was awarded the Order of Ontario. Dr. Shoichet was the L'Oreal-UNESCO For Women in Science Laureate for North America in 2015, elected Foreign Member of the US National Academy of Engineering in 2016, won the Killam Prize in Engineering in 2017 and was elected to the Royal Society (UK) in 2019. In 2020, Dr. Shoichet was awarded the NSERC Herzberg Gold Medal and won the Margolese National Brain Disorders Prize. Dr. Shoichet received her SB from the Massachusetts Institute of Technology (1987) and her PhD from the University of Massachusetts, Amherst in Polymer Science and Engineering (1992).
About the Ernest C. Mercier Lecture in Entrepreneurial Science

In an effort to inspire and empower future generations of students at York with a sense of the possible, Ernest C. Mercier's wife, Dr. Eileen Mercier, a Schulich graduate (MBA '77, Hon LLD '10), established the lecture series in her late husband's name. Bridging the worlds of business and commerce with the intensive research world of STEM, the series presents an entrepreneur and renowned scientist who has used his/her own science education as a springboard to other enterprises.
Acknowledgements
The Shoichet Lab is grateful to have the opportunity to advance knowledge with exceptional researchers and collaborators and with the support of funding agencies: NSERC, CIHR, Medicine by Design-CFREF, Mend the Gap-NFRF, Krembil Foundation, DoD, ISRT, among others.