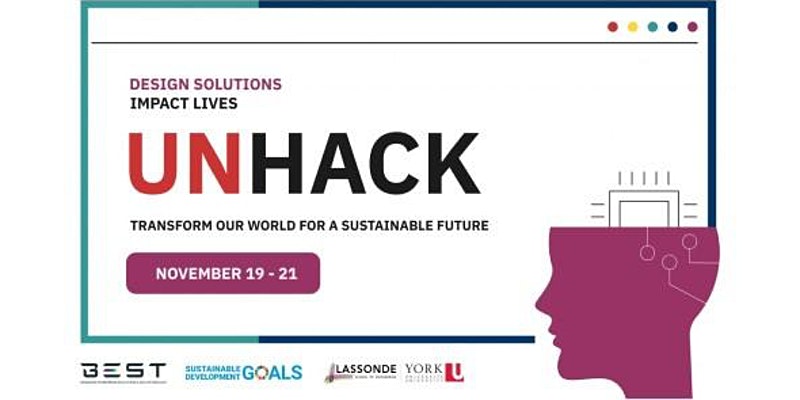 UNHack
Are you a student in a post-secondary school or high school?
If so, you're invited to join us for an unforgettable weekend, where we will work together to try and solve some of the world's greatest challenges.
UNHack – focused on "UN Sustainable Development Goals" is calling all aspiring change-makers.
Whether you're in engineering, business, science, health, environmental studies, humanities, or more, join other like-minded students and solve some of the world's most important problems. Over the weekend, you will collaborate on addressing global challenges, and form teams, to follow our structured design thinking approach.
During the weekend, you will be led through our structured design sprint:
Discover their passion, and if entrepreneurship is right for them
Connect with like-minded people during the experience
Explore career opportunities
Build a business case, and create a pitch
You will have access to Mentors, Workshops, Startup Founders & Co-Founders and will be provided with networking opportunity to connect and learn.
Who can apply?
The event is open to all Undergrad University & College students as well as grade 11&12 High School students, who have an interest and passion for making impacts through Entrepreneurship, Innovation and Creativity.
Prizes valued in excess of $2000!
More details: https://www.bestlassonde.ca/unhack-2021
Questions? – Email: bestlassonde@gmail.com
BEST Program- Lassonde School of Engineering | York University
Hourly Schedule
Friday, November 19
5 pm

-

9 pm

Opening Ceremony

Team formation and problem identification
Saturday, November 20
9:30 am

-

5:30 pm

Solution Development, Solution Validation, and Making a Business Case
Sunday, November 21
9 am

-

3:30 pm

Closing Ceremony

Students practice pitch and receive feedback, invited teams will make a pitch and be awarded prizes