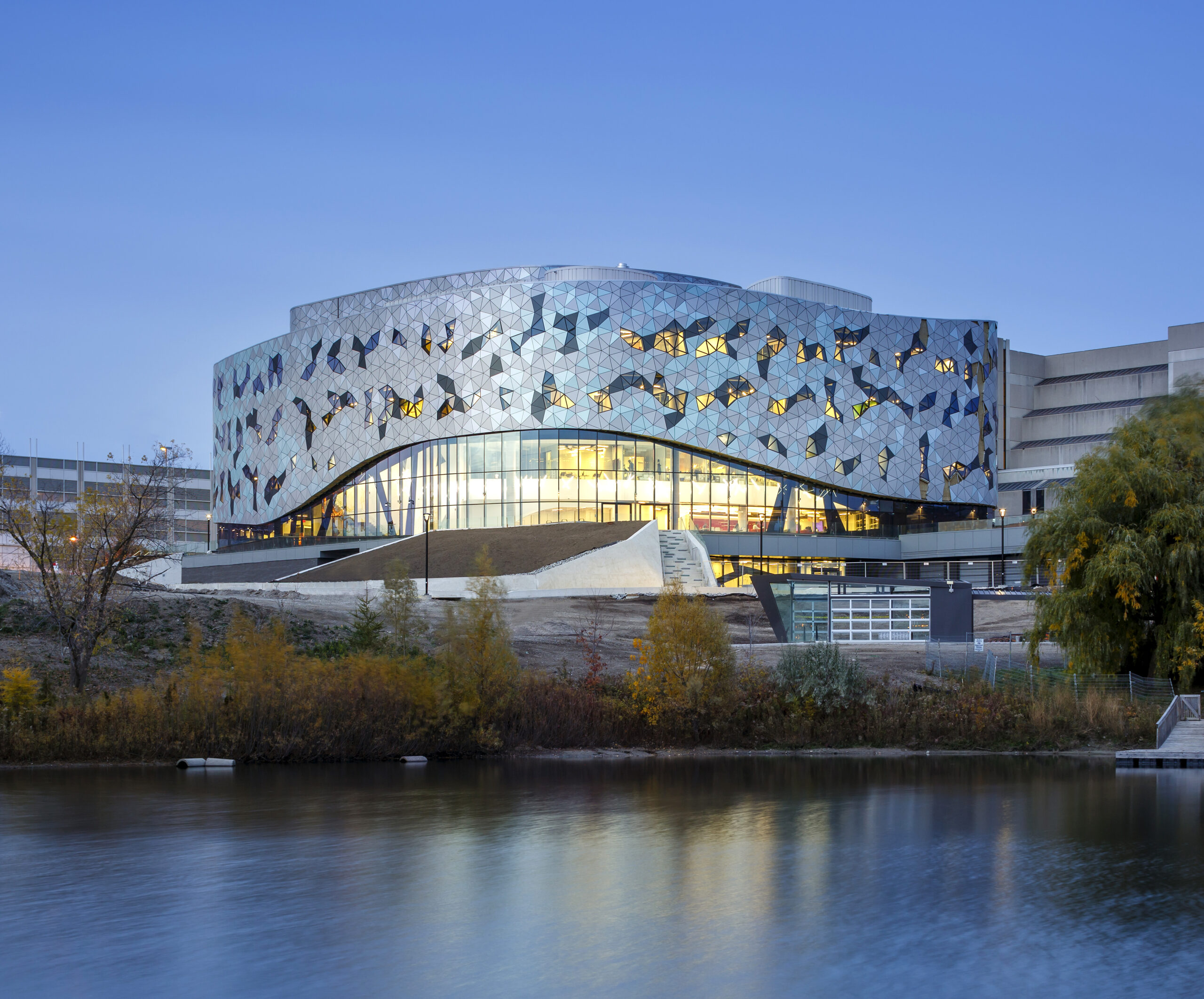 Research Centres & Facilities
ORGANIZED RESEARCH UNITS
The Lassonde School of Engineering is home to four organized research units (ORUs) and leads three additional York-based ORUs. Lassonde also has several research centres and facilities. At York University, ORUs have a strong history of collaborative, innovative and interdisciplinary research. These ORUs provide a home for research development beyond the traditional academic units. Steeped in York's tradition of collegial interdisciplinarity, ORUs serve as synergistic hubs for participatory research programs that bring together expertise from across disciplines.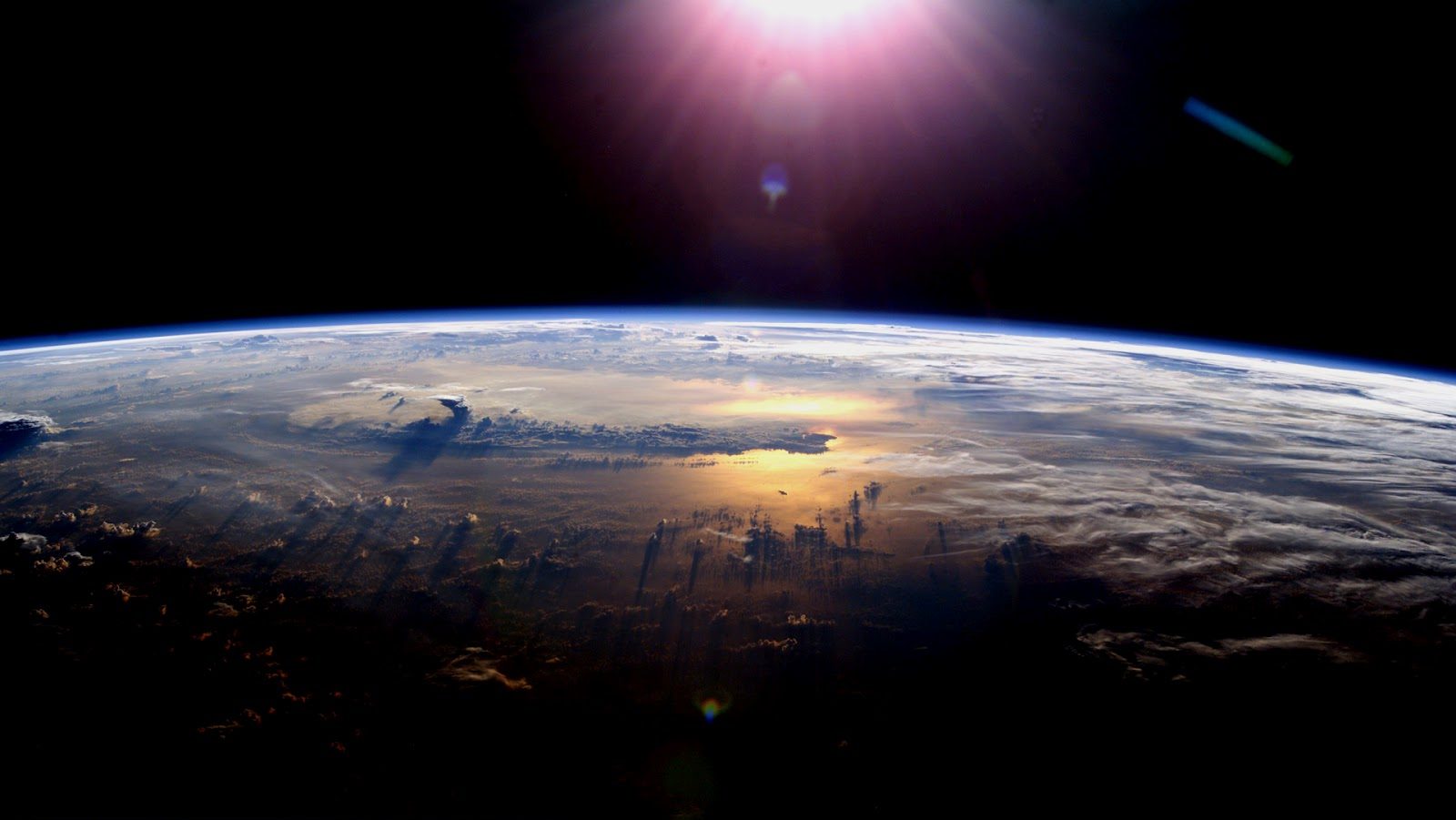 Centre for Research in Earth and Space Science
The Centre for Research in Earth & Space Science (CRESS) stands at the forefront of research in planetary exploration, space technologies and climate and the environment. CRESS is propelling research into uncharted realms, driven by interdisciplinary collaboration across a broad spectrum of fields, from astronomy and astrophysics to geomatics and space engineering. Their overarching objective is to design scientific instruments and pioneer novel methodologies for space missions.
To date, the research centre has made a big mark on Canadian and international research, by contributing instruments to prominent space missions such as the NASA OSIRIS-APEX and NASA Phoenix Mars Missions.
CRESS is committed to providing boundless opportunities for student engagement and experiential learning. In parallel, they aspire to elevate the graduate program in Earth & Space Science by granting students access to cutting-edge equipment, state-of-the-art laboratories, comprehensive facilities and high-impact research endeavours.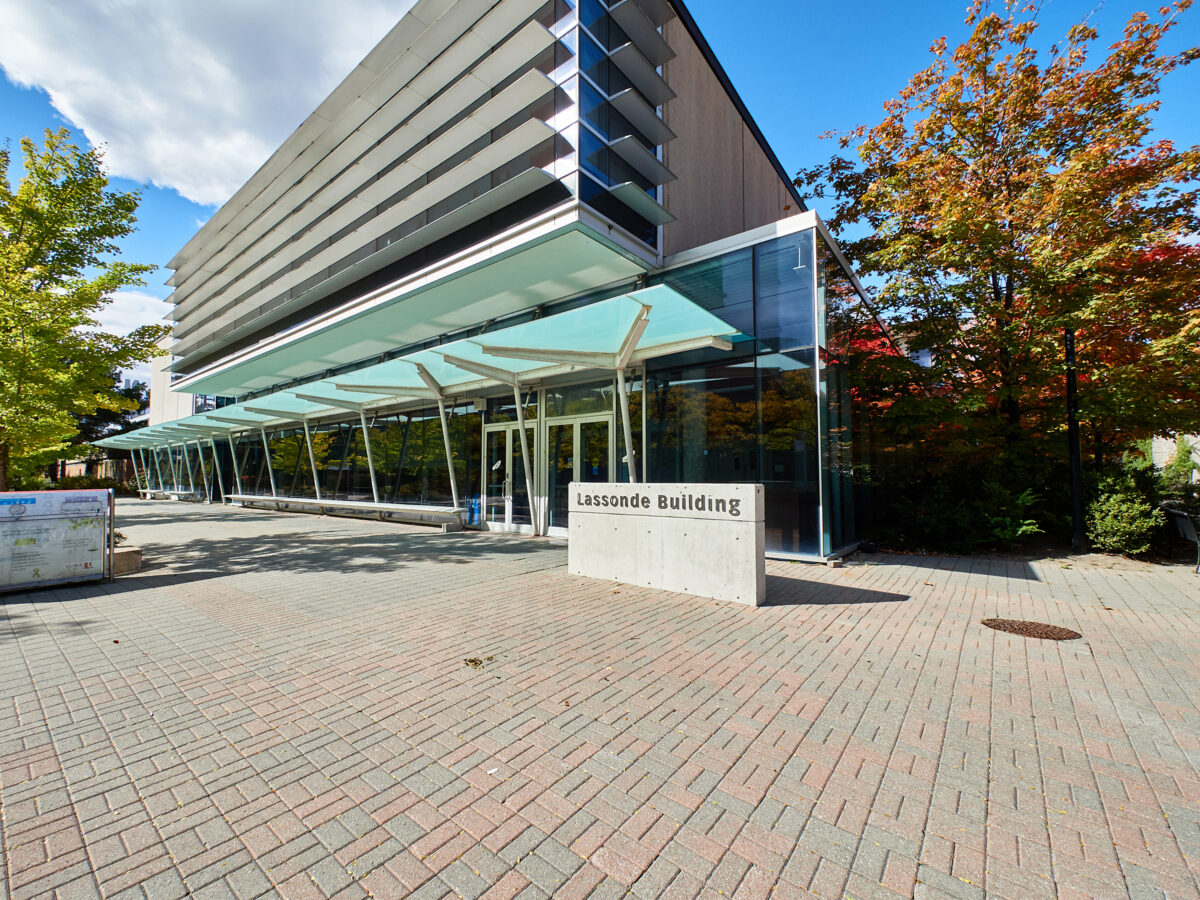 Centre for Innovation in Computing @ Lassonde
The mission of the Centre for Innovation in Computing @ Lassonde (IC@L) is to establish itself as a national and international leader in the science of computing. Comprising a group of talented computational scientists, IC@L engages in collaborative ventures with diverse industry partners to elevate our understanding of society's challenges and tackle computational issues spanning domains including healthcare, business and the environment.
By focusing on theoretical and empirical research, as well as hardware and software development, IC@L is committed to pushing the boundaries of computational science. Its overarching goal is to pave the way for groundbreaking solutions and technologies that will find applications across a wide spectrum of disciplines.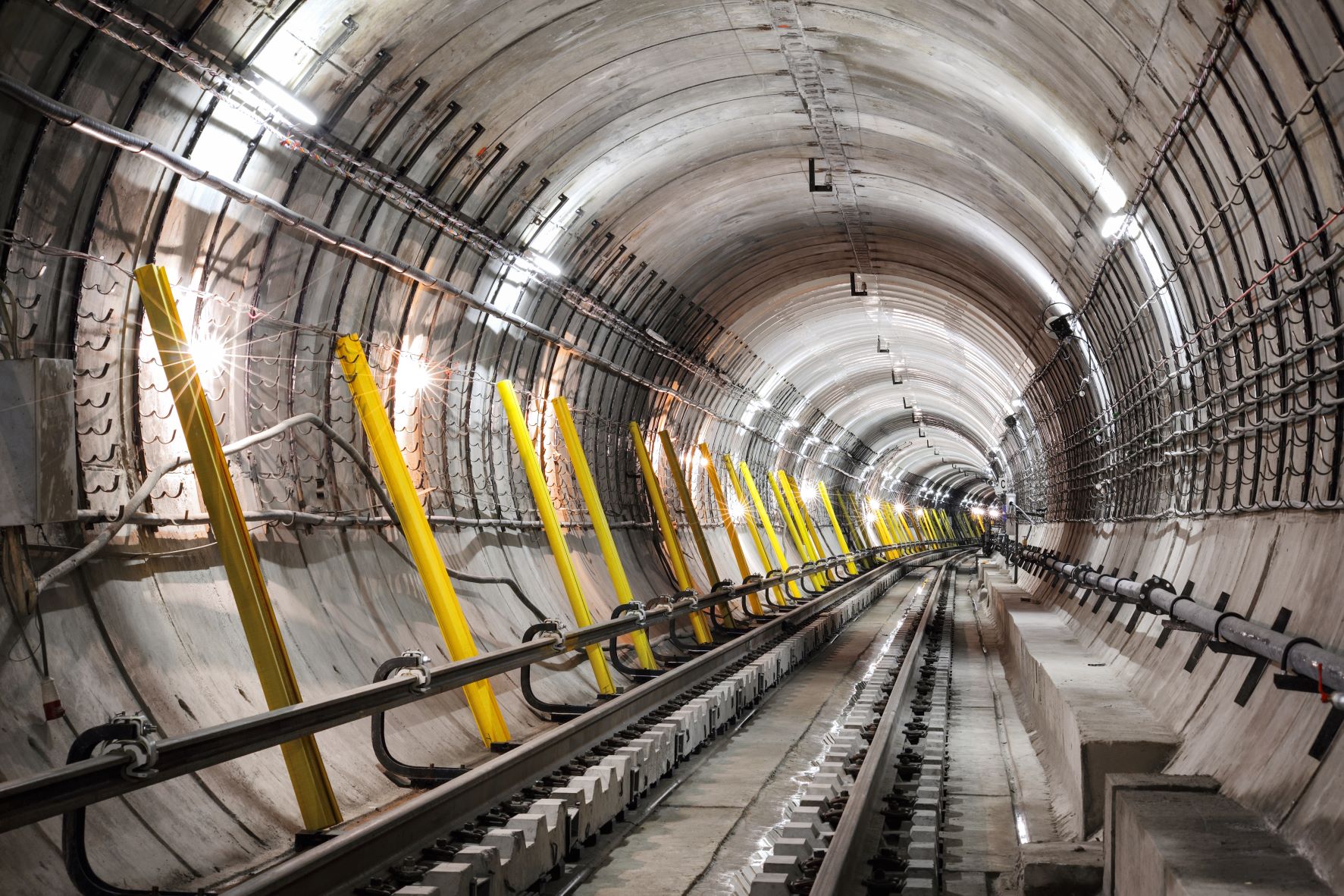 The Mobility Innovation Centre
The Mobility Innovation Centre (MOVE) will focus on an interdisciplinary approach to addressing mobility-related research challenges faced in Canada and beyond. It will draw on the expertise of leading researchers from across the science and engineering disciplines of the Lassonde School of Engineering, developing innovative mobility solutions. MOVE will conduct world-leading research to create sustainable, connected, autonomous transportation systems, making transportation systems safer, more comfortable, and accessible, and integrating these new technologies safely and efficiently into society.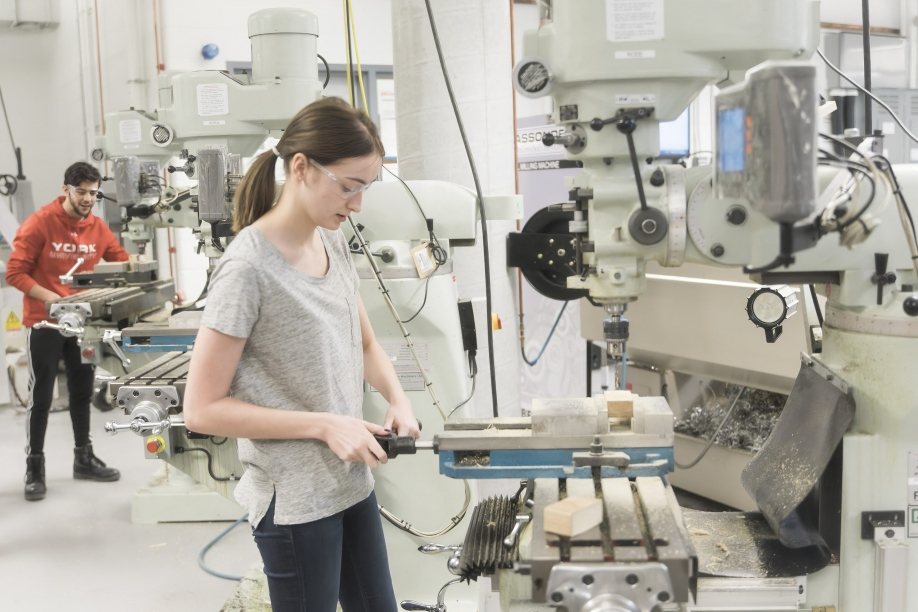 Manufacturing, Technology, and Entrepreneurship Centre
The Manufacturing, Technology and Entrepreneurship Centre (MTEC) unites complementary disciplines to establish a well-rounded research unit, with the capacity to rapidly bring innovative technologies to market. MTEC's mission revolves around collaborative engagements with academic and industry partners, seeking to optimize research potential and forge impactful solutions.
Established by three co-directors, each eminent in their respective domains, MTEC is exceptionally positioned to unlock novel prospects in the realms of manufacturing, technology and entrepreneurship on a global scale.
---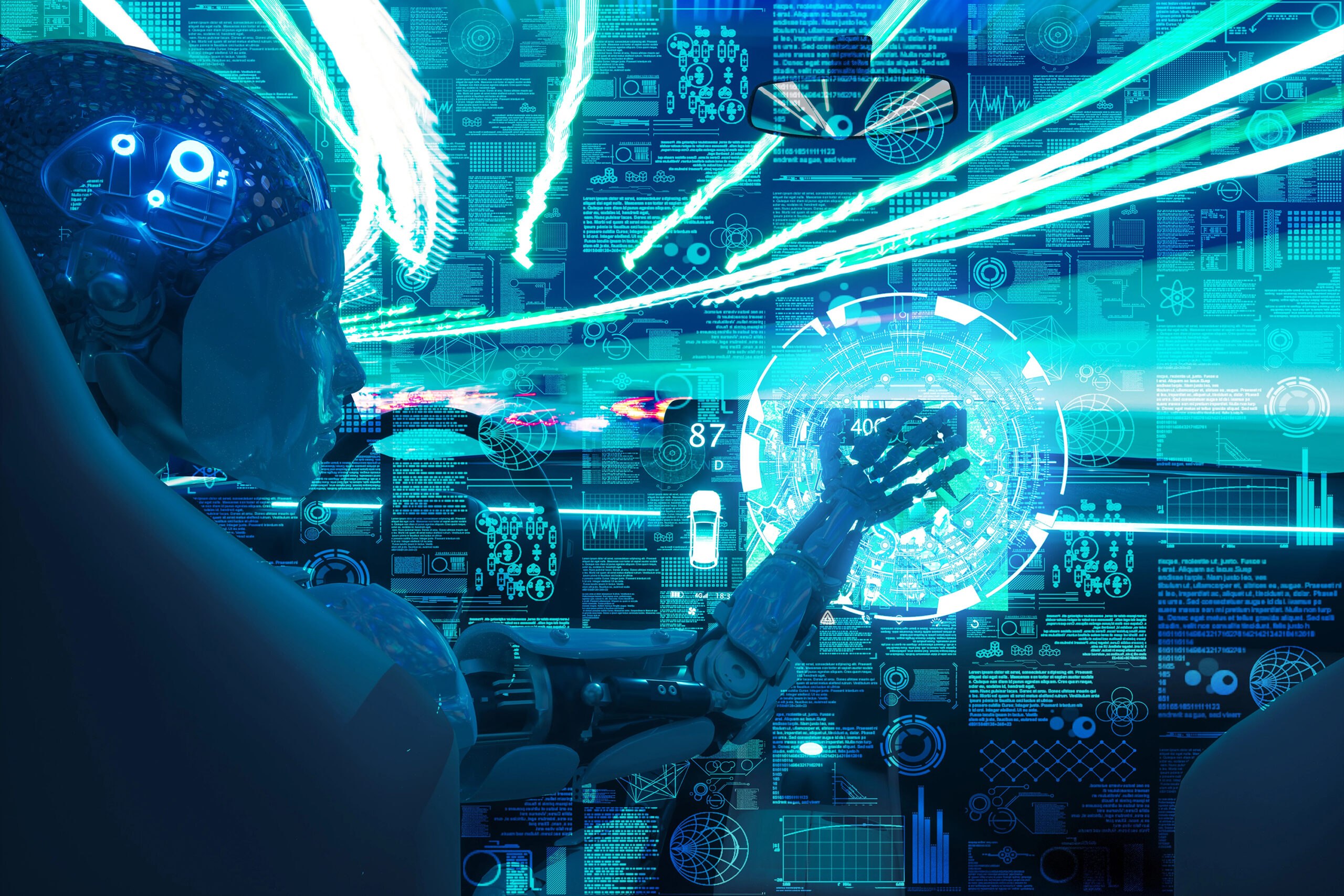 Centre for Artificial Intelligence & Society
York's Centre for AI & Society (CAIS) is home to researchers who are advancing the theory and practice of artificial intelligence (AI) systems, governance and public policy. CAIS aims to tackle potential problems with AI systems before they happen, by studying how these systems operate in real-world contexts and interact with humans and other technologies.

This research center maintains a sharp focus on comprehending and devising remedies for AI systems that align with society's critical needs in areas like healthcare, smart cities and sustainability. CAIS aspires to establish AI systems that are fair, reliable, explainable and trustworthy.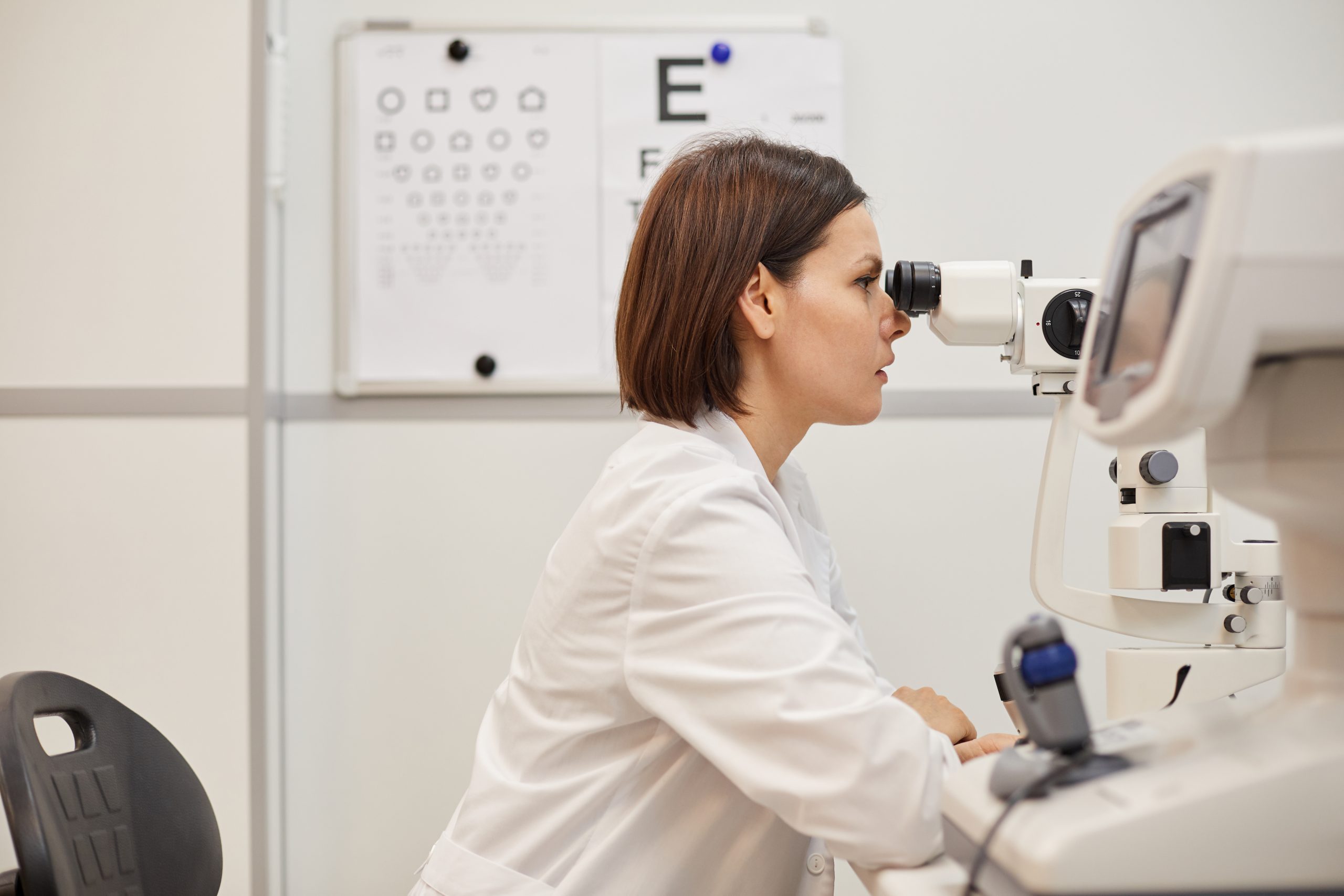 York Centre for Vision Research
York Centre for Vision Research (CVR) is at the forefront of global research and education in the field of visual science and its diverse applications. As a highly interdisciplinary and collaborative centre, CVR unites researchers across disciplines ranging from psychology to kinesiology & health science, with significant involvement from scientists and engineers at the Lassonde School of Engineering.
CVR welcomes talented faculty and student researchers to help build knowledge and create solutions in cognitive neuroscience, computer vision, perception and cognition, philosophy of vision and multisensory integration. The research centre is also supported by first-class equipment and facilities such as a Magnetic Resonance Imaging (MRI) scanner, MagStim EGI high-density Electroencephalography (EEG) system and Transcranial Magnetic Stimulation system (TMS).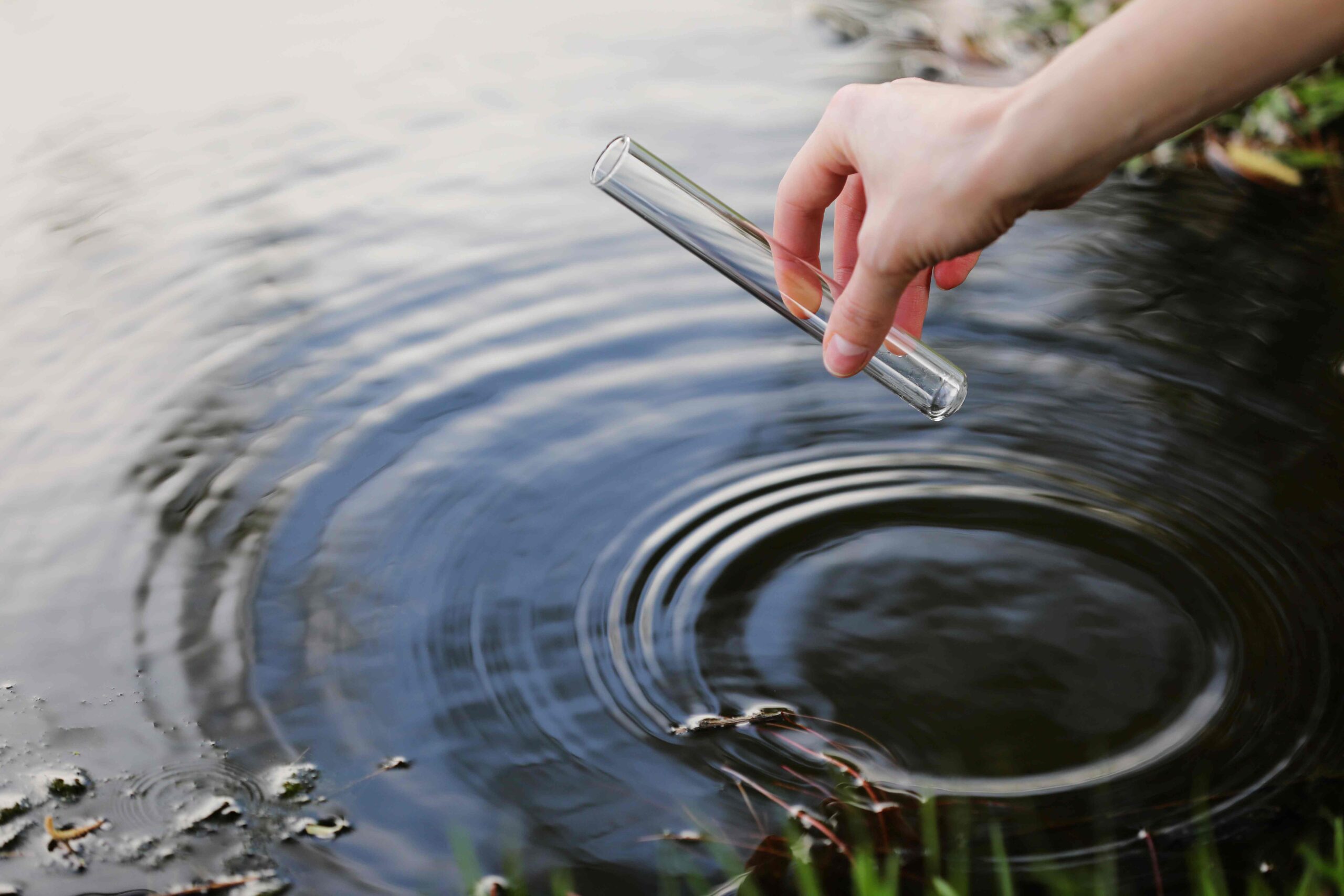 One WATER
One WATER is taking a deep dive into the world's greatest water-related challenges, to improve water equity, access and quality for communities across Canada and the world. Leveraging the expertise of accomplished researchers in water management, artificial intelligence (AI), technology, education and sustainability, as well as resource recovery and reuse, One WATER adopts an interdisciplinary approach to confront a wide spectrum of issues with well-planned, integrated and pragmatic solutions.
By collaborating with industry partners, raising awareness of water-related issues, securing external funding and training future leaders in the field, One WATER is poised to expand its capacity to solve ongoing water sustainability crises and establish itself as a leader in water-related research.
OTHER CENTRES & FACILITIES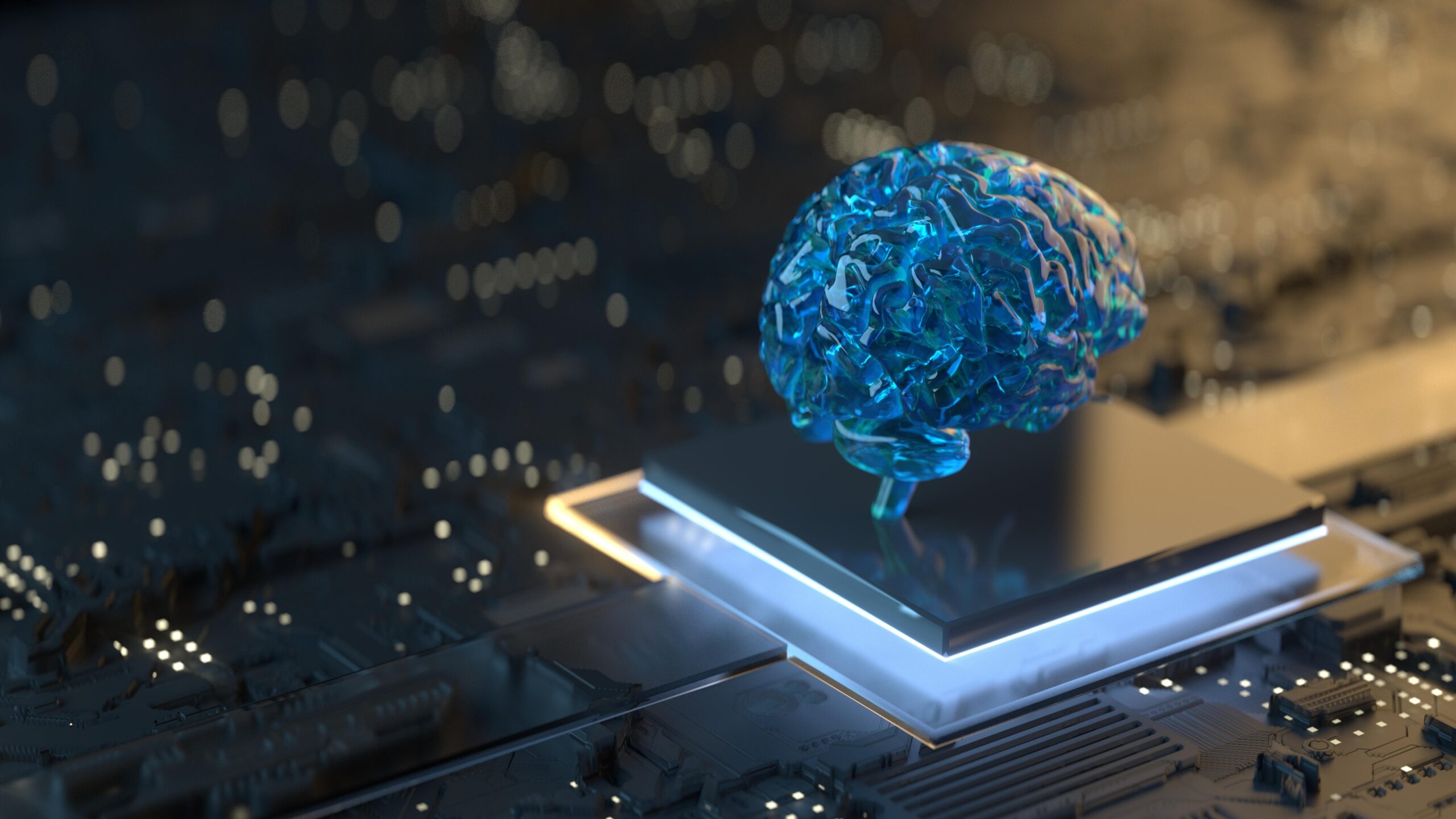 Connected Minds
Living in a techno-social collective where humans and intelligent machines are becoming more interconnected, the world is beginning to understand the societal risks of advances in technology, establishing a growing need to promote social health and justice in vulnerable populations. Connected Minds: Neural and Machine Systems for a Healthy, Just Society, is a multi-million-dollar initiative leveraging York's interdisciplinary aptitude to create solutions for such populations and transform the future of socially responsible technologies.

Dozens of Lassonde faculty members will apply a wide range of skills and expertise to the project alongside diverse researchers from across York, with the support of other institutions, hospitals and industry and community partners. The project will explore societal needs, investigate different scales of social interaction and develop ethical and responsible technologies to optimize the benefits and mitigate the risks of the new techno-social collective.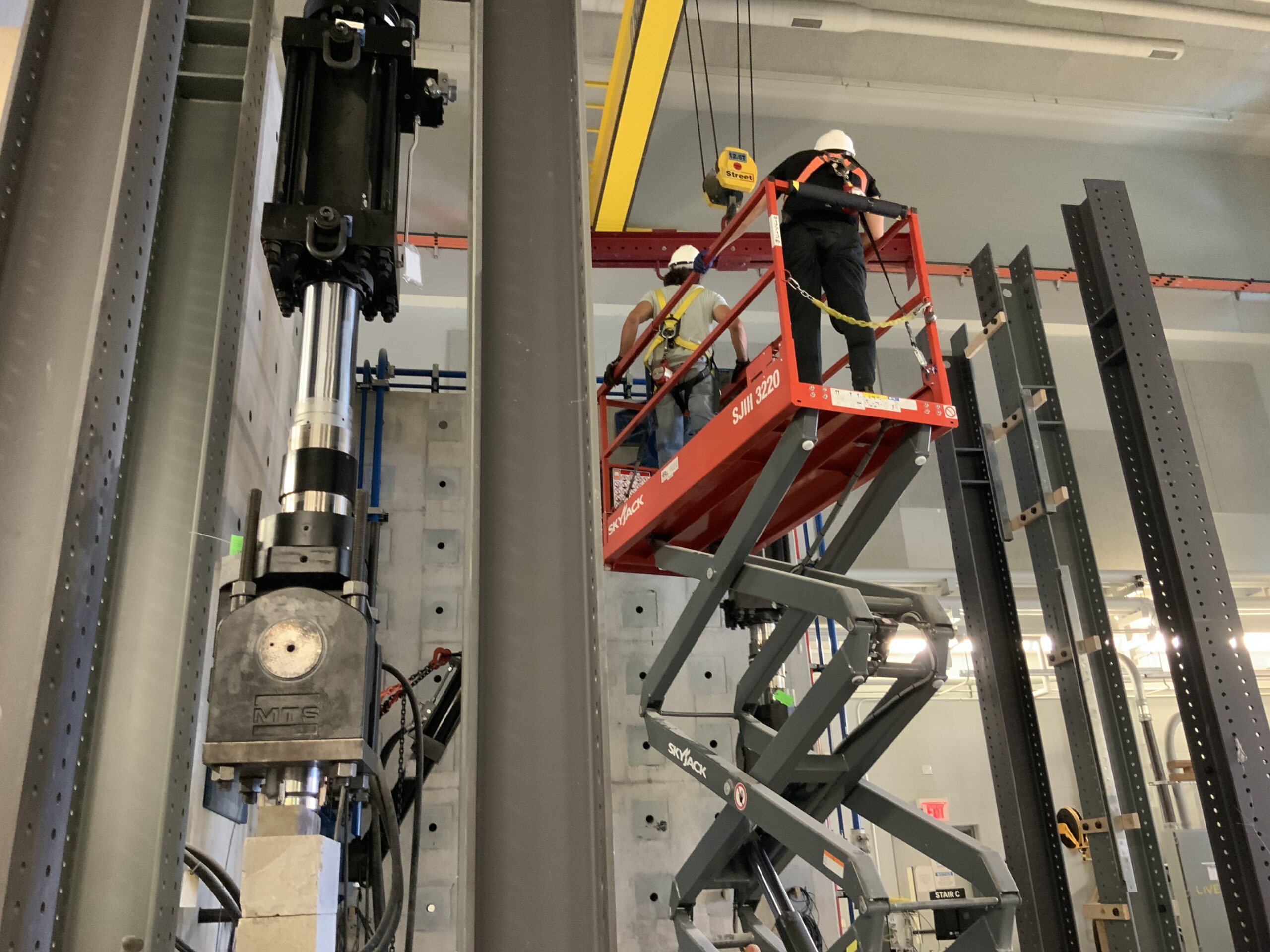 High Bay Lab
The High Bay Lab is a multi-story lab, located in the Bergeron Centre. It is designed to test the strength of materials such as concrete.
The lab is engineered to withstand earthquake-level forces. The lab includes professional-grade equipment for testing and prototyping, including an overhead crane that can support up to 12.5 tons. The space has been constructed with a metre-thick floor and walls perforated with steel anchor rods to control noise and vibration. This allows researchers to conduct disruptive experiments within the Bergeron Centre.
The High Bay Lab is primarily used for the Department of Civil Engineering and is located centrally within the Bergeron Centre's structural core.
An example of some of the latest work being done in High Bay Lab is found in this article.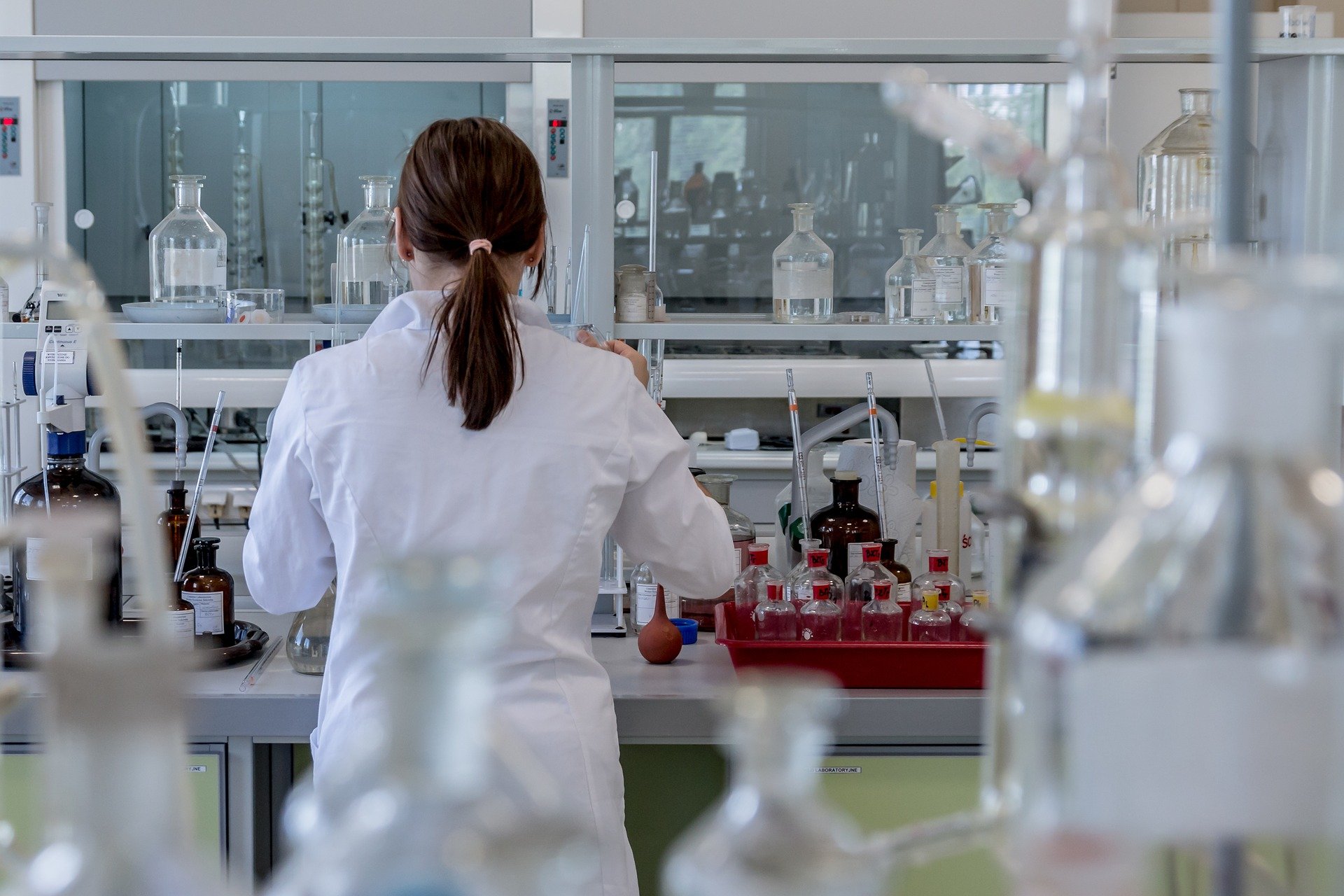 York University Microfabrication Facility (YMF)
The York University Microfabrication Facility (YMF) is one of the leading research facilities for micro/nanotechnologies in Canada. The YMF provides a comprehensive and one-stop solution to micro/nano device prototyping and production in a Class 10,000 cleanroom for multi-disciplinary research, including microelectronics, micro-electro-mechanical-systems (MEMS), microfluidics, bioengineering, and space engineering.

The facilities are equipped with state-of-the-art equipment for:
Photolithography
Ashing and Cleaning
Characterisation and Metrology
Dry Etching
Chemical and Physical Vapour Deposition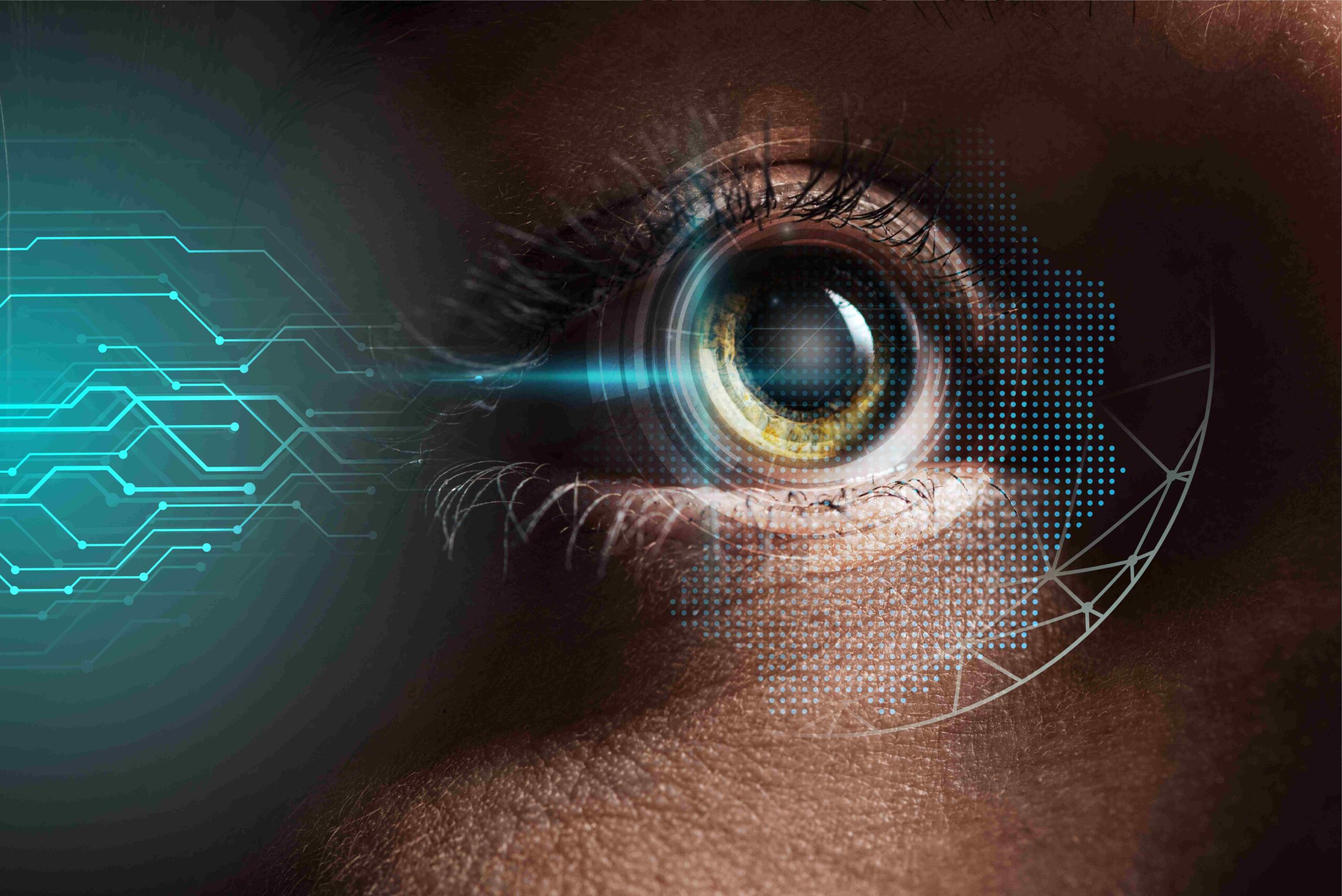 VISTA
Science to Applications (VISTA) is a collaborative program funded by the Canada First Research Excellence Fund (CFREF, 2016-2023) that builds on York's world-leading interdisciplinary expertise in biological and computer vision. In collaboration with over 50 academic, public, and for-profit partners from around the world, VISTA will propel Canada as a global leader in the vision sciences by integrating visual neuroscience with computer vision to drive innovation.
Led by Doug Crawford, from the Faculty of Health, the central scientific question that drives VISTA is 'How can neural and/or machine systems be integrated to provide adaptive visual behaviour in real-world conditions'. Answering this question will provide fundamental advances to vision science and exciting, widespread applications for visual health and technologies. Our overarching aim is to advance visual science through research that spans computational and biological perspectives and results in real-world applications.