---
BEST Bridge to Startup initiative concludes first term, giving students an opportunity to turn projects into business ventures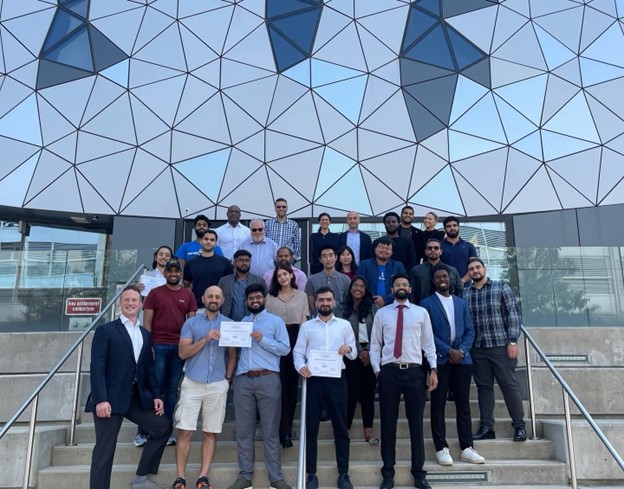 The BEST Bridge to Startup (BB2S) program, which launched in the summer of 2023, has concluded its first term. This unique, four-month summer entrepreneurship experience empowers students from the Lassonde School of Engineering to build startups based on their prototypes. Undergraduate students can turn their final year capstone projects into ventures while graduate students have an opportunity to turn their research into a business.
As part of the program, each team worked with a Schulich MBA Intern who helped the team develop business strategy, go-to-market strategies, product roadmaps and competitive reports.
BB2S provides a crucial stepping stone for students transitioning from university to the professional world, imparting critical skills that go beyond the confines of a classroom.
This experience helped bridge the gap between academic and practical application, offering participants a hands-on practice instrumental to shaping future tech leaders. Students were immersed in a professional setting, gaining insights into the intricate workings of startup ecosystems, from ideation to market entry.
"BEST Bridge to Startup is a unique entrepreneurial opportunity that allows graduating students to experience the life of entrepreneur by working exclusively on their startup for four months," said Professor Andrew Maxwell, Bergeron Chair in Technology Entrepreneurship. "Our hope is that many of them turn their capstone projects into viable businesses supported by BESTLab".
Learn more about the students' experience and startups they worked on over the summer:
Chatbase
Chatbase is an Artificial Intelligence (AI) chatbot builder, it trains ChatGPT on your data and lets you add a chat widget to your website.
Yasser Elsaid and Pegah Fallah
"This program will push you to discover your strengths and weaknesses," said Pegah Fallah, Computer Science student. "It is through these discoveries that you will grow as an entrepreneur. Don't be afraid to ask questions and learn from others in the program outside of your group."
"Throughout my journey in the BB2S program, I was surprised by the emotional investment required in the world of startups and entrepreneurship," said Yasser Elsaid, Computer Science student. "While I initially expected that this journey would demand a significant amount of time and effort, I couldn't have anticipated the intense emotional roller coaster that came along with it. Building a startup is not just a professional endeavour; it becomes a deeply personal journey."
Reefers
Reefers is building an energy recovery system that uses the exhaust gases to create electricity to power the refrigeration system of refrigerated truck trailers.
Mhd Youssef Demashkieh and Jad Zeitoun
"The diversity of perspectives within the program was unexpected," said Mhd Youssef Demashkieh, Mechanical Engineering student. "Engaging with peers from different backgrounds and cultures exposed me to a myriad of viewpoints I hadn't considered before. These interactions challenged my assumptions and enriched my learning experience, reminding me of the immense value of collaboration and diverse voices."
"The thing I am most proud of is my growth when it comes to presenting," said Jad Zeitoun, Mechanical Engineering student. "The first presentation that I gave, which was the business model canvas, was very bland and was not my best. Being able to learn from my mistakes and put all of that towards the final mock pitch was a proud moment for me."
Handifuel
Handifuel is working on automating the fuelling process by building a robotic arm that will eliminate the need of mobility challenged individuals to manually complete the process.
Abbas Qassim and Solomon Ukwosah
"I had a lot of self doubt before joining this program," said Abbas Qassim, Computer Science alumnus. "People who have accomplished more than us told us that the problem we are solving can't be solved. I knew deep down we could do it, but the external noise did sully my beliefs to an extent. Now I am a lot more confident because we have proof that we actually built a robotic arm that fills gas without the human component. It's a blessing for disabled drivers."
"One of the most significant takeaways from this experience was the Lean Startup methodology," said Solomon Ukwosah, Computer Science student. "The program emphasized the importance of validating assumptions through rapid prototyping and market testing. Applying this approach, we created minimum viable products and garnered feedback from potential users. This iterative process not only refined our product offering but also instilled a mindset of adaptability and resilience. It was a lesson in embracing failure as an essential part of the entrepreneurial journey and utilizing it as a steppingstone towards success."
PoweRanger
PoweRanger is working on an autonomous, remote power line inspection robot that helps minimize production downtime and prevent unexpected power outages by quickly identifying faults, pinpointing their locations, and understanding their causes.
Rizwan Bhatti, Christopher Korfmann, Mohammed Fulwala
"The BB2S Program not only elevated my skill level but also empowered me to achieve my full potential," said Rizwan Bhatti, Mechanical Engineering alumnus. "Your success in this program is directly proportional to the effort and dedication you invest as you navigate through the journey."
"I am most surprised about having been a part of an idea that actually generates interest from people in the real world," said Christopher Korfmann, Electrical Engineering student. "We have gotten some encouraging, positive feedback from people in real utility companies and I never knew I was capable of that."
"This program provided me with hands-on entrepreneurial experience and offered me valuable insights into the industry," said Mohammed Fulwala
MechTronX
MechTronX is an innovative tech company that specializes in providing cost-effective, customized solutions that cater to the unique technical requirements of early-stage companies.
Mohammad Shamail, Muhammad Ali Toor, Eric Wong
"If not for this program, I would never have had the courage to take the next steps in my entrepreneurial journey," said Mohammad Shamail, Mechanical Engineering student. "The resources, mentorship and experiential learning have equipped me with tools to validate my ideas, seek funding, and most importantly, to be resilient in the face of challenges."
"The program allowed me to develop critical skills such as leadership, which are essential in an entrepreneurial venture," said Muhammad Ali Toor
—
"Through our BB2S program, we aim to guide aspiring entrepreneurs on their path to self-discovery," said Maedeh Sedaghat, BEST Program Manager. "The program offers a transformative experience that allows students to embrace a journey of curiosity and boundless learning, where success is the fruit of collective wisdom. The emotional rollercoaster that comes with this journey helps the students become more resilient, and they emerge with a personal and professionally rewarding entrepreneurial mindset that will enable them to make a positive impact in all their future endeavours."
Congratulations to all the participants!