---
Impact of Lassonde's k2i academy recognized through Minister's Award of Excellence in the category of Equality of Opportunity
---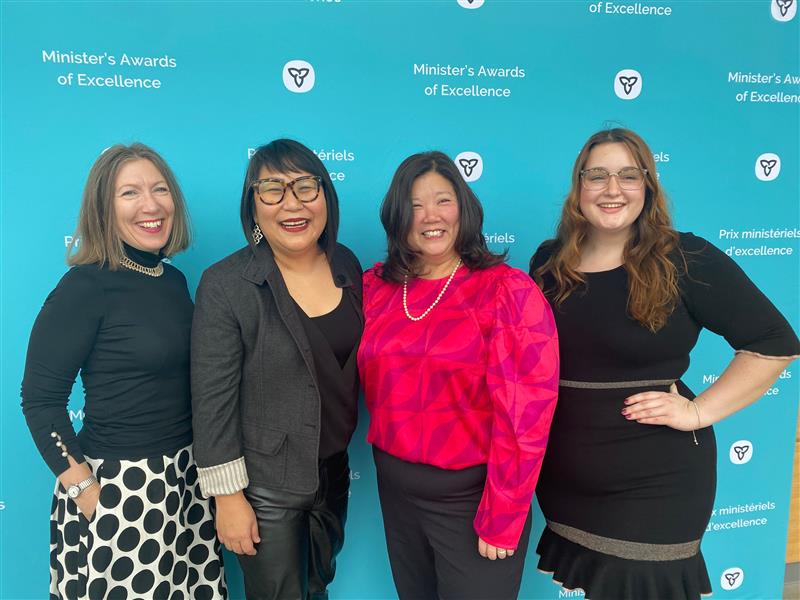 The kindergarten to industry (k2i) academy at the Lassonde School of Engineering has been recognized for inspiring underrepresented youth in STEM through numerous initiatives since 2020. On behalf of Lassonde, Lisa Cole, Director of Programming, k2i academy, received a Minister's Award of Excellence in the category of Equality of Opportunity.
The Minister of Colleges and Universities' Awards of Excellence celebrate the work of faculty, staff and graduate students who have demonstrated outstanding leadership, innovation and vision on campus, in the community and beyond. The Equality of Opportunity category acknowledges faculty and staff who have excelled at creating opportunities in post-secondary education for marginalized and underrepresented groups.
"k2i academy's work, in collaboration with multiple partners, is helping us support EDI-focused recruitment at the School and beyond, to create more inclusive and diverse environments where groups who are currently underrepresented in STEM can thrive and become leading engineers and scientists of tomorrow," says Jane Goodyer, Dean, Lassonde School of Engineering. "Our goal is to dismantle systemic barriers to opportunity for underrepresented students in STEM through partnerships in new ideas, creative innovation and technology."
All k2i academy programs are offered for free, thanks to $5 million in support through provincial and federal funding, as well as individual and corporate donations. Unlike other STEM programs that provide enrichment for secondary students who are interested in STEM, k2i academy often works with students who have opted out of physics, and who attend schools where there is a social and economic need. Since 2020, the program has reached over 6,000 students in Ontario, with over 175,000 hours of in-person or virtual learning, enabling youth to develop an interest in STEM, and helping them to consider STEM career pathways.
"The work that k2i academy does is a community effort," says Lisa Cole. "We are building a movement that is unafraid of asking the tough questions about our current education system and willing to take action with those who wish to join us. It is a privilege for us to be able to do this work and be recognized with this award. We look forward to a day when k2i academy will no longer be needed and equality of opportunity is the norm."
The k2i team, including Michelle Tsui-Woods and Vanessa Ironside, recently developed teacher resources, which are available free of charge to over 130,000 Ontario educators, potentially reaching 1.4 million elementary school students and 600,000 high school students.
Since June 2020, the summer Bringing STEM to Life: Work-Integrated Learning program, employed 290 high school students and 90 undergraduate STEM students. While working on engineering projects, high school students who had opted out of physics, worked towards earning a high school physics credit or an interdisciplinary credit in Indigenous Engineering, Technology, & Innovation by Design, a program that is led by Bryan Bellefeuille, in Algoma District School Board.
The team amplifies the work of community organizations, such as Black ESTEEM and ACCN, and works collaboratively to co-design and co-deliver programs that focus on STEM skills. To date, community connected programs have reached over 300 students.