---
Lassonde celebrates community accomplishments at the 2021 Lassonde Awards Ceremony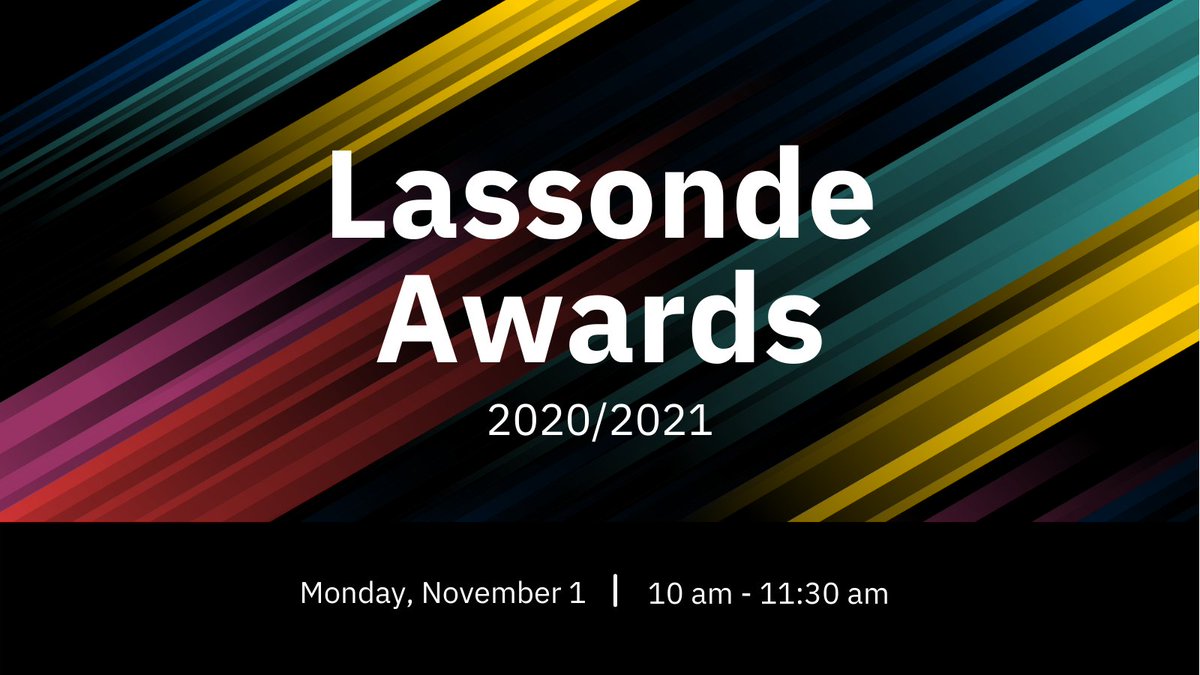 On November 1, 2021 the Lassonde School of Engineering hosted the annual Lassonde Awards Ceremony.
This ceremony celebrated the achievements of community members and external partners in the 2020-2021 academic year. The ceremony was hosted by Dean Jane Goodyer and welcomed many special guests, including President & Vice Chancellor Rhonda Lenton, Pierre and Julie Lassonde of the Lassonde Family Foundation, along with external partners, students, faculty and staff.
The ceremony aligned with the 10th anniversary of the founding of the Lassonde School of Engineering. The School was established thanks to a generous contribution from the Lassonde Family Foundation which was instrumental in building the thriving community of engineers, scientists and leaders that exists at Lassonde today. In recognition of this milestone, Pierre and Julie Lassonde were presented with special 10th Anniversary Recognition Awards at the ceremony.
Julie Lassonde was also named this year's Champion for Women in Science and Engineering. Julie is a Civil Engineer with over 20 years of experience in the mining sector. She sets an extraordinary example through her philanthropic and social impact initiatives, including work with the Canadian Engineering Memorial Foundation, the Royal Ontario Museum and the National Gallery of Canada Foundation.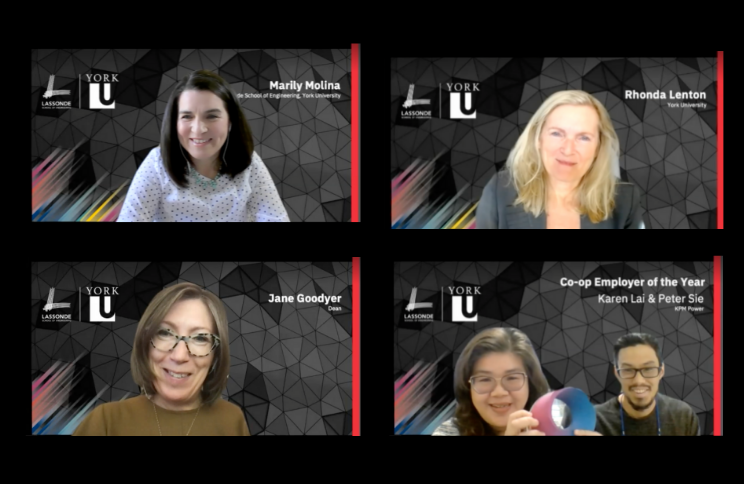 During the ceremony, KPM Power was announced as the Co-op Employer of the Year. Since 2019, they have hired a total of 11 Lassonde co-op students; some of these students are now full-time employees at the company. KPM Power has a work environment that is focused on work-life balance, social responsibility and equal opportunities. During the pandemic, they ensured the support of their co-op students through the purchase of a car for safe commuting, the creation of an on-site daycare and brought in a personal trainer for weekly sessions at their office.
KPM Power also made a recent donation to the School to establish a bursary that benefits female-identified students and provides support for strategic programs that promote equity, diversity and inclusion in STEM fields.
The student spotlight talk was given by Emily Secnik, a recent graduate and the 2021 recipient of the Lassonde Citizenship Medal. During her undergraduate education, Emily was also a recipient of the Lassonde Scholarship and Robert J. Tiffin Award recognizing her outstanding community leadership.
"I wanted a holistic experience, whether that was running orientation week for over 300 students, designing engineering competitions, representing Lassonde at conferences and national engineering competitions, running activities in the Toronto community, or founding an Engineering Play," said Emily. "I always loved being a part of these experiences and felt that I was always learning from the people around me."
In total 46 awards were presented throughout the ceremony. Many of these awards and scholarships would not be available to students without the support of Lassonde's donors. Thank you to all the individuals and organizations that empower student success at our School! Congratulations to all award recipients on these achievements.
To see the full listing of award recipients, please see the event program.