---
Lassonde graduate students achieve high-flying success at international UAV competition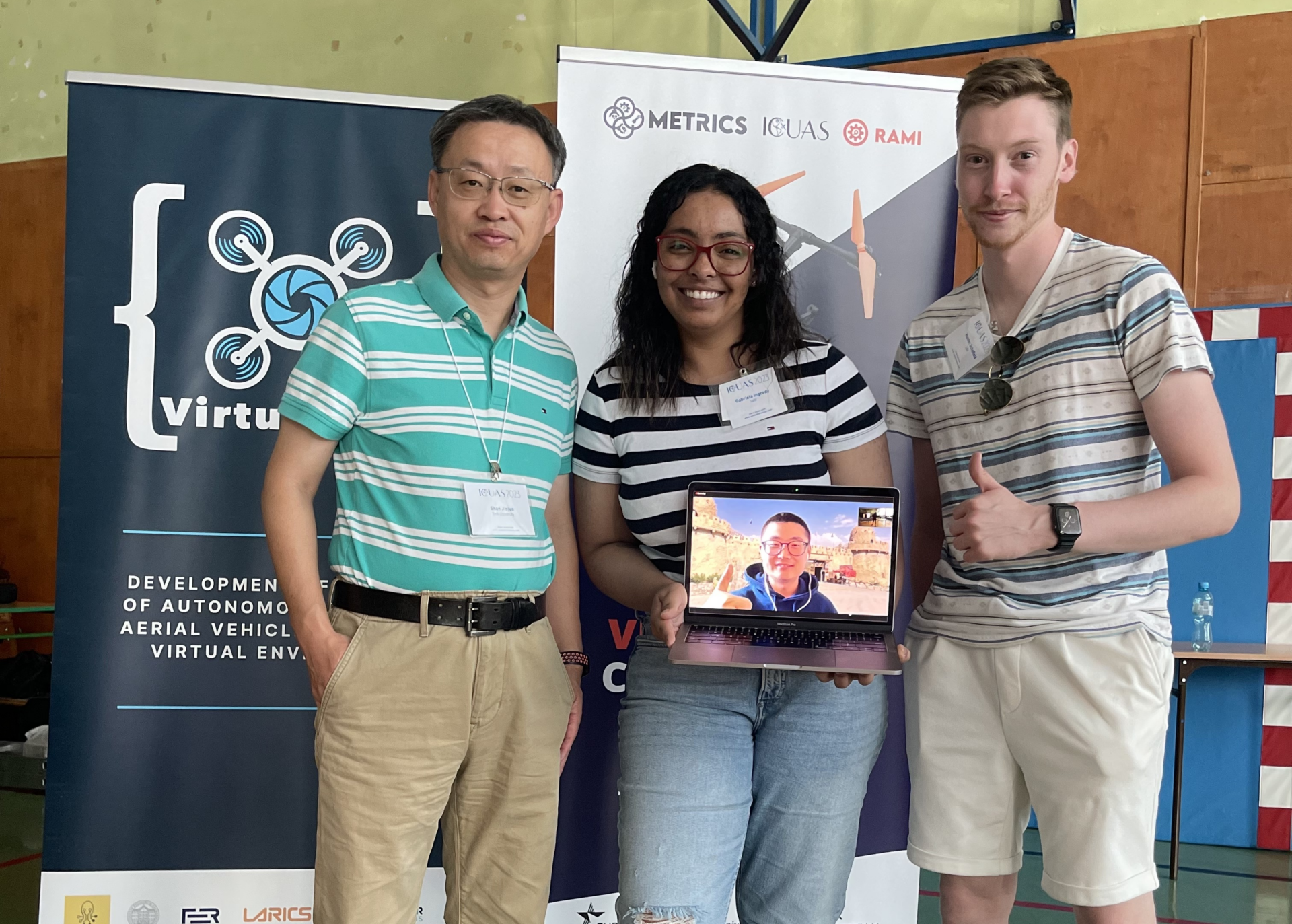 In the summer of 2023, a team of talented graduate students from York University's Lassonde School of Engineering, in Professor Jinjun Shan's research group, competed in the 2023 International Conference of Unmanned Aircraft Systems (ICUAS) unmanned aerial vehicle (UAV) competition.
Taking place in Warsaw, Poland, the competition required teams to program a UAV with the ability to navigate an obstacle course safely and autonomously while identifying defects in the course infrastructure. The competition was designed to mimic challenges faced by UAVs performing infrastructure inspections in unknown environments.
Professor Shan's students, Hunter Schofield and Mingfeng Yuan (both PhD candidates) together with Ingredy Gabriela Gomes Carmo (MASc candidate) formed a team and worked tirelessly for months to prepare and qualify for the ICUAS UAV competition. The team adopted the name SDCN Lab, after Professor Shan's Spacecraft Dynamics Control and Navigation (SDCN) Lab at Lassonde.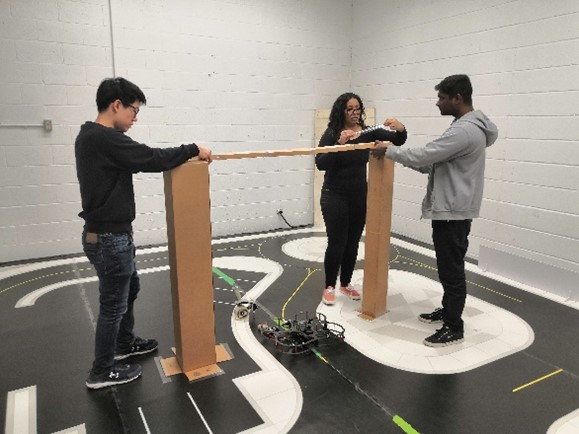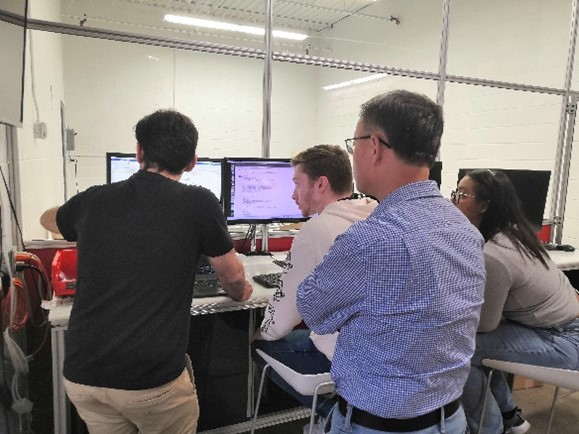 "The initial event was the qualification round," says Schofield. "We had to compete in a challenge against 39 international teams to navigate our UAV around a simulated environment and identify any defects at different points of interest."
After successfully placing among the top five teams, the SDCN Lab team was off to Poland to compete against the best of the best.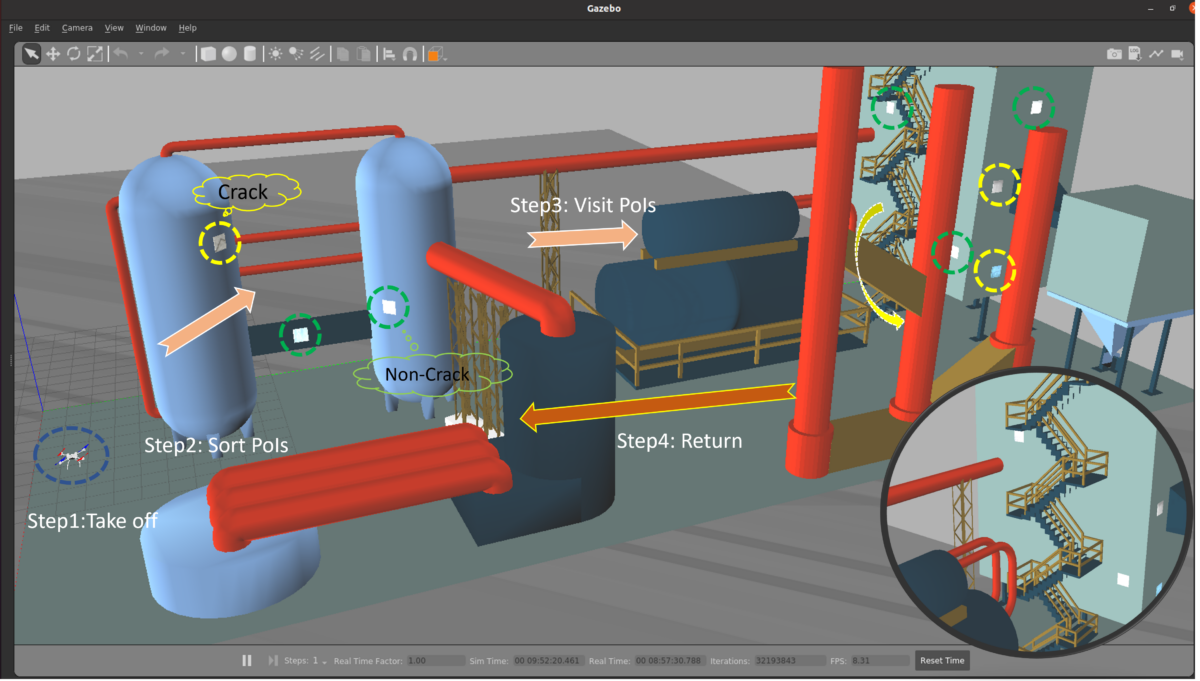 In preparation for the final competition, the team combined their expertise in object detection, machine learning, control design, decision-making for autonomous vehicles and more, to develop and implement a code for their UAV. The code was designed to help the UAV achieve the required benchmarks in the final competition – exploration, perception and pose estimation. Exploration allows the UAV to safely navigate the obstacle course and find defects in infrastructure, perception is used to identify and classify defects, and pose estimation helps the UAV evaluate its position and trajectory in a given environment.
The team also had the opportunity to work with industry professionals from Quanser Consulting Inc., who provided technical support and quality practice facilities.
"Preparing for the competition in Poland was a steep learning curve, and we had to collaborate with each other a lot for each benchmark," says Schofield. "None of us are experts on pose estimation, so we had to work with other lab members to figure it out. It was good experience because it allowed us all to learn something new."
At the final UAV competition, the team's hard work and dedication were put to the test as their drone autonomously navigated and inspected the challenging obstacle course. After each of the teams' drones made their way through the competition arena, scores were given based on their performance quality. Professor Shan's students landed infourth place and only 0.5 points behind the third place team!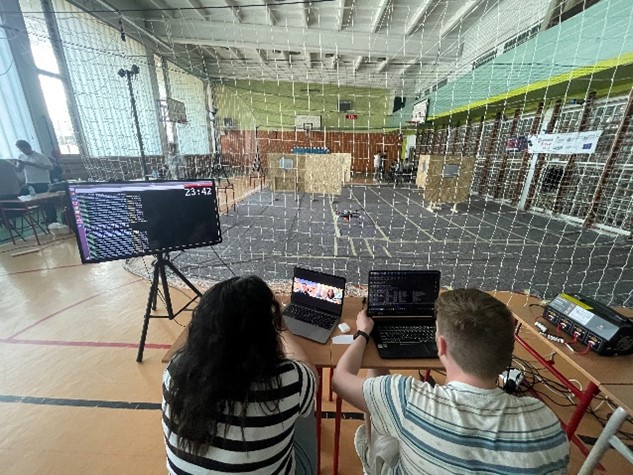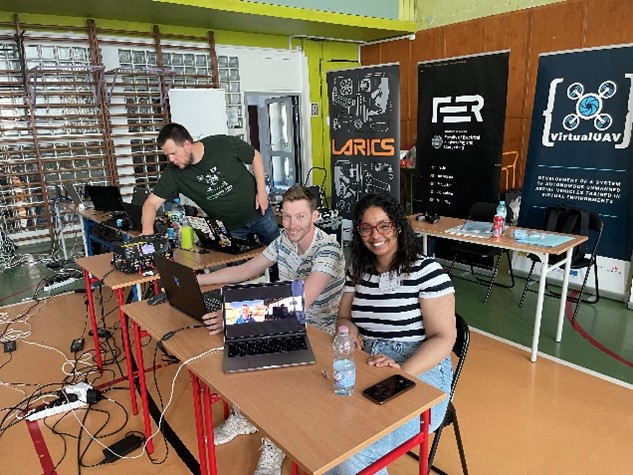 "The competition was really difficult, but it was a great experience to collaborate with my team and see the work done by other students," says Gomes Carmo. "I also liked travelling to a new country!"
This opportunity allowed Professor Shan's students to network and collaborate with other international teams at the competition, share interests, build relationships and discuss different approaches and strategies used throughout the competition.
"This isn't the end of the competition," says Yuan. "Professor Shan gave us a great opportunity with this conference and through his partnership Quanser. We've now learned how we can put all our knowledge together to create solutions for real-world problems."