---
A summer of research: Lassonde undergraduate researchers present their innovative work
On August 17, 2023, York University's Lassonde School of Engineering hosted its 8th annual Undergraduate Summer Research Conference, bringing together students, faculty and staff across the School. Part of the undergraduate summer research program, this event allowed students to present the innovative research projects they conducted over the summer under the supervision of Lassonde faculty members.
Lassonde's Undergraduate Research Award program (LURA) is an initiative that promotes experiential learning, skill building and professional development through funded research opportunities. This year, over 70 undergraduate students worked on research projects alongside faculty members and graduate students, focusing on diverse topics ranging from tissue engineering to wireless communications. In addition to LURA funding, students received funding from sources including the Natural Science and Engineering Research Council of Canada: Undergraduate Student Research Award (NSERC USRA), Mitacs Globalink Research Internship (GRI) and Research at York (RAY).
"At Lassonde, we strive to empower our community of student creators to cultivate new ideas and knowledge," says Jane Goodyer, Dean of Lassonde. "It's our interdisciplinary approach to research that truly sparks creativity and innovation needed to address global issues."
This year's projects aimed to address the United Nations' Sustainable Development Goals (UN SDGs) and tackle pressing challenges across the globe. The pool of research addressed nearly 75% of the UN SDGs, with many targeting SDG 11: sustainable cities and communities, SDG 9: industry, innovation and infrastructure and SDG 3: good health and well-being.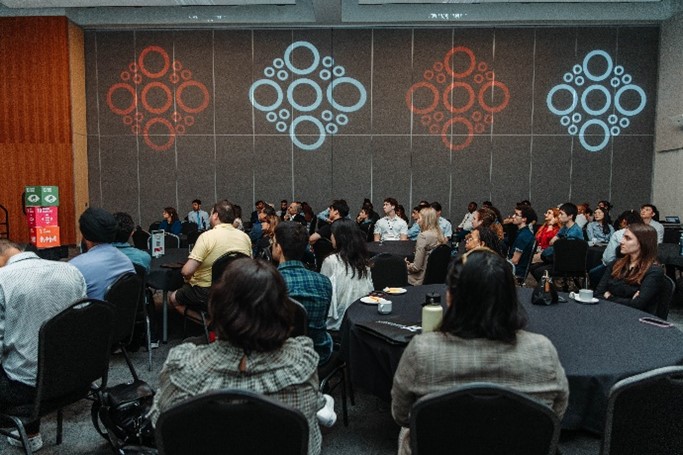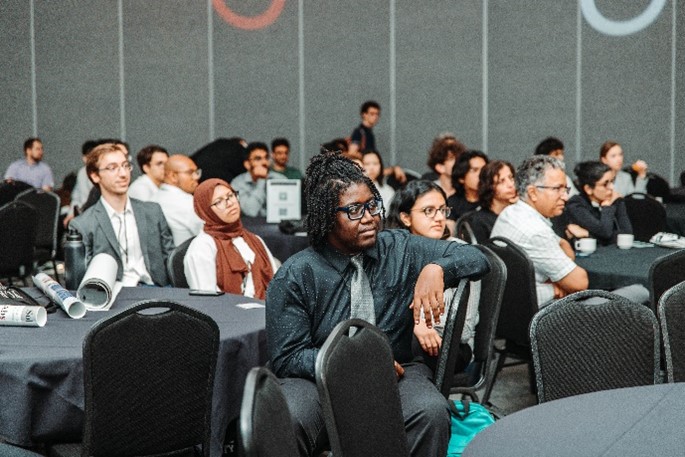 Conference attendees watching presentations.
"Our LURA program was designed to meet the demand for experiential learning and expose students to hands-on research," says Paulina Karwowska-Desaulniers, director of research priorities and partnerships at Lassonde. "Over the years, the program has enabled hundreds of students to undertake research projects and spark their curiosity with new passions they didn't even know they had. The conference is a culmination of all their hard work and a wonderful way to experience the academic dissemination process through a professional event. Congratulations to all students for a job well done; we hope to see some of you as graduate students continuing to solve global challenges through research."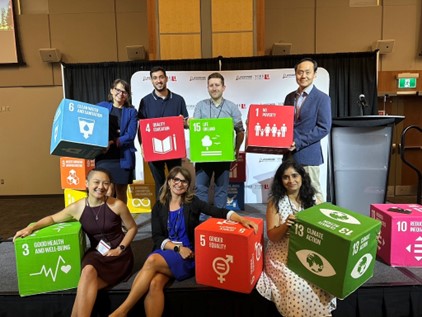 The day began with remarks from Vice-President of Research and Innovation at York University, Amir Asif, and Senior Advisor of Business Development at Mitacs, Rachel Sung, as well as a keynote talk about water research from Usman Khan, associate professor and chair of the Civil Engineering department at Lassonde.
Students then took center stage and presented their summer-long research projects with oral and creative poster presentations. Beyond discussing research hypotheses, methods and outcomes, many students shared their positive experiences and newly developed skills such as data analysis, coding and critical thinking. Projects were evaluated by a panel of faculty judges, as well as student attendees who selected outstanding oral and poster presentations.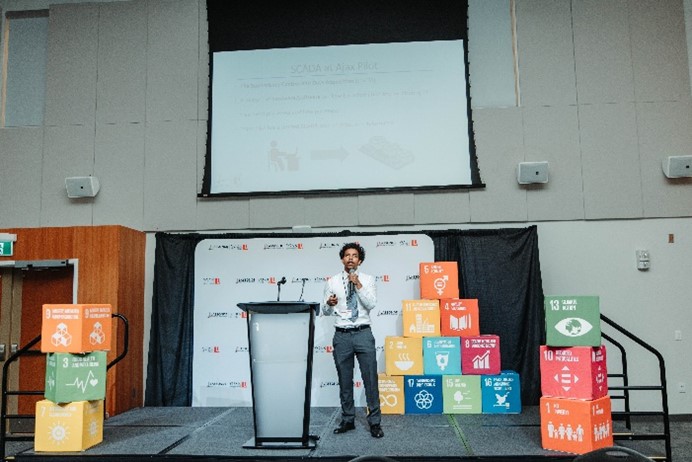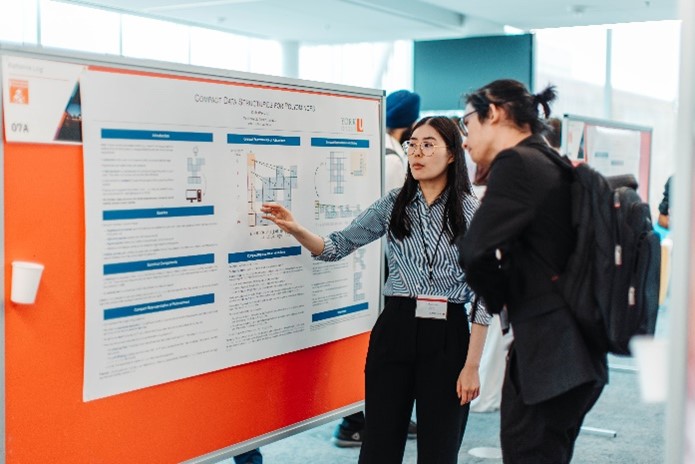 "The project I was involved in deeply resonated with me and ignited a sense of purpose," says Alice Fours, winner of the best oral presentation and student researcher supervised by Mechanical Engineering Professor Terry Sachlos. "As I pursue a career in medicine, I am now more committed to contributing to the field of tissue engineering and helping educate those within the medical community. My project focuses on advancing the field of tissue engineering through the 3D bioprinting of blood vessels. Our team designed a scaffold that facilitated the growth of blood vessels within it. By engineering tissues such as bone marrow, our work aims to revolutionize the treatment of autoimmune disorders and certain types of cancers, with a potential for significant clinical impact."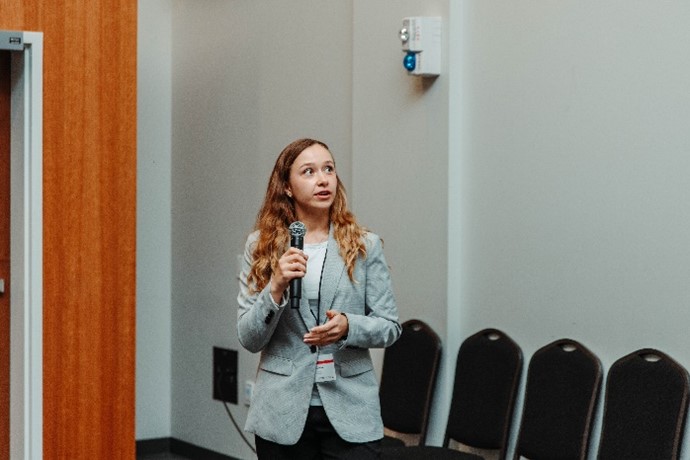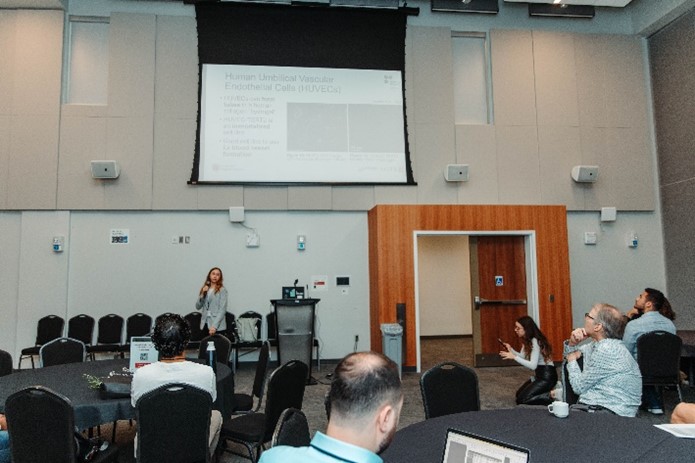 Alice Fours presents her research on tissue engineering.
Through the undergraduate research program and concluding conference, students were given the opportunity to establish themselves as capable engineers and scientists, both in and out of the lab. This experience also allowed students to receive recognition from peers, professors and industry professionals, while gaining confidence to pursue future endeavours, such as graduate school or industry work.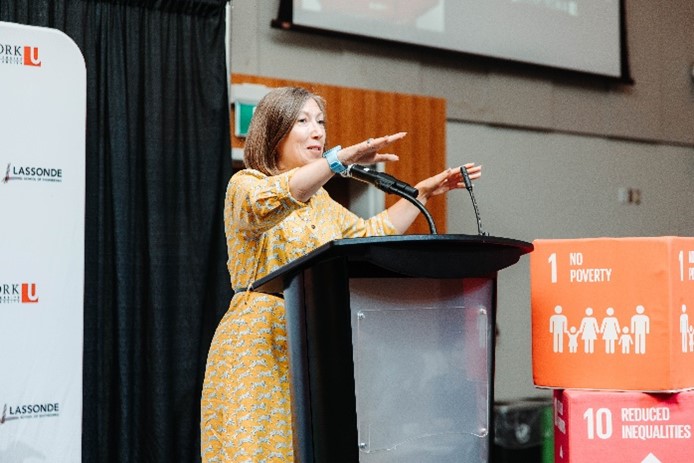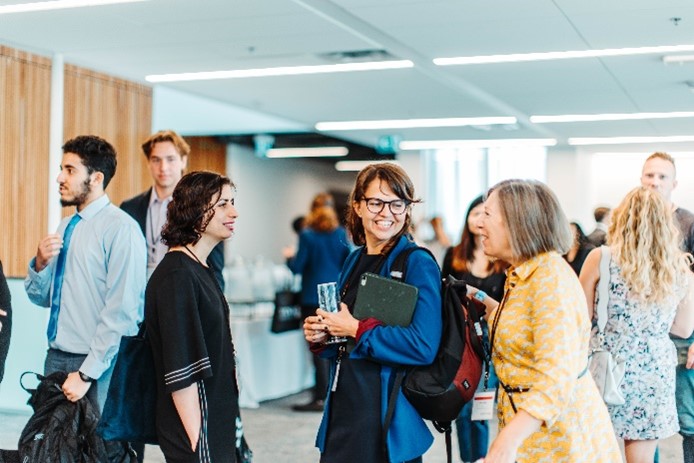 For Prabjot Dhaliwal, a third-year computer science student, the undergraduate research program led to an extraordinary achievement which gave him a new perspective on research. With his supervisor Hamzeh Khazaei, associate professor in the Electrical Engineering & Computer Science department, Dhaliwal developed a paper titled, Reviving Software Diversity in Microservices to Optimize the Performance of Software Systems, which was recently accepted by the Institute of Electrical and Electronics Engineers (IEEE) International Conference on Autonomic Computing and Self-Organizing Systems (ACSOS).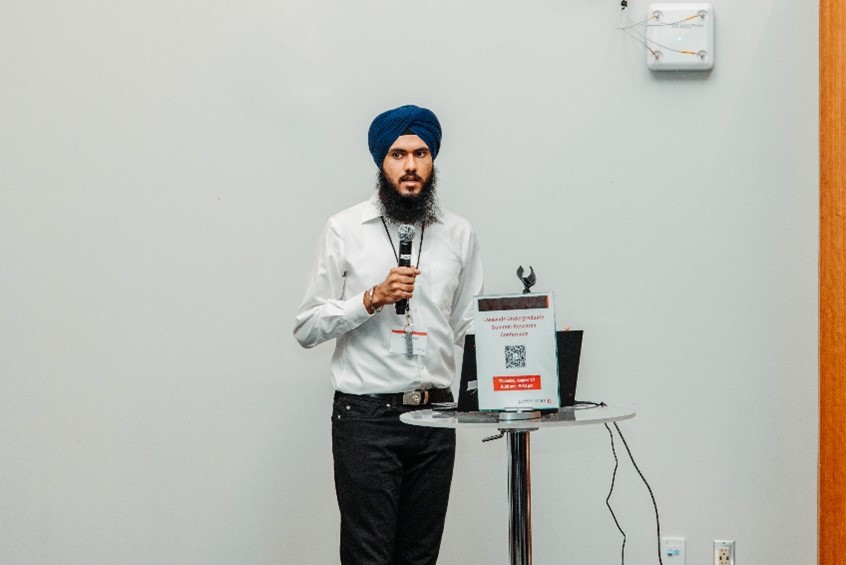 Dhaliwal's project focuses on developing a cost-effective method to satisfy user and performance demands of microservice software systems. Software systems using heavyweight service instances can achieve quality performance, but are unable to accommodate many users, while lightweight systems exhibit decreased performance quality, but have greater user capacity. Dhaliwal's project proposes a method which applies both heavyweight and lightweight service instances using load balancing and dynamic version autoscaling, thereby offering combined benefits to satisfy software systems demands. This method is also a cost-effective alternative to conventional software system solutions which require the addition of multiple new service instances.
"Before taking part in the undergraduate research program, I thought I would go to industry right after finishing school," says Dhaliwal. "After working in a research environment, I realized how much I enjoy coming up with my own ideas and applying them to real-world problems. Now I see the joys and benefits of graduate school. It was really motivating to work in a space where everyone was trying their best. I enjoyed collaborating with PACS lab members and learning from students who are experts in their field."
Learn more about Lassonde's talented undergraduate students and their research projects from this year's undergraduate research program. Watch the journey of four undergraduate students in the summer research program on YouTube. Visit our website to see the winners of this year's conference.